____________________________________________________________
(Minghui.org) The annual Kaohsiung Tomato Festival was held in the Luchu Sports district on December 11th and 12th. Falun Dafa practitioners were once again invited to participate. The Tian Guo Marching Band was invited to perform during the event and practitioners had a booth to introduce Falun Dafa.
As the pandemic has slowed down in Taiwan, the tomato festival was held as scheduled. Many festival goers said that the Tian Guo Marching Band and Waist Drum performances brought a lot of joy to the event. The host of the festival said, "If you want to be healthy, nourishing your heart is more important than focusing on nutrition. Truthfulness, Compassion, Forbearance fills one with happiness and peace."
Commenting on newspaper articles keep telling people you can't eat this or that, he said, "If everyone can be like a Falun Dafa practitioner, with truthfulness, compassion, tolerance in his heart, then happiness and peace will come to his family. 'Man is doing, the sky is watching', kind people will be blessed by gods and Buddhas."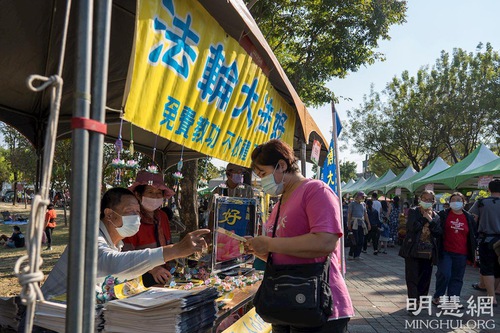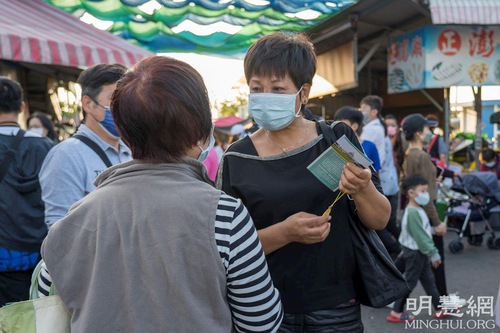 Mayor of Luchu District Praises Falun Dafa
Wu Chin-hsing, the mayor of the Luchu district, commented, "Seeing the elderly (Falun Dafa practitioners) who are full of energy and in good health indicates that Falun Dafa is good for health. It is free of charge. Inviting practitioners to perform and let the villagers have the best choice. By practicing Falun Dafa one can have a healthy body and mind."
Talking about the persecution of practitioners in mainland China, Mr. Wu said that communism is spurned by the world. "Now the whole world understands that the Communist Party deceives the world to get what they want."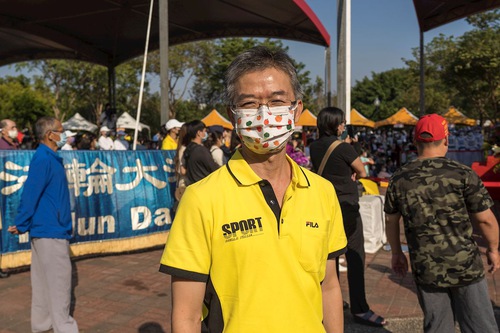 Immersed in the Beautiful Music
The Tian Guo Marching Band and the Waist Drum group were also invited to perform at Hsingta Fish Market, a tourist attraction, after performing at the Tomato Festival.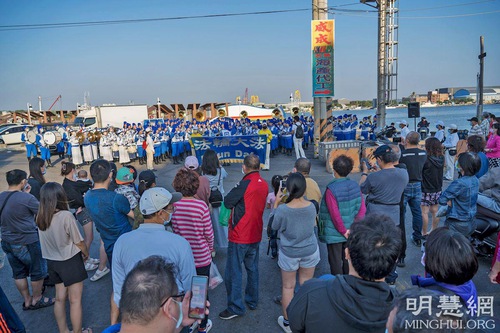 Mr. Chen who sells fish at the market said his business is particularly good. He feels it's thanks to the blessings brought by his good opinion of Falun Dafa.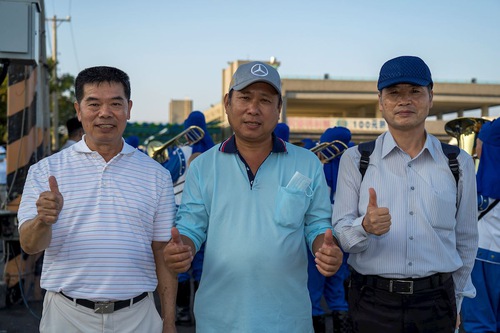 Mr. Li works for an insurance company, he said that the Tian Guo Marching Band's music let him forget a lot of annoyance and he was immersed in the beautiful music. His wife Lin, a kindergarten teacher, said she felt the pleasant and pure energy in the music.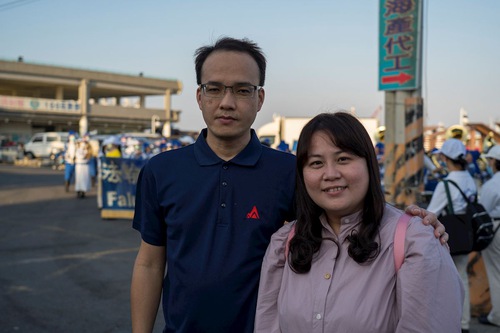 All articles, graphics, and content published on Minghui.org are copyrighted. Non-commercial reproduction is allowed but requires attribution with the article title and a link to the original article.