---
(Minghui.org)
Chinese Name: 唐梅君
Gender: Female
Age: 49
City:Province: Chongqing
Occupation: Operator of Chongqing Railway Company
Date of Death: December 30, 2003
Date of Most Recent Arrest: December 10, 2003
Most Recent Place of Detention: Chongqing Women's Forced Labor Camp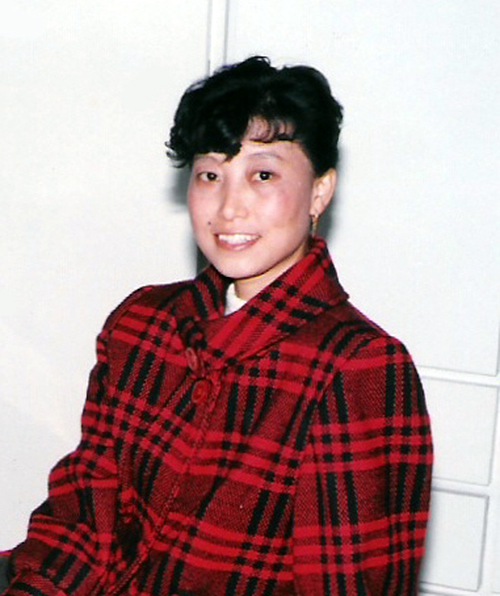 Ms. Tang Meijun, an operator of Chongqing Railway Company, died on December 30, 2003, twenty days after she was arrested for distributing informational materials about Falun Gong. It's recently confirmed by Minghui.org that Tan Qingyue, a guard at Chongqing Women's Forced Labor Camp is responsible for her death.
Falun Gong, also known as Falun Dafa, is a spiritual discipline that has been persecuted by the Chinese communist regime since 1999.
According to an insider, guard Tan, who was in her 30s during Ms. Tang's detention and less than five feet tall, was transferred from another detention facility to the Chongqing Women's Forced Labor Camp in May 2002.
Around the same time, another group of male officers, including Gao Ding, Li Bingxian, Yan Zhengjun and Lan Tianhua, were also transferred from the Xishanping Men's Prison to the labor camp, as part of the labor camp's "Loving Salvation" campaign to force the detained practitioners to renounce their faith.
Tan worked with the male officers, as well as select inmates, to torture Falun Gong practitioners, including kicking and kneeing them, forcing them to stand or squat for long hours, and slapping them in the face.
On December 10, 2003, Ms. Tang was arrested for distributing informational materials about Falun Gong. This happened nine months after she was released on medical parole from a labor camp. She was previously arrested in October 2002 and given an unknown labor camp term.
After the police took Ms. Tang back to the labor camp, claiming that she had violated the parole condition, she was subjected to intensive torture by Tan for remaining firm in her belief in Falun Gong.
On the morning of December 12, 2003, several Falun Gong practitioners held in solitary confinement and undergoing brainwashing sessions on the upper floor of the building suddenly heard someone shouting "Falun Dafa is good! Falun Dafa is a righteous practice! It's wrong to transform me!" outside in the courtyard.
The inmates assigned to monitor them and the practitioners rushed to the window. They saw that Tan was directing a group of inmates to beat Ms. Tang. They dragged her around and kicked her. They then held her arms and covered her mouth to prevent her from shouting again. Tan slapped her in the face many times.
When a guard noticed that there were people upstairs watching them, she shouted at them, "You aren't allowed to watch. Everyone, go back to your cell." The inmates and practitioners walked away from the window, but they could still hear the sound of Tan slapping Ms. Tang in the face.
Ms. Tang was later taken to a twenty square foot confinement cell. It didn't have any windows and the wall was covered with rubber, with a sickening and suffocating odor.
One Falun Gong practitioner later recounted that she saw Ms. Tang being dragged out with handcuffs by guard Xiao. Her hair was very messy and it looked like she had just been tortured. While walking, Xiao said Ms. Tang, "I don't believe I can't control your obstinate group, so today I must see whether I can straighten you out!"
Ms. Tang didn't give in to the torture and she started a hunger strike to protest. In retaliation, the guards deprived her of sleep and force fed her.
Ms. Tang passed away on December 30, 2003 after a force feeding session. Her clothes were covered with bloodstains. Many small holes were around her neck and were still bleeding. It appeared that she had been stabbed with sharp instruments many times. All of her fingertips had puncture wounds. A large amount of flesh and skin had been flayed off from the area on and around her lumbar vertebrae. There were many small holes on her upper legs, as well as knife wounds. Yet the guards claimed that she committed suicide.
When Ms. Tang's family hired a lawyer to seek justice for her, the guards threatened the lawyer, "The higher authorities have been cracking down on Falun Gong for several years. Do you really have the guts to defend Falun Gong?" Fearing being implicated, the lawyer withdrew from the case.
All articles, graphics, and content published on Minghui.org are copyrighted. Non-commercial reproduction is allowed but requires attribution with the article title and a link to the original article.