---
(Minghui.org) San Francisco's 100th Veterans Day Parade was held on November 7, 2021, and local Falun Dafa practitioners were invited to participate. Their entry, which consisted of the Tian Guo Land Marching Band and a float, was warmly applauded by spectators.
The parade started off from the scenic San Francisco Fisherman's Wharf at 11 am. In addition to the U.S. Navy, Army, and Air Force, the parade also included various bands and flag teams.
The parade moderator introduced Falun Dafa as the practitioners' procession passed by the viewing stage, "Now comes the Falun Dafa Tian Guo Marching Band. The principles of Falun Dafa are Truthfulness-Compassion-Forbearance. This year they also have a beautiful float. Let's give them warm applause."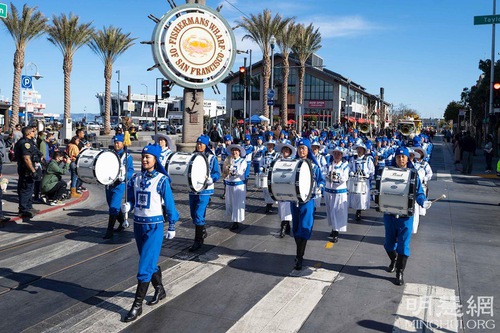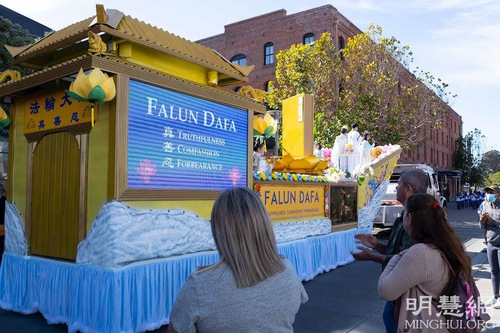 Organiser: It's Great to Have Falun Dafa Participating in the Parade 
Chinese American veteran Raymond Wong of the American Veterans Association is one of the parade organisers and said that he was happy to see Falun Dafa practitioners. He said, "It's great that Falun Dafa practitioners participate in the parade. The Tian Guo Marching Band is wonderful and their float is beautiful."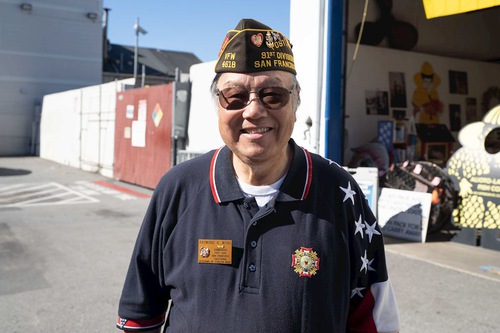 Director of Taipei Economic and Cultural Office Impressed with the Falun Dafa Group 
Ming-Chi Scott Lai was pleased to see practitioners participating in the parade and said, "Falun Dafa practitioners' group, their float and the Tian Guo Marching Band's performances impressed me."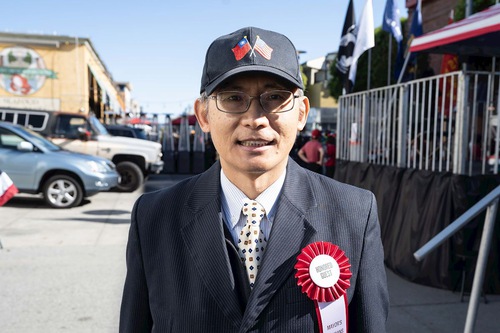 Spectators Commend Falun Dafa
Motti, the owner of a store, took photos of the Falun Dafa group. He said happily, "This group is amazing and beautiful. I love them. They are all angels."
Sandra lives in Stockton, more than 80 miles away from San Francisco. She traveled to San Francisco with her parents, her sister and her sister's children. The family enthusiastically watched the parade.
Sandra said, "This is the first time we've seen Falun Dafa. I like the music they play and their float."
When she learned that Falun Dafa's principles are Truthfulness-Compassion-Forbearance and that people in more than 100 countries practice it, Sandra said, "This practice looks very good."
She pointed to the book Zhuan Falun on the leaflet and asked, "Is there a video for this?" A practitioner told her that both the book Zhuan Falun and the exercise-teaching video can be downloaded and watched on the falundafa.org website for free. She happily said, "I will go online to learn more."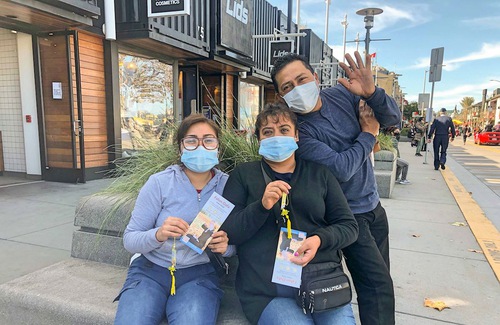 Mike Castillo, a Vietnam War veteran, enjoyed the music played by the Tian Guo Marching Band. He kept taking photos and happily took a group photo with the band. He said, "Falun Dafa's principles of Truthfulness-Compassion-Forbearance are very good. If people in the world followed them there would be no more wars." He was happy that Falun Dafa can be practiced freely and openly in the United States.
Tourists Tony Bonya and his wife Nadi from Panama gave a thumbs up when they saw the practitioners' float. Tony said, "This is a great group. We are happy to see them. Truthfulness, Compassion, and Forbearance are wonderful."
Shikako, a local resident, said, "The music played by this group is outstanding." She said that she often saw practitioners doing the exercises in front of the Ferry Building.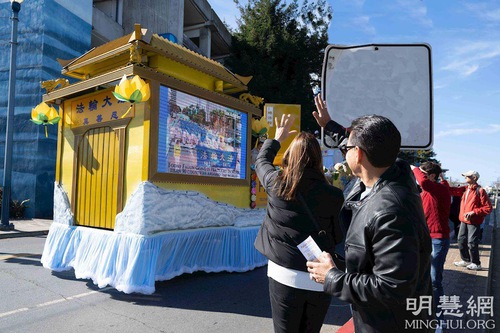 Background: What is Falun Dafa?
Falun Dafa (also known as Falun Gong) was first introduced to the public by Mr. Li Hongzhi in Changchun, China in 1992. The spiritual discipline is now practiced in over 100 countries and regions worldwide. Millions of people who have embraced the teachings, which are based on the principles of Truthfulness, Compassion, and Forbearance, and learned the five gentle exercises and have experienced uplifted health and well-being.
All articles, graphics, and content published on Minghui.org are copyrighted. Non-commercial reproduction is allowed but requires attribution with the article title and a link to the original article.