______________________________________
(Minghui.org) Four solid days of heavy rainfall beginning November 14 in British Columbia, Canada, caused severe floods and mudslides and paralysed traffic. As of November 17, the floods had caused one death and three people unaccounted for, and about 18,000 people were displaced.
The governor of British Columbia, John Horgan, said this was a once-in-500-years event and the death toll is expected to rise. According to the U.S. Geological Survey, a "500-year flood" means a "flood of that size or greater has a 0.2-percent chance (or 1 in 500 chance) of occurring in a given year."
On November 17, British Columbia declared a state of emergency, and the Canadian Federal Government urgently sent thousands of air force officers to assist in evacuation and disaster relief.
The British Columbia government reported that, starting on November 14, the province had "record-breaking extremely heavy rainfall." The devastated Fraser Valley area and the flood-stricken Town of Hope recorded 174 mm of rain in just one day. It continued to rain until the early morning of November 18. Many rural cities recorded all the rain that usually fell in all of "rainy November" within 72 hours.
Local rail and road traffic was paralysed due to flooding and soil and rock run-off. Many cities were swamped, and tens of thousands of people were cut off from rescue efforts. Road traffic to Vancouver, Canada's largest port, was cut off.
Abbotsford is one of the main agricultural areas in British Columbia. Farmers on the flooded Sumas Prairie in this area have lost thousands of livestock, and many houses and farms have been submerged. Some farmers were seen in recent live media coverage taking risks to rescue livestock.
This is the third time that British Columbia has called a state of emergency in 2021. At the beginning of the year, British Columbia activated two states of emergency due to the COVID-19 outbreak. It also suffered dangerously high temperatures of 49.6°C (121.28 °F) as well as wildfires in late June.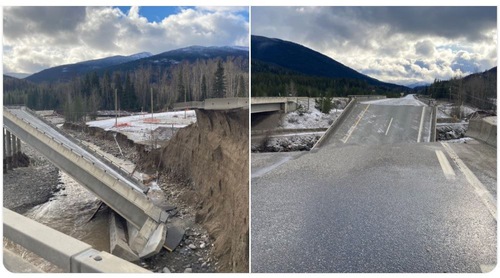 Temperature in the Capital of Tasmania, Australia, Drops to its Lowest Level in Nearly 70 Years
Snow fell over a large area of the Australian state of Tasmania on November 15, 2021. In the capital of Hobart, with average night time temperatures of around 12.3°C, the temperature dropped to 2.9 °C overnight. That was the city's lowest night temperature in November since 1953.
According to data from the state's Meteorological Bureau, the lowest temperature recorded at night in Launceston, the second-largest city in Tasmania, was only 2°C; the temperature in Cressy in the Northern Midlands only 1°C.
All articles, graphics, and content published on Minghui.org are copyrighted. Non-commercial reproduction is allowed but requires attribution with the article title and a link to the original article.
26 total views