(Minghui.org) At the Chatelet and Pont Neuf Metro and rail stations in central Paris, Falun Gong practitioners held information day activities on November 6, 13, and 14.
The holiday season has arrived, and although passersby walk briskly, the peacefully meditating practitioners and the calm exercise music seem to draw them in. Some of them stopped to talk to practitioners, read the information displays, and learned to do the exercises. Many signed the petition calling for an end to the persecution.
The CCP Lacks Humanity by Suppressing Innocent Citizens
Vincent is a dessert chef at a luxury hotel in Paris. He saw Falun Gong at the Pont Neuf station on November 14. He said he had heard about the persecution: "I know that Falun Gong was very popular in China in the 90s, but the communists viewed it as a threat to their power, so they launched the suppression and fabricated lies vilifying the practice. That is cruel and barbaric. Practicing this is a lifestyle, a way of handling things. These people are doing this simply to improve their health. Because many people were practicing it, the regime suppressed it. This is not right.
"If people express views different from the regime's, they either become the weaker party or are imprisoned and persecuted—that is inhuman.
"Your events are very important. You must let more people know about the persecution."
Shocked to Hear about Organ Harvesting
Jiovanna, a real estate agent, was shocked when she learned that the CCP (Chinese Communist Party) was removing organs from incarcerated Falun Gong practitioners without their consent and selling them for huge profits. She said, "That is horrifying. We are so used to the democratic system in Europe.
"Today, in the 21st century, there are groups such as Falun Gong practitioners and Uyghurs who don't have the right to speak out. It reminds me of the persecution of the Jews during World War II. It is exactly the same. Nearly a century has gone by, yet we are still talking about the Jews—it is still current news. We commemorate this historic event so as not to forget and repeat the same mistakes, while in some countries, these shocking things continue to happen."
Des Abbayes said, "We know the CCP is a dictatorship and that it persecutes minority groups and steals people's organs and sells them—that is a tragedy, it is a tragedy in China, and it affects the entire world."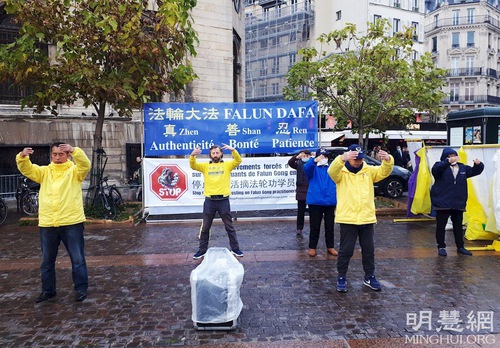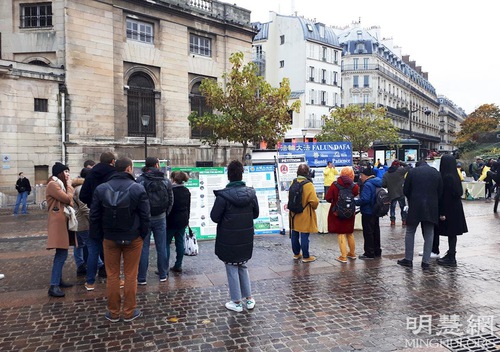 The Persecution Should Never Have Happened
Christine used to be a dancer. She said that the CCP is a totalitarian regime and that persecuting groups for their belief is a crime.
Carmen, who is 87, said to a practitioner who was taking photos of the event, "You must send these photos to China, tell people we are free here, and that we must fight for freedom!"
Commenting on the CCP infiltrating Western countries, she said, "We should not cooperate with them, that is it! It is an insult to trade with them, because people in China are being exploited.
"The persecution should end. It is a shame that people close their eyes and say nothing due to economic gains. That is not right. You must persist!" she emphasised.
Jean-Claude Tichadou worked in the Paris city government for 47 years before retiring. He did not hesitate to sign the petition when he learned that Falun Gong practitioners are still being tortured in China. He hoped his signature would help stop the suppression.
He said that the CCP does not respect human rights and that these atrocities should not be taking place. "We are very lucky to live in a democratic society," he said.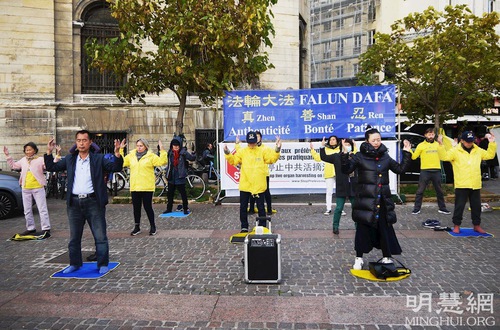 The CCP Is a Cancer – We Must Eliminate it
Luis Alarcon is a computer software developer. He was born in communist Cuba. He said, "Communism must be eliminated. It is like a cancer, harming us and making us suffer. We have been suffering for 60 years. We cannot express our views, it has killed our creativity.
"We all know communist ideology does not work—it is a dictatorship. We must eliminate communism!"
Jean Duluc, a business owner, said, "We must keep on fighting, oppose injustice, and let people hear our voices. Use your peaceful ways, although this requires extreme patience, and let everyone with a sense of justice in the whole world and internet citizens know what is happening. This is very important. I hope that, through global efforts, this persecution will end soon."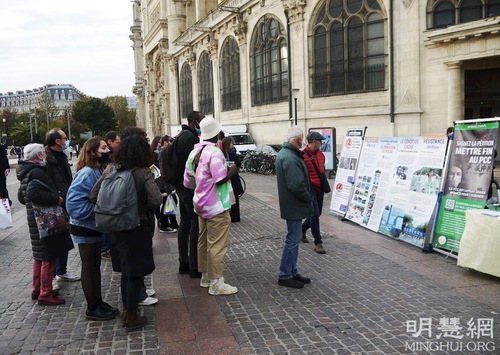 All articles, graphics, and content published on Minghui.org are copyrighted. Non-commercial reproduction is allowed but requires attribution with the article title and a link to the original article.