Sept. 23, 2021 | By a Minghui correspondent in Queensland, Australia
---
The Mid-Autumn Festival is one of China's many traditional holidays and celebrates family reunions. This year the Mid-Autumn Festival fell on September 21, 2021. Falun Dafa practitioners in Queensland gathered for a group photo at the Toowoomba Flower Festival on September 18, 2021, to wish the found of the practice, Mr. Li Hongzhi, a happy Mid-Autumn Festival.
Falun Dafa was first taught to the public 29 years ago and is now practiced in more than 100 countries worldwide. On April 28, 1999, Mr. Li Hongzhi visited Queensland, for the first time and met with practitioners to give a talk. Falun Dafa is now practiced in various communities in Queensland and by different ethnic groups.
Practitioners expressed their gratitude and recalled the many ways that Falun Dafa has helped them.
Ty Dao: My Entire Family Benefits
Ty Dao, an accountant who works at the Queensland Police Citizens Youth Club (PCYC) headquarters, began practicing Falun Dafa in September 2018. She said, "I am grateful to Master for giving me a new life through the practice. I am so happy that sometimes I feel like I am living in a fairy tale world every day. I wish everyone could benefit from Falun Dafa as I did."
In February 2018, Ty's company restructured and downsized. Pressure at work and fear of being laid off made her sleepless. She said, "At that time, I even took two sleeping pills just to get an hour or two of sleep. I had anxiety or panic attacks around 3 p.m. every day."
"One day, I saw a website introducing Falun Dafa. I was curious to see what it was about. I immediately clicked on the link of the main book Zhuan Falun. The book seemed to take me to another world. I read the entire book that night, from 11:00 p.m. to 4:00 a.m. The book answered all the questions I had since I was a child. And even more amazingly, I fell asleep after reading it."
Ty threw away all her sleeping pills the next day because she no longer needed them. Her insomnia was gone, and her family was happy.
She said, "I became a gentle mother. I used to set high expectations for my children. After practicing, I learned how to be a good mother and treat my children with the principles of Truthfulness-Compassion-Forbearance. After seeing the changes, my husband started reading Zhuan Falun in 2019, and the sinus infection that plagued him for years disappeared. Now my children, my husband, my mother, my sisters, and nieces all practice Falun Dafa and have benefited greatly from it."
Ty and her family members experienced severe accidents but were unharmed. She said, "Last year, I was involved in a serious accident and my car was wrecked, but my young daughter and I were safe and sound. Another accident happened to my husband. He fell off the roof at a client's house and couldn't breathe in the beginning. But with a thought that he would be okay, he was able to stand up after fifteen minutes, as if nothing happened."
Ty concluded, "I cry whenever I remember these experiences. I am so lucky! My gratitude to Master is beyond words. On behalf of my family, I wish Master a Happy Mid-Autumn Festival!"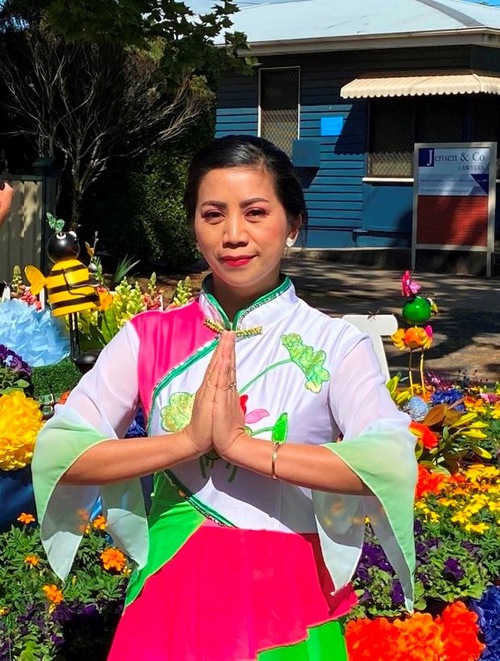 Grace: Practicing Falun Dafa Is the Happiest Thing in My Life
Grace Monn, 74, began practicing Falun Dafa in 2004 after hearing about it from a friend.
She said, "Before I practiced Falun Dafa, I had conflicts with my parents. I thought my parents only loved my younger brother, which made me angry, and over time my personality changed dramatically. I became irritable, and my relationship with my parents became tense. I blamed them and thought everything was their fault. I often lost my temper and complained about them. My anger and complaints made the entire family and myself suffer a lot."
And all of this changed after Grace read Zhuan Falun.
"I realised that this was what I had been looking for. The book helped me understand why people live in this world, why we need to be good people, and how to be a good person. This book answered many questions I had about my life," she said.
"My health and mind constantly improved as I practiced. I applied the principles of Truthfulness-Compassion-Forbearance in my everyday life. Falun Dafa has changed me. My relationship with my mother has improved. My mother is so happy about this change, and she often plays the song 'Falun Dafa is Good'on the piano."
Grace spends two days a week telling passersby about Falun Dafa in front of the Chinese Consulate in Brisbane. She also collects signatures to call for an end of the persecution on weekends. She said, "I want to seize every moment to let more good people know about Falun Dafa and let the world see the destructive nature of the Chinese Communist Party (CCP)."
She received encouragement from many people, including some Chinese. One day, Grace clarified the truth to a Chinese girl, who said she would learn more about it. The girl later returned and asked Grace for a copy of Zhuan Falun. She also quit the CCP and its affiliated organisations.
Grace said, "The meaning of my life is to cultivate myself according to Truthfulness-Compassion-Forbearance and help more people learn about Falun Dafa. After I began practicing, I felt happy. I never had this state of mind before. Practicing Falun Dafa is the most fortunate and happy thing in my life! I express my deep gratitude to Master every day. On this traditional Chinese holiday, I wish Master a Happy Mid-Autumn Festival!"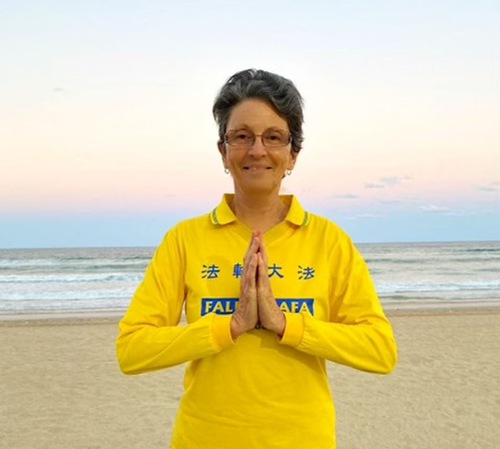 Lisa: Spreading the Truth Widely in Rescuing My Mother
Ms. Lisa Liang started practicing Falun Dafa after witnessing the tremendous changes in her mother, who began practicing in 1996. Many of the illnesses she had were gone, and her relationship with other family members became harmonious. Lisa had a deeper understanding of Falun Dafa and learned to hold herself to the principles of Truthfulness-Compassion-Forbearance in all things.
In July 1999, the CCP began its full-scale persecution of Falun Dafa. Lisa knew Falun Dafa is righteous and her mother was right to tell the people the truth about Falun Dafa. As a daughter, she wanted to do her best to protect her mother.
Lisa moved to Australia in 2009. In 2012, she suddenly learned that her mother was arrested again in China because of her faith. Lisa immediately did everything she could to rescue her mother.
Lisa said, "I realised that the most effective way to rescue my mother was to keep exposing the CCP's persecution of Falun Dafa. I wanted to rescue her and wanted more people to learn about Falun Dafa. I wrote about my mother's experiences of being persecuted to get help from the public. I visited federal legislators to seek the Australian government's assistance in rescuing her. I contacted newspapers to tell them how my mother was persecuted because of her faith."
In addition to this, Lisa built a website and posted her mother's story on it.
Lisa's commitment to rescuing her mother paid off. The website attracted the Dean of the Faculty of Health and Social Sciences at St. Elizabeth's University in Slovakia, who was moved by the practitioner's persistence in faith. He decided to give Lisa's mother, who was still being persecuted in China at the time, the "Gold Award for Defending Human Rights and Faith." The invitation was also sent to the detention centre where Lisa's mother was held. In addition, local Australian television stations interviewed Lisa about her mother's persecution in China for her belief in Falun Dada.
In 2014, Lisa's mother was finally released and came to Australia. Seeing her mother again, Lisa realised how important it was to expose the CCP's persecution of Falun Dafa.
Lisa works as a medical radiographer in a private hospital in Queensland. As a Falun Dafa practitioner, she works hard by following the principles of Truthfulness-Compassion-Forbearance in her daily life. She treats every patient with compassion. She is responsible at work and always thinks of others first. One of her colleagues even learned to meditate with Lisa and introduced Falun Dafa to other people.
In conclusion, Lisa said, "Happy Mid-Autumn Festival, Master! I am grateful for Master's protection all the way. No words can express my gratitude to Master!"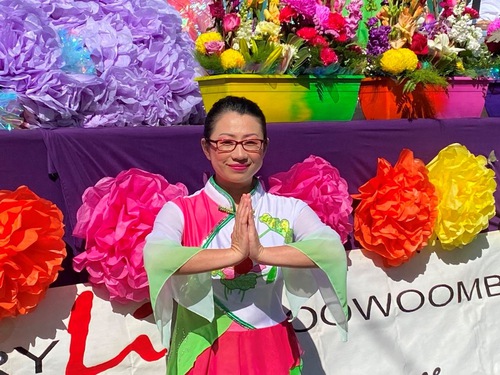 All articles, graphics, and content published on Minghui.org are copyrighted. Non-commercial reproduction is allowed but requires attribution with the article title and a link to the original article.
Chinese version available
(Clearwisdom)