July 8, 2021 | By a Minghui correspondent in Taiwan
---
After the second week of May this year, there was a resurgence of the coronavirus in Taiwan, leading its epidemic control centre to impose Level 3 restrictions island-wide. To curb the spread of the virus, the management committee for a traditional market asked stallholders to stand at the entrances to take shoppers' temperature and to ensure that people follow sanitation and social distancing rules.
The stallholders' income had already been reduced by half due to the pandemic. Now, not only were they required to take turns carrying out these procedures, but they also faced the risk of being exposed to and contracting the virus. They were reluctant to do the job. When Falun Dafa practitioners living in the Huwei, Yunlin area learned about the situation, they volunteered to go to the Yunlin Huwei evening market and assist with measures to stop the spread of the virus.
According to Xing Yao, a Falun Dafa practitioner, besides standing at the three market entrances to assist pandemic procedures, practitioners also set up information booths displaying fliers about the meditation practice, lotus flower bookmarks and other information. Shoppers happily took the information, and nearly all the materials are handed out every day.
The market manager bowed to practitioners and said, "I am very touched by what you have done. Thank you!" He said he loved the handmade lotus flowers practitioners gave out. He took several and distributed them to every shop in the market.
A woman who sells tofu and soybean milk said, "People have an excellent impression of Falun Dafa and are thrilled that practitioners came here to help us and give out lotus flowers. They are full of praise for what you have done!" After closing his shop, a stall owner came to the entrance to thank practitioners and learn about Falun Dafa. He happily took a lotus flower and hung it above his stall. Another shop owner and local residents took a group photo with practitioners and exchanged contact information.
Biyan, a practitioner who is a manager in a company, said, "The owner of a fruit stall gave us a big bag of fruit after closing shop to thank practitioners for their hard work. She said, 'You have worked hard. Thank you!'"
Practitioners also went to residential areas to give out fliers and talk to people about Falun Dafa. Some residents ran after practitioners to ask for more lotus flowers and brochures. Visitors from other countries also asked for lotus flowers. After handing people a flower, practitioners instructed them to scan the QR code on the bookmark to learn more about Falun Dafa in other languages.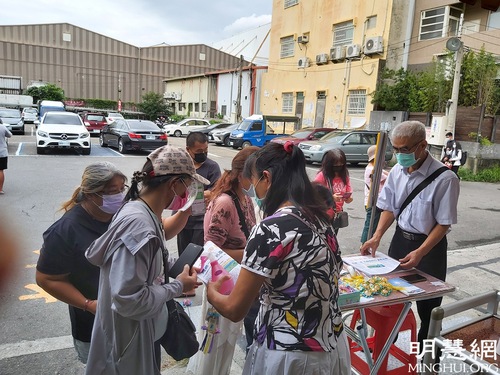 Practitioners set up another information booth in Yunlin at the Douliu evening market. On public holidays, practitioners were so busy talking to people and handing out information that they did not even stop to drink water. Ms. Li, a practitioner, said, "So many people ask for the lotus flowers and brochures. We don't want to miss anyone, so we don't take breaks. We only hope people can learn how wonderful Falun Dafa is, recite the phrases 'Falun Dafa is good' and 'Truthfulness-Compassion-Forbearance is good' and be blessed."
A man who often goes to China said after learning of the severity of the persecution of Falun Dafa in the mainland, "Falun Dafa practitioners are remarkable for persisting for so many years. The Chinese Communist Party (CCP) will collapse, I guarantee it. Falun Dafa is the hope for people in China. I will recite 'Falun Dafa is good, Truthfulness-Compassion-Tolerance is good' when I go home." He also said, "Do you know your Master [Li Hongzhi] is the most remarkable person? He is a great man!"
Practitioner Shuzhen's husband is a lecturer at the National Yunlin University of Science and Technology. She met students studying at the university and took the opportunity to share her experience with Falun Dafa.
Shuzhen said she had a car accident and was unconscious. Doctors told her family that she would be in a vegetative state if she woke up. However, her husband did not give up hope. While she was in a coma, he kept playing Master Li's lecture recordings for her. A few days later, she woke up and completely recovered. The doctors were amazed.
The two students said they would read the brochure carefully. Another primary school teacher who is retired was keen to know more about Dafa after hearing Shuzhen's story. He took the information home to read.
All articles, graphics, and content published on Minghui.org are copyrighted. Non-commercial reproduction is allowed but requires attribution with the article title and a link to the original article.
Chinese version available
(Clearwisdom)