July 9, 2021 | By a Minghui correspondent in China

---
In the first half of 2021, 667 Falun Gong practitioners were confirmed to have been sentenced to prison for their faith, an ancient spiritual discipline that has been targeted by the Chinese communist regime since 1999.
The newly recorded cases include 7 in 2019, 271 in 2020, and 389 in 2021, which brings the total confirmed sentencing cases in 2019 to 781 and in 2020 to 893. The delay in the reporting of the cases was caused primarily by the strict information censorship in China, which makes it difficult for Minghui correspondents to collect and send out information.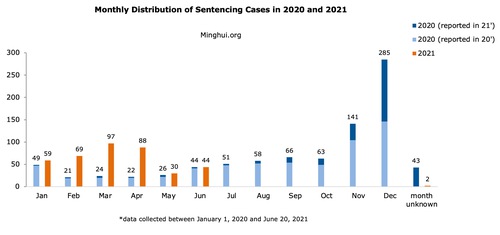 Country-wide Persecution 
The 667 practitioners who were sentenced are from 154 cities in 26 provinces and municipalities. Henan (70), Liaoning (68), Heilongjiang (65), Jilin (55), and Shandong (54) are the top five provinces with the most cases. Sixteen other regions registered double-digit cases and the remaining five provinces had single-digit cases.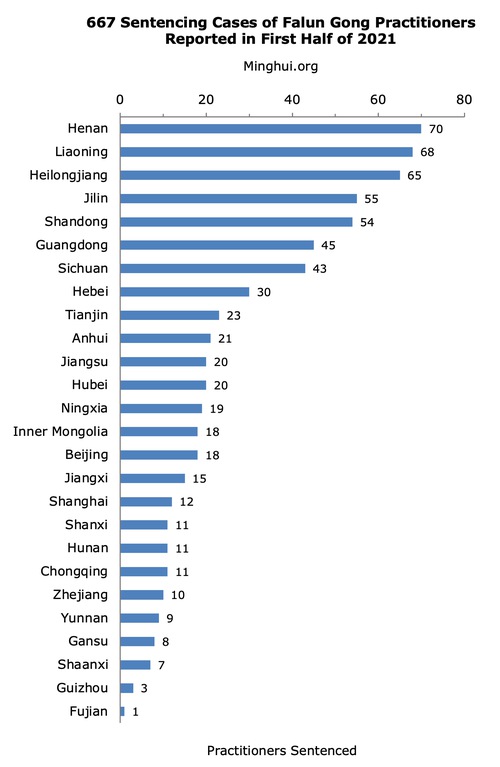 While several northeastern provinces such as Liaoning, Heilongjiang, and Jilin have remained the ringleaders in executing the government's persecution policies over the past two decades, the persecution has escalated in the province of Henan in central China over the past two years. In an earlier report on deaths reported in the first half of 2021, Liaoning, Jilin, Heilongjiang, and Henan also took the top four spots in terms of the most confirmed deaths.
Among the 70 sentences passed down in Henan, 40 of those resulted from a mass arrest of over 160 practitioners in Nanyang City in August 2019. The Wancheng District Court alone was responsible for sentencing 26 practitioners, with sentences ranging from seven months to 13 years (an additional practitioner's verdict is unknown). It's still being investigated as to which court convicted the other 14 practitioners, who were given sentences from two to nine years.
Other than the mass arrest in 2019, the police in Henan have also been traveling around the country since 2019 to arrest practitioners for posting information about Falun Gong online, which has resulted in three Chongqing practitioners being sentenced in June 2021 and several more from other provinces facing prosecution.
Group Sentencing
With more group arrests over the past few years, group sentencing is also becoming more frequent, often with heavy terms.
In addition to the sentencing of 40 practitioners in Nanyang, Henan Province, mentioned above, another six residents of Zhoukou City in the province were given sentences from three to seven years for reading Falun Gong books together. The police monitored the practitioners for over a month before arresting them. All had their homes ransacked.
In Fuyang City, Anhui Province, nine practitioners were given between eight months and 12 years and fined from 10,000 to 30,000 yuan. Before the hearings, the judge forced the practitioners' lawyers to leave and arranged for the court-appointed lawyers to enter guilty pleas for the practitioners. The practitioners' family members weren't allowed to attend the sessions in person either, but had to watch online videos.
Among the 14 practitioners who were sentenced from seven to nine years by the Lishu County Court in Changchun City, Jilin Province, seven came from one extended family. The judges announced the verdicts after telling the practitioners' families the day before that they hadn't decided on the rulings yet, even though the terms had already been predetermined by the higher-ups, according to an insider.
After the judges refused to provide the practitioners' families with a hard copy of the verdicts, citing a decision from their superior, the detention centre also prevented the practitioners' lawyers from visiting them when the lawyers tried to collect more information about the verdicts.
The Changchun City Political and Legal Affairs Committee (an extrajudicial agency tasked with persecuting Falun Gong) issued new orders that all judiciary staff members handling Falun Gong cases have the authority to deny meetings with the practitioners' family members.
Practitioners who don't plead guilty aren't allowed to hire out-of-province lawyers. They can only hire local lawyers. No government agencies are allowed to receive anyone who appeals a Falun Gong case. Additionally, Falun Gong cases are not handled according to the law but as directed by "government policies" instead.
Specialised Courts to Sentence Falun Gong Practitioners
Of the 667 cases, 424 (64%) sentences were known to be handed down by 170 courts, including district-, township-, county-, and city-level courts. In most cities, the cases were handled by just one or two courts.
This came as a result of the consolidation of Falun Gong cases to one or a few courts and procuratorates in one region to expedite the prosecution process in recent years. Examples include the Chaoyang District Court in Changchun City, Jilin Province, and the Ranghulu District Court in Daqing City, Heilongjiang Province, both of which have been designated to handle Falun Gong cases.
Such consolidation and expedition have further contributed to more sentences since the pandemic. With many practitioners stepping forward in 2020 to expose how the Chinese Communist Party covered up the pandemic using tactics similar to the persecution of Falun Gong, some were arrested and quickly sentenced, oftentimes without the knowledge of their families and lawyers.
The authorities have also used the pandemic as an excuse to prevent the practitioners' families and lawyers from visiting them, both in the detention centers during the prosecution stage and after the practitioners have already been sentenced and incarcerated.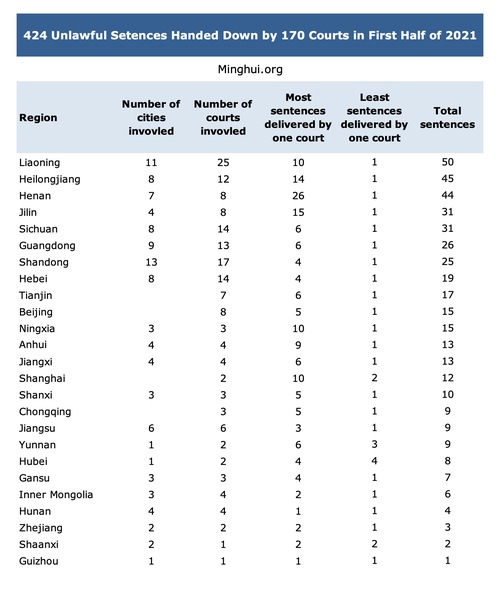 Violating Legal Procedures
From arbitrary arrests to incommunicado detention, from fabricated evidence to secret sentencing, the police, prosecutors, and judges have violated the law at every step in the prosecution process.
After Ms. Meng Suying of Shenyang City, Liaoning Province, was denied admission by the local detention centre due to a fever and high blood pressure following her arrest in October 2020, the police put frozen bottles of water under her armpits, forced her to stand outdoors in the freezing cold, and forced her to take blood pressure medicine. Despite her persistent symptoms, the police forced the detention centre to accept her. Following a virtual court hearing in March 2021, Ms. Meng was sentenced to four years in June.
Five Chongqing residents arrested in 2018 and secretly tried in 2019 were held incommunicado for nearly three years before being sentenced to terms ranging from 5.5 to 9 years in June 2021. One practitioner's two young children and his wife, who doesn't work, were left in a dire situation during his detention.
Dr. Chen Shuqin of Longde County, Ningxia Province, went missing in mid-June 2020. Although her family later found out that she had been arrested, they were not allowed to visit her in the detention centre. They confirmed in June 2021 that she has been sentenced to 4.5 years in prison, but they are still in the dark concerning details of her case.
When Mr. Liu Wei's family went to the detention centre to visit him in late May 2021, they were told that he had been sentenced to four years. This was the first time his family had been given an update about his case following the arrest of the former employee of the Grain and Oil Machinery Factory in Hanzhong City, Shaanxi Province in September 2019.
After she insisted on hiring a lawyer to represent her, Ms. Duan Lianying of Chifeng City, Inner Mongolia, was dragged by the judge from the courtroom into a car, where she was tried and sentenced.
Ms. Chen Jingjie, 65, of Anda City, Heilongjiang Province, was sentenced before her lawyer was allowed to visit her. After finding out about her verdict, the lawyer called the procuratorate and asked the prosecutor why they did not inform him of the trial. They responded that they didn't know Ms. Chen had a lawyer, even though he had already reviewed her case document and submitted his Power of Attorney a month before.
Prior to Mr. Lin Maocheng's hearing on February 4, 2021, the judge attempted to pressure his lawyer not to mention the lack of legal basis for the persecution of Falun Gong during the proceedings. Following a second hearing on March 10, the judge sentenced the Dalian City, Liaoning Province, man to five years with a 30,000-yuan fine on May 27. The judge also refused to provide a copy of the verdict to Mr. Lin's lawyer and told him to look for it online himself.
The family of a hotel manager in Zhumadian City, Henan Province, learned from an insider that the seven-year prison sentence given to 55-year-old Ms. Yan Weibin was determined by the central communist regime government. In the ongoing "Zero-out" harassment campaign, a concerted effort to force every Falun Gong practitioner on the government's blacklist to renounce Falun Gong, the authorities attempted to intimidate other practitioners by sentencing Ms. Yan to a heavy term.
The judge revealed in the hearing on October 14, 2020, that he was getting many phone calls from overseas Falun Gong practitioners, who urged him not to sentence Ms. Yan. He recorded one of the phone calls and played it during the hearing. He asked Ms. Yan why he was receiving such phone calls and blamed her for "threatening" him.
Demographics of Sentenced Practitioners
Among the 667 practitioners, 234 (35%) were known to be between 26 and 88 years old, with an average age of 62. Sixteen of the practitioners were 80 or older. Fifty-seven were in their 70s, and 76 were in their 60s.
Some of the elderly practitioners were hit with especially lengthy sentences, including an 82-year-old man sentenced to ten years, an 81-year-old man sentenced to nine years, an 80-year-old man sentenced to eight and a half years, a 72-year-old woman sentenced to nine years, and another woman in her 70s also sentenced to nine years.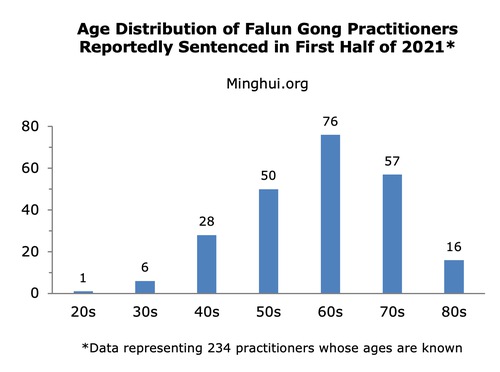 The sentenced practitioners are from all walks of life and include teachers, doctors, lawyers, engineers, nurses, accountants, and financial managers. Because of the persecution, some lost their jobs or were forced to divorce.
One example is Mr. Han Xu, who worked in the commercial department of Gansu Province Carpet Import and Export Corporation and was also a translator for the provincial Foreign Trade and Economic Cooperation. After the persecution of Falun Gong started, he was arrested multiple times and sentenced to ten years in prison.
He was beaten multiple times, handcuffed with his arms behind his back for long hours, shocked with electric batons, and locked in solitary confinement for six years. Mr. Han was arrested again in May 2019 for distributing Falun Gong materials and sentenced to three years in February 2021.
Ms. Fu Xiaoli, a financial director for a foreign company in Shenzhen City, Guangdong Province, was arrested at home in February 2020 and sentenced to two years in April 2021.
For refusing to renounce her faith, Ms. Fu was previously fired from her lecturer position at Zhengzhou University in Henan Province and later from a company in Beijing. Her husband divorced her and took all of their savings.
Another practitioner in Shenzhen, Mr. Tang Haihai, used to work at Shenzhen Senior High School, a key, high-ranking school in Guangdong Province. Because of the students' excellent academic performance under his leadership, he was promoted to the position of deputy director of the Shenzhen City Education Bureau in 2003.
When the authorities found out he practiced Falun Gong, however, he was removed from that post and appointed as associate dean of Shenzhen Institute of Communication. In a few years, the college entrance exams scores of the students at his former school fell to last place of all the cities in the province, so the education bureau re-hired Mr. Tang. After Mr. Tang retired, he often gave free seminars at schools in Shenzhen on how to improve the quality of education.
Mr. Tang was arrested with his wife Ms. Sun Xuexin in March 2020, shortly after they returned from visiting a family member in the U.S. After a year of detention, Mr. Tang was sentenced to one year and two months in prison and Ms. Sun to three years.
Sentencing Terms, Fines, and Extortion
Except for 30 practitioners whose terms are unknown, 33 who were given probation and didn't have to serve time and two who were only fined but not given prison terms, the other 602 (90%) practitioners were sentenced to prison with terms ranging from four months to 14 years, with an average of three and a half years.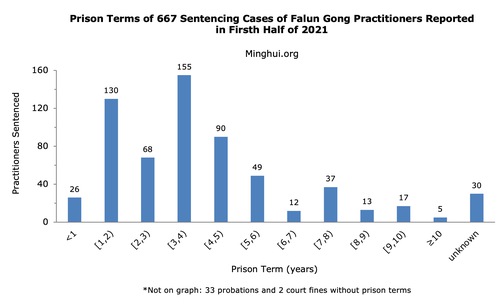 A total of 248 (37%) practitioners were extorted by the police or fined by the court for sums ranging from 500 to 200,000 yuan, with an average of 13,909 yuan per person.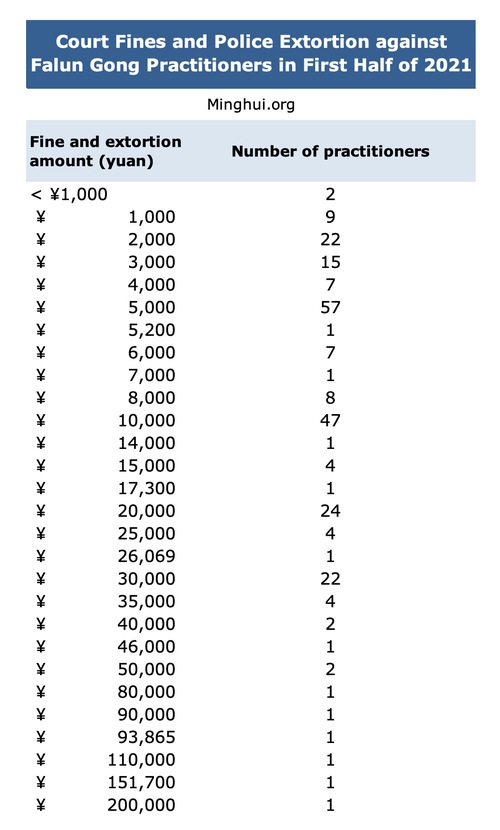 Some of the practitioners have been repeatedly persecuted over the past two decades.
Ms. Zhao Shuzhi, 63, of Hulunbeir City, Inner Mongolia, was sentenced to three years after she was arrested for the ninth time for practicing Falun Gong.
Having spent ten hellish years in prison and enduring savage beatings, sleep deprivation, freezing, and restricted restroom use that resulted in muscle atrophy in his legs, Mr. Shi Shaoping, a 50-year-old Beijing resident, was sentenced to another nine years. His family was kept in the dark about him following his arrest in November 2019. Not until April 2021 did his younger brother receive notice that Mr. Shi had been sentenced to nine years in the Beijing No. 2 Prison, which has been used primarily to detain death row prisoners or those sentenced to life, as well as Falun Gong practitioners.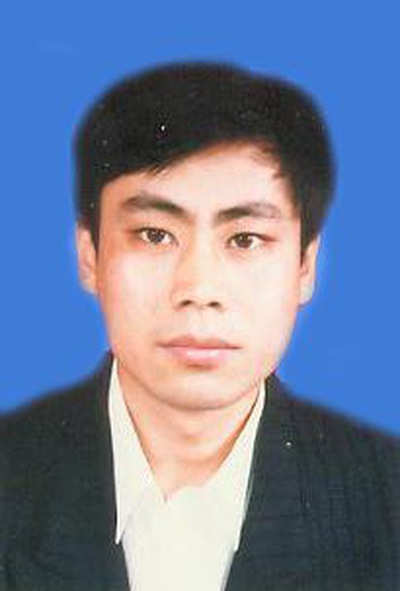 Mr. Ji Zhongming of Chifeng City, Inner Mongolia, who was sentenced to four years in June 2021, was arrested in December 2019, after moving frequently for over ten years to avoid being persecuted. To find Mr. Ji, the police arranged a special agent to pretend to be a Falun Gong practitioner and join a local study group, where they obtained information about Mr. Ji. When they arrested him, one officer shouted, "We've been looking for you for so many years!"
Persecuted Despite Medical Condition
Some practitioners developed symptoms of poor health shortly after being imprisoned due to the deplorable conditions and torture in custody, yet the prison would refuse their requests for medical parole, with the excuse that they didn't renounce Falun Gong.
When Ms. Zhang Ruijun appeared in a video conference at her sentencing hearing on June 23, 2021, one month after she was taken back into custody, her family burst into tears when they saw her. The Zibo City, Shandong Province, woman, in her 50s, looked haggard and her reactions were very slow. Walking was even difficult for her. Her family said they couldn't imagine what torture she'd endured over the past month and they are very worried about her, especially because she now has 3.5 years to serve.
Ms. Chen Yubo of Ningbo City, Zhejiang Province, was bleeding from a breast and was diagnosed with breast cancer following her arrest in April 2019. Although the police released her on bail in July 2019, they ordered her to report to them every day. After enduring nearly two years of intense surveillance, Ms. Chen was taken back into custody on May 13, 2021, and sentenced to eight months two weeks later.
Ms. Zhang Junling, 62, of Huichun City, Jilin Province, was arrested in February 2019 and sentenced to one year. With her high blood pressure, heart condition, and swelling and pain around the area where she'd had a mastectomy years ago, she was allowed to serve time at home.
Because the police kept going to her home to harass her, her health continued to decline. The police took her back into custody on June 9, 2021, and ordered her to serve a renewed 1.5-year prison term. Because she can no longer wear her artificial leg (which was amputated after a train accident in 1981), she has to use a wheelchair to get around in the detention centre.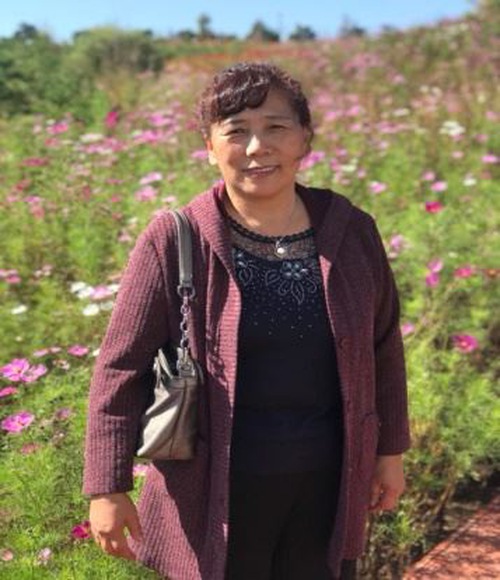 Another woman, Ms. Sun Jiping, was made to serve a five-year term, even though her severe blood disorder relapsed while in custody. The 68-year-old Jinzhou City, Liaoning Province, woman once lost consciousness and was hospitalized for a blood transfusion. Her hemoglobin quickly dropped to 5 g/dL, much lower than the normal level of between 12.0 and 15.5 g/dL, which also caused her to have systemic edema.
***
Below are highlighted cases reported in the first half of 2021. The full list of sentenced practitioners can be downloaded here (PDF).
Elderly Sentenced
82-Year-Old Man Sentenced to 10 Years
After being arrested and released several times, Mr. Li Dengchen, an 82-year-old retired teacher in Shenzhou City, Hebei Province, was sentenced to 10 years in January 2021.
Mr. Li was first arrested at home on October 22, 2018. The police ransacked his residence and confiscated valuables worth 150,000 yuan. Due to his high blood pressure, the Shenzhou City Detention Centre refused to admit Mr. Li, and he was released.
Mr. Li returned to the local police station the next day and demanded the return of his confiscated property, but to no avail.
Days later, Mr. Li noticed that someone had scaled his fence and entered his home while he was out. He suspected that it was the police trying to find more Falun Gong-related items in his home. He decided to live away from home to avoid further persecution.
Only a month later, on November 23, Mr. Li was arrested again and taken to the Shenzhou City Detention Centre. Prior to his second arrest, the police extorted 1,700 yuan from his family for the alleged "physical examination fee."
Mr. Li developed a critical medical condition in his lungs and was treated in an intensive care unit in 2019. He was released on bail on April 26. By then, he had become emaciated, incontinent, and unable to take care of himself. His legs were also swollen.
After resuming practicing Falun Gong at home, Mr. Li gradually recovered. Yet the authorities didn't stop targeting him.
In late July 2020, Mr. Li received a notice to appear in court. He lived away from home again for a month to hide from the police.
In January 2021, he was arrested one more time and given a ten-year sentence. He has now been taken to Baoding Prison to serve time.
80-year-old Retired Physician Roughed Up During Arrest and Sentenced to 3.5 Years
Ms. Ma Kunfang, an 80-year-old retired physician in Liaoyang County, Liaoning Province, was arrested at home on the morning of November 6, 2020, by two plainclothes officers from the Liaoyang County Police Department. While the officers were searching her home, 20 more plainclothes officers showed up. None of them showed their police IDs.
Ms. Ma urged the officers not to participate in the persecution, but they refused to listen. They pinned her to the floor, handcuffed her arms behind her back, then spent three hours ransacking her home. Her Falun Gong books, informational materials, photo of Falun Gong's founder, Falun Gong lecture DVDs, media players, and several thousand yuan in cash were confiscated.
Ms. Ma was later taken to the county police department for interrogation. The police kept her in a dark room and bound her to a metal chair with her hands and feet shackled to the chair. Ms. Ma refused to answer any questions.
When Ms. Ma was released from the chair five hours later, her wrists were swollen and bruised. She had pain in her back and legs. Her legs were numb and she was unable to walk on her own. With the help of her family, she returned home that evening on bail.
Ms. Ma was taken to the Liaoyang Detention Centre the next day. Due to her high blood pressure, she was refused admission and also released.
The police later submitted Ms. Ma's case to the Dengta City Procuratorate. She was tried by the Dengta City Court on March 29, 2021, and sentenced to 3.5 years in prison.
Legal Procedures Violated
Chongqing Man Appeals Second Wrongful Sentence for His Faith in Falun Gong
When Mr. Liu Zhimin of Chongqing filed an appeal to contest a wrongful prison sentence, guard Hu Changrong of the Chongshou District Detention Centre withheld his appeal and refused to mail it for him. Mr. Liu protested, and Hu finally mailed it out after delaying for months.
On May 29, 2021, the Chongqing No. 1 Intermediate Court called Mr. Liu's wife, Ms. Zhang Li, to see if Mr. Liu had a lawyer to represent him. Ms. Zhang hired the same lawyer who represented Mr. Liu in the initial trial to represent him in his appeal.
Mr. Liu was arrested on January 7, 2020, when he and Mr. Yang Dingchan were helping Mr. Wu Shenghua, 79, write calligraphy couplets and giving them away for free before the Chinese New Year.
The police said a man named Zuo Hechang had reported the trio for distributing materials about Falun Gong. It was later confirmed that Zuo's nephew, Zuo Shiyong, had received a Falun Gong booklet from another practitioner. When Zuo Hechang saw the booklet, he reported Mr. Liu, Mr. Yang, and Mr. Wu, even though they knew nothing about the booklet.
While Mr. Yang and Mr. Wu were released the next day, Mr. Liu was kept in custody. The police accused him of being a "repeat offender" because he had been sentenced in the past for practicing Falun Gong. The police also accused Mr. Liu of distributing the Falun Gong materials that local residents had received from other practitioners.
The police accused Mr. Liu, Mr. Yang, and Mr. Wu of promoting Falun Gong because one of the couplets that read, "Fa (the Way) brings spring breeze rejuvenating all scenery, Kindness spreads like warm sunshine harmonizing every family," had the word "Fa" in it.
There were other discrepancies in Zuo Hechang's account. Zuo first said that he saw his nephew come home with a couplet and a Falun Gong booklet, without seeing the person who distributed the booklet or receiving the booklet himself. He then contradicted himself by saying that Mr. Liu gave the booklet to him. Zuo also claimed that six people, including two women, wrote the calligraphy couplets, when it was only Mr. Liu, Mr. Yang, and Mr. Wu writing them.
During Mr. Liu's hearing in the Jiangbei District Court on October 15, judge Huang Ya repeatedly denied the request of Mr. Liu's lawyer to have the Zuo family appear in court to accept cross-examination. The judge also interrupted Mr. Liu when he was talking about how Falun Gong teaches people to be good and that no law in China deems practicing Falun Gong a crime.
After the hearing, Mr. Liu's daughter submitted three witness accounts to the court, testifying that Mr. Liu and the two other practitioners only handed out calligraphy couplets, not any Falun Gong materials.
The judge sentenced Mr. Liu to two years and eight months in December 2020.
Mr. Liu's latest sentencing came less than three years after he finished serving a 2.5-year term. He was arrested on September 17, 2015, for filing a criminal complaint in May 2015 against Jiang Zemin, the former head of the Chinese communist regime who ordered the persecution of Falun Gong. Without enough evidence to charge Mr. Liu, the police tore up a Falun Gong booklet into pieces found at his home and counted each piece as a separate item of evidence.
During his hearing in the Changshou District Court in March 2016, the police arrested nearly 20 local Falun Gong practitioners who came to attend the hearing in support of Mr. Liu. Even some pedestrians were also mistakenly arrested as Falun Gong practitioners.
Young Man in Jilin Secretly Sentenced to Prison
Since the coronavirus pandemic broke out in China, several stories have been published on Minghui.org about people making full recoveries after reciting the auspicious phrases "Falun Dafa is good, Truthfulness-Compassion-Forbearance is good."
Inspired by such stories, Mr. Sun Zhiwen, in his 30s, of Yongji County, Jilin Province, put up posters around town about Falun Gong and its health benefits. He was noticed by the police on surveillance cameras and arrested on February 4, 2020.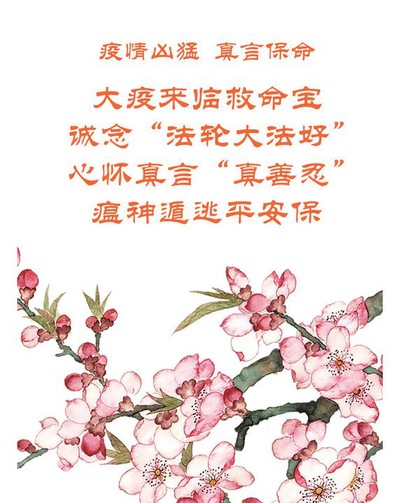 Although Mr. Sun was released that evening, he was arrested again on April 22. When his family inquired about his case at the Yongji County Court, they were told that the judge doesn't inform the family members in Falun Gong cases of their hearings. His family also learned from insiders that there was a special department in the court that handled Falun Gong cases, and legal procedures aren't followed.
After the Mid-Autumn Festival in September 2020, Mr. Sun's family went to the Jilin City Detention Centre to deliver clothing to him, only to discover that he was no longer there. The guards refused to reveal where he was.
Suspecting that he had been sentenced, Mr. Sun's parents, who also practice Falun Gong, went to every prison in the province to look for him.
Around the 2021 Chinese New Year in February, Zhang Bo, the head of the Yongji County 610 Office, harassed Mr. Sun's parents and said that if they signed statements to renounce Falun Gong, they would be allowed to see their son. Zhang told them that Mr. Sun had been sentenced to four and a half years but refused to say where he was incarcerated.
Investigating further, Mr. Sun's parents later confirmed that he was indeed sentenced to four and a half years and was admitted to Gongzhuling Prison. But the authorities are still refusing to let his family visit him.
Repeatedly Persecuted
After Seven Years of Incarceration, Heilongjiang Man Secretly Sentenced to Another Nine Years
Mr. Niu Jiahui of Harbin City, Heilongjiang Province, was arrested on September 24, 2019, at his sister's home. A police officer put him in a chokehold and almost suffocated him. His sister tried to stop them, only to be beaten herself.
The police also went to Mr. Niu's home and confiscated his Falun Gong books, informational materials, and a printer. They hauled off the confiscated items in two vans.
The police kept Mr. Niu's family in the dark about his situation after his arrest. On the evening of October 28, 2020, his family was called and told that he was scheduled to appear in court the next afternoon. But they weren't told where, or allowed to attend. They confirmed in June 2021 that Mr. Niu has been secretly sentenced to nine years.
This isn't the first time that Mr. Niu, a former employee of the Harbin Railway Bureau, has been persecuted for his faith. He was first sentenced to five years on November 21, 2002, for renting an apartment to print Falun Gong materials.
Three years after he was released, in May 2010, Mr. Niu married another Falun Gong practitioner, Ms. Zeng Shuling, who was disabled after being tortured in labor camps. Mr. Niu made a living by selling office supplies and repairing printers. He also took on most of the household chores due to Ms. Zeng's disability.
The police broke into the couple's home early in the morning on December 31, 2011, when they were still in bed. An officer grabbed Ms. Zeng's hair, yanked her out of bed, and dragged her across the floor. When Mr. Niu tried to stop them, the police surrounded and beat him.
The couple was arrested and given two years of forced labor. Mr. Niu was taken to Suihua Forced Labor Camp on February 8, 2012, and Ms. Zeng to the Qianjin Forced Labor Camp. The guards once tortured her by leaving her in a pigpen for an extended time.
The police went to Mr. Niu's home in October 2017 and tried to harass him, claiming to be there to renew his household registration. Because Mr. Niu wasn't there, the police told his neighbor to have him go to the police station.
Suspecting that the police were attempting to arrest him, Mr. Niu asked his sister to go on his behalf. Although the police initially renewed his household registration, they soon voided it, claiming that Mr. Niu had to come to their office himself and have his photo taken.
The police later found out through Mr. Niu's mother that he had a street food stand, selling baked sweet potatoes. They found him on October 31 and demanded his phone number.
The police harassed Mr. Niu at his food stand again on April 19, 2018, and collected a tissue sample from him for his DNA. At that time, Mr. Niu was struggling with poor health caused by the torture he'd experienced in custody, including a rupture of the peritoneum (a thin lining in the abdominal cavity that connects and supports internal organs), rectal prolapse, and psoriasis.
Senior Engineer Sentenced to Four Years Again after Serving 11 Years in Prison
Ms. Yu Minghui's wish to reunite with her parents was shattered again when her 63-year-old mother was sentenced to four years in prison for practicing Falun Gong.
Since the Chinese communist regime started to persecute Falun Gong in 1999, Ms. Yu's family of three in Mudanjiang City, Heilongjiang Province, has spent less than two years together. Her father was arrested in 2001 and sentenced to 15 years. His wife was arrested in 2003 and sentenced to 11 years.
As a teenager, Ms. Yu struggled to grow up by herself. After being admitted to Cambridge School of Visual & Performing Arts in 2010 to study fashion design, she moved to the UK and hasn't been able to return to China since.
When her father was released in 2016, two years after her mother returned to their empty home, they applied for passports to travel to the UK to visit Ms. Yu. The police turned them down and told them that there was no way for them to ever get passports.
Ms. Yu's mother, Ms. Wang Meihong, a geological engineer, was arrested again on March 31, 2020, for talking to people about Falun Gong. After a year of detention, she was sentenced to four years in prison around early May 2021 and has been admitted to Heilongjiang Women's Prison.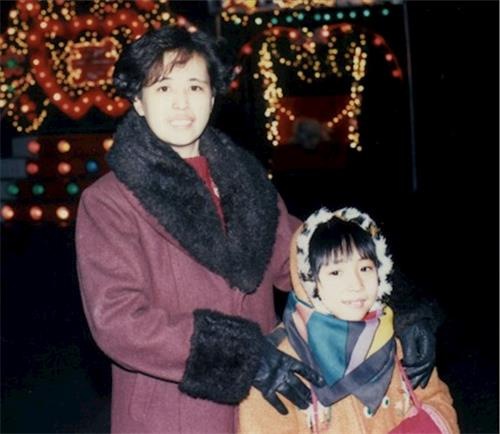 In April 2021 while attending an event in the UK calling for an end to the persecution, Ms. Yu said, "I don't know when my mother will be released. I came here today to protest the Chinese Communist Party (CCP), because my mother did not commit a crime by practicing Falun Dafa. My parents are now in their 60s. They were imprisoned for over a decade. Their lives are extremely difficult.
"I am very worried. I hope they can release my mother immediately and give her back her freedom. Stop harassing her. It is not wrong to believe in Truthfulness, Compassion, Forbearance."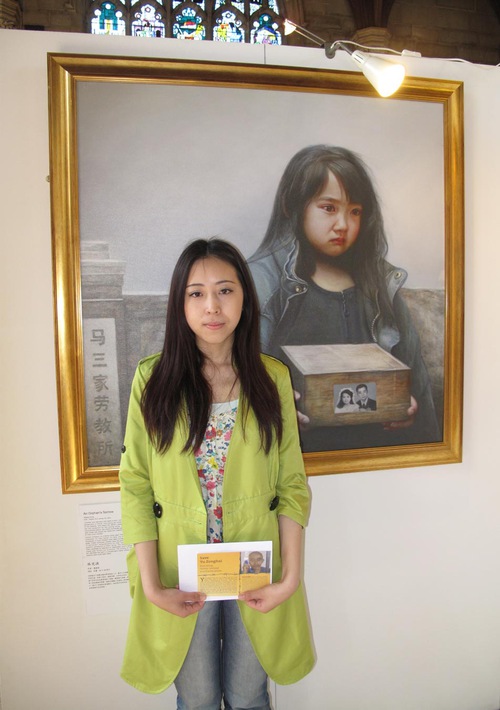 All articles, graphics, and content published on Minghui.org are copyrighted. Non-commercial reproduction is allowed but requires attribution with the article title and a link to the original article.
Chinese version available
(Clearwisdom)