May 22, 2021 | By a Minghui correspondent in Western Australia
---
Falun Dafa practitioners in Perth held activities in the city centre May 15 – 16, 2021 to celebrate World Falun Dafa Day and wish the spiritual practice's founder, Master Li Hongzhi, a happy 70th birthday.
Strong, Positive Energy
As part of their two-day celebration, on May 15, practitioners gave dragon dance and waist drum performances in the city's Murray Street mall and demonstrated the five sets of exercises. Several practitioners spoke of the positive changes they experienced through the practice.
As practitioners paraded along the closed shopping street mall, their colorful costumes attracted the attention of shoppers who applauded or gave thumbs up. Several people stopped to take photos. Some commented that they felt a strong, positive energy and the music made them feel energised.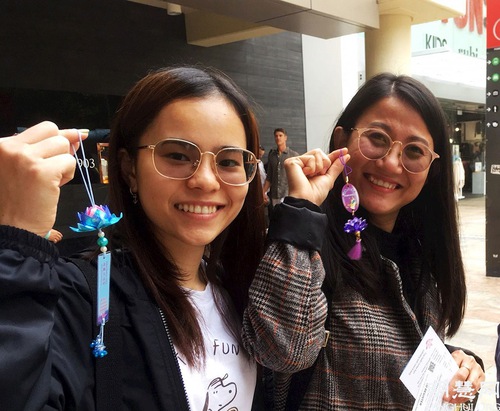 Brett Martin and his wife who were visiting from Sydney thought the performance was special. He said, "Everyone has a smile on their faces. The waist drums were light and upbeat. I think this will be excellent for health." He added, "I know about the persecution in China. This is inconceivable. Falun Gong is a very peaceful group. I know there is a practice site in Mount Lawley. I will suggest to my son who lives in Perth to go there and learn the exercises."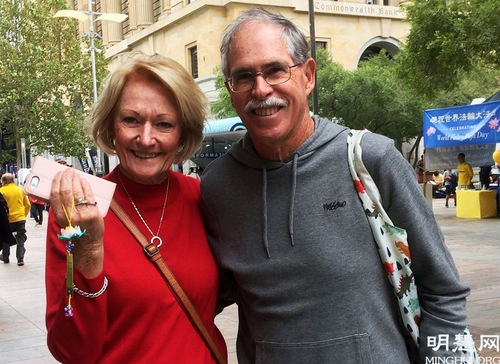 Truthfulness, Compassion, Forbearance Are an Example to All of Us
Senator Dean Smith, Western Australia Member of Parliament sent a congratulatory letter expressing his support and best wishes. He said in his letter: "The Australian government is committed to promoting and protecting human rights, including freedom of religion or belief for all people."
"Falun Dafa's message of truthfulness, compassion and forbearance are an example to all of us – in Australia and around the world."
"On this World Falun Dafa Day, we celebrate the Falun Dafa mission to make society a healthier and more harmonious place."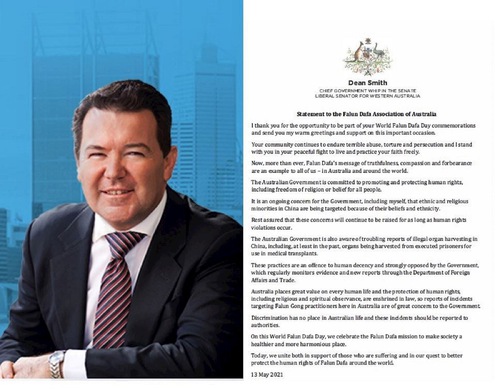 Celebrating World Falun Dafa Day in Chinatown
The next day on May 16, practitioners celebrated "World Falun Dafa Day" by demonstrating the exercises and performing the waist drum dance in Chinatown in downtown Perth.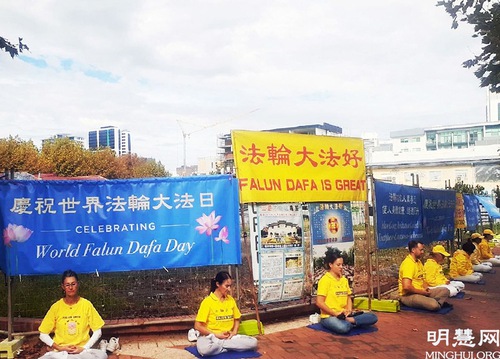 Falun Dafa Has Been a Boost to My Physical and Mental Health
Borzou said he received a brochure about Falun Dafa while strolling in Chinatown in 2009 and began to practice. He said, "I always had a lot of questions about life: Why do people become sick, where does one go after death? I found the answers through reading the teachings."
"When I feel anxious or depressed, these negative feelings disappear after doing the exercises. Afterwards I'm filled with positive energy, my thoughts are clearer. This practice can purify your life, body. I continue to read the teachings, do the exercises, and I love to share the beauty of the practice with those around me."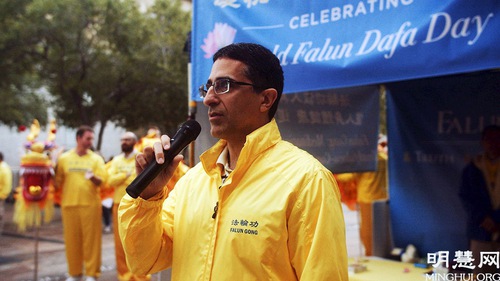 Another practitioner, John, used to visit bars and take drugs before he began practicing Falun Dafa. He said, "I dislike my former self because I took drugs and often lied. I tried to get rid of these bad habits, but it was very difficult."
One day over 10 years ago, John's coworker learned that he liked martial arts and gave him a brochure about Falun Dafa. When John saw the words "Truthfulness, Compassion, Forbearance" on the flier, it made him recall how as a child he loved to help others and never asked for anything in return. He thought Dafa could help him and he began to practice.
He said, "Every day I try to live by these principles. I stopped blaming others. Instead, I examine myself to see where I did not do well whenever there are conflicts. I couldn't calm down before, but now I feel serene. I use the principles of Falun Gong to teach my daughters and raise them with a calmer mindset. My back and shoulders were injured due to work, but after I began practicing, these ailments are gone. My daughters and I enjoy good health now. I am very grateful to Dafa for changing my life. I try my best to let others know the benefits of the practice.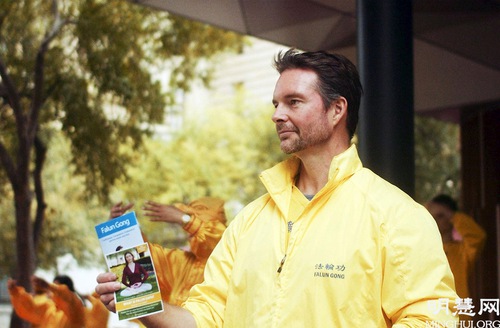 All articles, graphics, and content published on Minghui.org are copyrighted. Non-commercial reproduction is allowed but requires attribution with the article title and a link to the original article.