May 23, 2021 | By a Minghui correspondent in Melbourne
---
Melbourne Falun Gong practitioners held activities to celebrate World Falun Dafa Day and the 70th birthday of Master Li Hongzhi, the founder of Falun Dafa, at Box Hill shopping centre on May 15, 2021.
The venue was decorated with banners and decorative flowers. Dressed in golden costumes, practitioners played the drums at noon to start the day's events. The chairman of an Australian think tank, leaders of the Chinese community, and Falun Gong (also called Falun Dafa) practitioners gave speeches to mark the occasion.
Box Hill, a district in Melbourne, is home to the largest Chinese population. Local Chinese, as well as many Chinese families living in suburbs, like to shop in the Box Hill shopping centre to shop and meet with friends.
Box Hill is in the City of Whitehorse and the city office building is located in the suburbs. City Councilor Andrew Munroe spoke at the event.
Many Chinese live in the City of Manningham, which is next to the City of Whitehorse. Councilor Andrew Conlon sent a congratulatory letter on behalf of the City of Manningham. Ms. Tina Liu, a Chinese Whitehorse City Councilor who was unable to attend the celebrations, sent well-wishes too.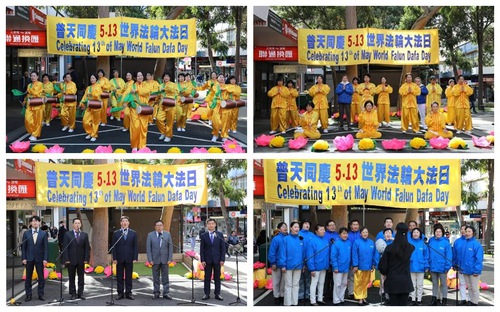 Everyone Should Follow the Falun Dafa Principles
Peter Westmore, former Chairman of the National Civic Council, a well-known think tank, commented that the medical profession has affirmed that meditation practices are beneficial to one's psychological health.
Falun Dafa's meditation practice aims to help one spiritually by following the principles of Truthfulness, Compassion, and Forbearance. He suggested that every civilized person should follow these principles.
In his speech, he said: "With regards to Falun Dafa practitioners, they have shown over the course of the last 20 years, during which they have been ruthlessly persecuted by the Chinese Communist Party (CCP), their adherence to these principles, and also a willingness to put up with a treatment that no human being should be subjected to.
"Many of them have been murdered for their belief. This persecution began in 1999, the time when the organ transplant industry in China was growing—which is very closely linked with the government. In order to have a supply of organs, the government used imprisoned arrested Falun Gong practitioners as a source for organs.
"When people stand up for their human rights and then are imprisoned or even executed for standing up for them, particularly people who have committed no crime and whose belief and practices are actually for the good of society, that is wickedness. We must stand alongside of those who are suffering."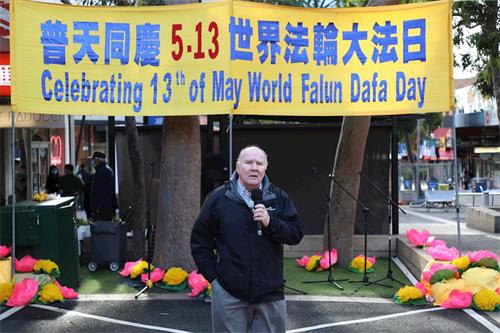 Thank You, Mr. Li. Hongzhi, for Establishing Falun Dafa
Mr. Ruan Jie, President of the Melbourne Tiananmen Square Times, expressed his gratitude to the founder of Falun Dafa, Mr. Li Hongzhi, and praised the Dafa tenets of Truthfulness, Compassion, and Forbearance.
"As a Chinese, I am very grateful to Mr. Li Hongzhi for bringing Falun Dafa to this world," he said. "I hope there will be more organisations like Falun Dafa in China, which build on the foundations of traditional Chinese culture."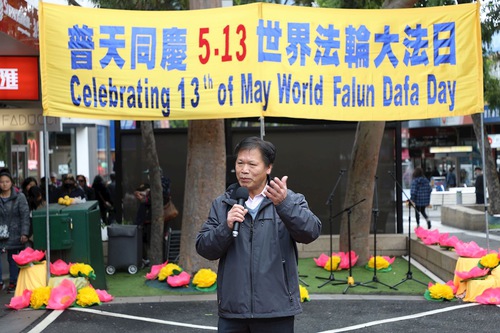 Your Tenacity in Your Faith Is Remarkable
After watching the performances and hearing the speeches made by the guests, Mr. Zhang, a new migrant from China said that he'd seen Falun Dafa practitioners hold such activities in his previous overseas travels. He praised them for persisting in their faith for several decades.
He said, "One must have a belief. People in China have no belief." He said that practitioners appear to be kind, whereas "people in China think the more cunning one is, the better." The source of the problem, according to him, is the Communist system. He said that there is no freedom of speech in China—it is a totalitarian country. Society is regressing and Chinese citizens are heavily brainwashed by the Chinese Communist Party (CCP). "Those with brains can see that things are getting worse."
He decided to leave the country because he has given up all hope that the CCP might change. He said, "It is not enough to fill your stomach. You must have your own thoughts. The CCP has imprisoned its people. I am very fortunate to be able to leave that place."
After coming to Australia, however, he has observed that the CCP's influence has extended overseas. Many people don't realise the truth and Chinese migrants are still afraid of the CCP "because it will resort to anything. It is frightening."
Teresa Wong, a 14-year-old Chinese high school student, had never heard of Falun Dafa. She became interested in learning more about the practice after talking to practitioners. She signed the petition calling for an end to the persecution in China.
"I am very grateful to practitioners for teaching me a lesson in life," said Teresa. "Truthfulness, Compassion, and Forbearance are very meaningful values and a great help to one's mental wellbeing. I hope they will continue to spread positive energy, and those who talk to them can feel it, too."
Practitioners' Car Parade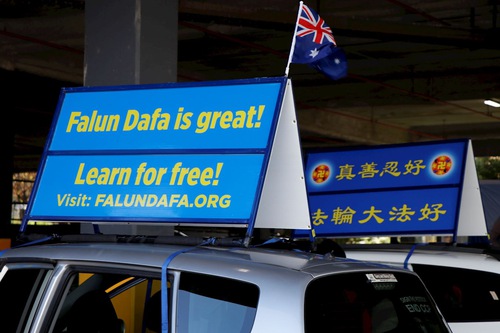 All articles, graphics, and content published on Minghui.org are copyrighted. Non-commercial reproduction is allowed but requires attribution with the article title and a link to the original article.
28 total views