On April 28, 2000, an article was published on Minghui.org in which Falun Dafa practitioners in Europe and North America proposed May 13 as the annual World Falun Dafa Day. This quickly drew the attention of practitioners in Europe, Asia, Australia, and mainland China.
The next day, a response from Beijing was published: "We agree with the suggestion by overseas practitioners," wrote a group of practitioners in Beijing. "Please celebrate this and share the beauty of Dafa with people. We always support you wholeheartedly."
Only nine months prior, on July 20, 1999, the Chinese Communist Party (CCP) had openly launched a nationwide campaign against Falun Dafa, a meditation practice based on the principles of Truthfulness-Compassion-Forbearance. Many practitioners were arrested at home, at work, or on the street for upholding their faith and spreading the goodness of Falun Dafa.
Outside of China, however, practitioners could freely practice their belief. Within several days of the publication of the proposal, more practitioners in the United States and Canada also expressed their support for establishing a World Falun Dafa Day.
On May 5, 2000, Minghui officially announced that May 13 was designated as World Falun Dafa Day to help inform people around the globe about the benefits of Falun Dafa and to call for kindhearted people to support Falun Dafa practitioners in China in their efforts to defend their right to freedom of belief. The establishment of World Falun Dafa Day would enable Dafa practitioners and their supporters around the world to celebrate the special occasion each and every year.
May 13, 2000, thus became the first World Falun Dafa Day, exactly eight years after Mr. Li Hongzhi, founder of the practice, introduced Falun Dafa to the public. In just several years of its public introduction, Falun Dafa had attracted about 100 million people in China to its profound principles and health benefits. However, to many people in other parts of the world, Falun Dafa was still unfamiliar.
The establishment of World Falun Dafa Day was like opening a bright window for people from all walks of life to come to know Falun Dafa as well as its practitioners. World Falun Dafa Day has thus become a special day that people across the globe look forward to each and every year.
Manhattan: Where Can I Learn?
More than 20 practitioners gathered at Bryant Park in Midtown Manhattan in the early morning of May 13, 2000. Located on 42nd Street between Fifth and Sixth Avenues, this park was a recreation space with a nice lawn next to the New York Public Library.
Intrigued by the colorful balloons put up by practitioners with the words "World Falun Dafa Day," pedestrians stopped for information. Many of them said they knew that this practice had been suppressed in China but were surprised that there were so many practitioners. Some said they were glad to see such a practice group in Manhattan. "You only gave me materials and talked about the practice. Could you tell me where I can learn it?" one passerby asked.
That same day, similar events took place in many other cities in the United States, Canada, and Australia.
Japanese Police Officer: The Rain Will Stop for You
Japanese practitioners from Kanto Region, Hiroshima, Sendai, and Nagoya gathered at Citizens' Public Hall in Tokyo on May 13, 2000, to celebrate the first World Falun Dafa Day.
At 1 p.m., about 150 practitioners started a march from Ueno Park. Led by a police van, practitioners carried decorated balloons and banners reading "Falun Dafa."
It began to drizzle right after the march started. "It is such a beautiful event," said a police officer. "I hope the rain will stop for you." Practitioners nodded and smiled. And indeed the rain stopped after a while.
Event Next to the Eiffel Tower 
It was a fine day in Paris, where more than 60 practitioners gathered at the Trocadéro, the park near the Eiffel Tower, to celebrate the first World Falun Dafa Day on May 13, 2000. Many passersby saw the activity and asked questions. A young woman stopped to watch practitioners demonstrate the exercises, and she later joined the practitioners in doing the exercises.
Also that day, Radio France International covered the event in its Chinese and French programs. Radio Station of Europe 1 also reported on this activity.
Hong Kong
After obtaining a permit from the police, about 150 practitioners in Hong Kong celebrated the first World Falun Day on May 13, 2000. Next to the busy traffic, practitioners held banners in Chater Garden emblazoned with, "World Falun Dafa Day," "Truthfulness-Compassion-Forbearance," and "Falun Dafa."
Also that day, practitioners submitted materials about the practice to the Hong Kong Legislative Council and the Hong Kong government. The offices of many elected officials also received the information.
AP (Associated Press) reported that Hong Kong was the only place in China where Falun Dafa practitioners could practice their belief without consequences. Hui Yehan, a 42-year-old housewife who had practiced for two years, said the event was an opportunity for people to come to know Falun Dafa. She said that the practice benefits practitioners and society as a whole, while causing no harm to anyone.
On May 13, 2000, over 400 practitioners in Taiwan did the exercises together in Taichung to support the practitioners in China.
According to World Journal, practitioners in nearly 40 nations held events on May 13, 2000, to help people learn about Falun Dafa.
Beijing: A Different World
In contrast to celebrations around the globe, practitioners in China were targeted when they tried to celebrate the first World Falun Dafa Day on Tiananmen Square on May 13, 2000. According to AP news, when some practitioners went to Tiananmen Square that day, police officers knocked them down, scattering their banners and flowers all over.
Many police officers, both in uniform and plainclothes, were on patrol at Tiananmen Square. They approached pedestrians or tourists, asking if they were Falun Dafa practitioners. If the answer was yes, the police would take them to police vans parked not far away.
Officers also beat five women who tried to unfurl banners bearing messages about Falun Dafa. The beatings continued even after they were pushed into police vans.
At least 50 practitioners were arrested by Beijing police that day. The violence used against them shocked thousands of tourists, including many from other countries.
AP news commented that the police brutality against Falun Dafa practitioners indicated that the Chinese government's persecution of Falun Dafa had not achieved its goal, as practitioners did not waver in their belief.
According to Voice of America, in order to prevent Falun Dafa practitioners from organising such events on May 13, 2000, Beijing had intentionally slowed down the country's internet speed. Authorities also barred access to Falun Dafa-related websites and some Western news websites.
Nonetheless, greetings have flowed in to the Minghui website every year since then. The well-wishers come from all walks of life, including officials and civil servants in the Chinese government, active and retired service members, college professors and staff, business owners, factory workers, and ordinary citizens. They thank Falun Dafa for the positive effects it bestows on practitioners and society.
The sheer number of greetings received each year makes people wonder: had Falun Dafa not been persecuted in China, how many more people – both Chinese and overseas citizens – would have picked up the practice?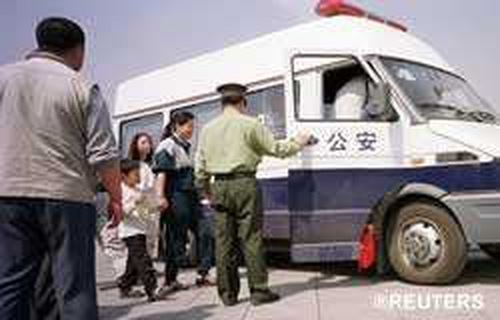 All's Well That Ends Well
For Falun Dafa practitioners, Truthfulness-Compassion-Forbearance are universal values that go beyond national borders or ethnic groups. Anyone can practice Falun Dafa to be a good person while improving his or her health.
Spreading the goodness of Falun Dafa outside of China may seem trivial. In mainland China, however, it could mean life and death, loss of job, and suffering of family members including children. Nonetheless, with a pure heart to help people know what Falun Dafa is, and to expose the persecution, practitioners in China have worked hard distributing informational materials to people, rain or shine.
Gradually, the seeds of kindness have grown and blossomed around the world. Since its introduction to the public in 1992, Falun Dafa is now practiced in over 100 countries, with its teachings translated into more than 40 languages. With over 100 million practitioners around the world, more than 3,500 proclamations and letters of support have been received from state and local leaders across the world.
In 2018 alone, three resolutions were passed in the United States, 44 proclamations were issued, and 27 congratulatory letters were received to celebrate World Falun Dafa Day. For eights years in a row (2011-2018), the New York State Senate passed a resolution to celebrate World Falun Dafa Day.
On July 17, 2019, former U.S. President Trump met 27 survivors of religious persecution from 17 countries. Among them was Ms. Zhang Yuhua from Nanjing City, Jiangsu Province. House Speaker Nancy Pelosi also emphasised her support for China's human rights in her speech the day before.
Sam Brownback, United States Ambassador-at-Large for International Religious Freedom, also tweeted his support for Falun Dafa practitioners on May 13, 2019. He said no one, including Falun Dafa practitioners, should be suppressed for their belief.
In July 2020, over 600 legislators from Europe, North America, the Middle East, Asia, and Latin America signed a joint statement, calling for a stop to the persecution of Falun Gong and the release of all detained practitioners.
May is the season of blossoms and hope. With tens of millions of practitioners continuing to suffer suppression in China, and the CCP's terror threatening the world, our choice can be critical. If we choose to support the innocent and the upright, we will be blessed with a brighter tomorrow.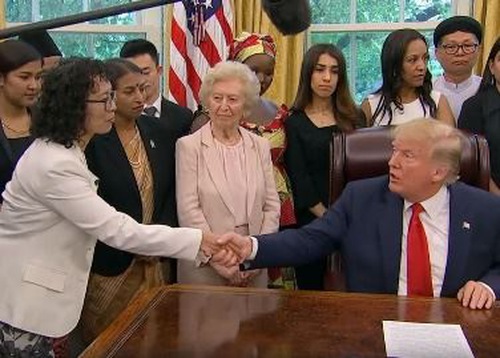 All articles, graphics, and content published on Minghui.org are copyrighted. Non-commercial reproduction is allowed but requires attribution with the article title and a link to the original article.
Chinese version available
(Clearwisdom)