Now that the coronavirus lockdown in Australia has eased, local Falun Dafa practitioners in Melbourne resumed their activities to raise awareness of the persecution of their faith in China.
In November, practitioners gathered at City Square, Chinatown, and in front of the State Library of Victoria every weekend to tell people about the persecution, including the state-sanctioned organ harvesting from living practitioners incarcerated for refusing to renounce their faith.
Many passersby signed a petition condemning the persecution and demanded that the Chinese Communist Party (CCP) be dismantled.
Practitioners also held a car parade on November 22, 2020. Besides promoting Falun Gong, they called on people to reject and boycott the CCP. The signs on their cars said, "Falun Dafa is good," "Truthfulness, Compassion, Forbearance is good," "Communism Puts Everyone at Risk," "Say NO to the CCP," "CCP Lies, People Die," and "End the Evil CCP."
Fifty cars started off from Nunawading and drove through Collins St., Queen Victoria Market, South Yarra, Chadstone Shopping Center, Box Hill, Glen Waverley, Burwood, Blackburn, and Clayton. Matt, an engineer, said he respected the practitioners' efforts to let Australians know about the persecution in China.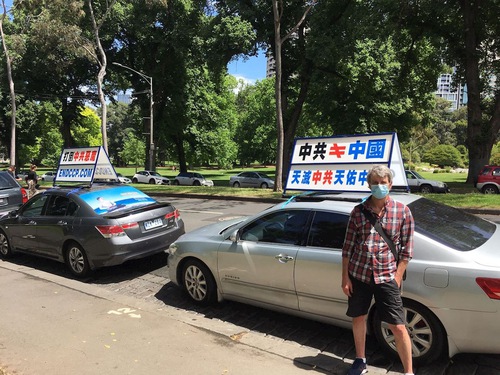 Important to Let People Know the CCP's True Nature
Jesse, a department manager at a company, has visited China and Hong Kong. After signing the practitioners' petition calling to end the CCP, he said the Party has committed many crimes, including the persecution of Falun Dafa practitioners and Christians and its deprivation of citizens' rights in Hong Kong. "I one hundred percent believe that the CCP is the devil and wants to seize power and replace the U.S. to become the world's superpower. I think the CCP has actively infiltrated Australian universities, politicians, businesses, and communities," he said.
"People should know the truth about the CCP," he continued. "If we listen to the mainstream media we won't know what happens in China. This kind of human rights violation can happen to all of us. What practitioners are doing is important. By letting people know the evil nature of the CCP, we can work together to stop the worst thing from happening."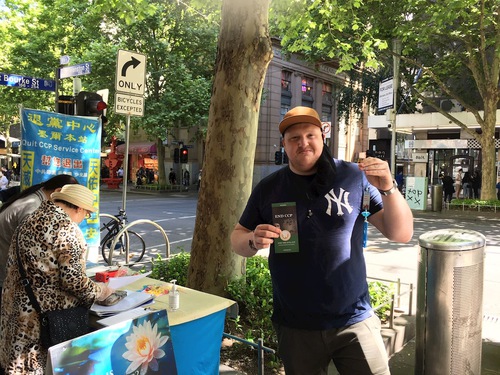 Practitioners Should Continue Warning the World
Michael from Russia said, "I still have memories from when I was little. I know life is terrible under Communism. I support ending the CCP. I know the CCP tries to influence every aspect of Australian society, especially in politics and trade. What I want to say to the CCP is, No."
Michael saw how difficult it was for practitioners to collect signatures on the petition, as many passersby were busy or indifferent. "We need practitioners to continue speaking up and warning people," he said.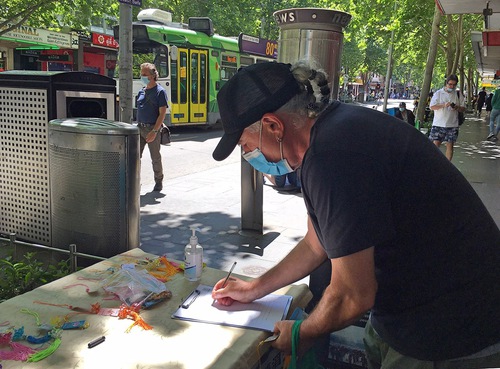 People Benefit from Knowing the CCP's Crimes
"[The practitioners] did a great job!" hospital worker John said after seeing the practitioners' car parade. "The parade brings people's attention to the CCP's crimes. People living under the CCP's reign suffer terribly. I hope practitioners continue their efforts to let more people know the truth."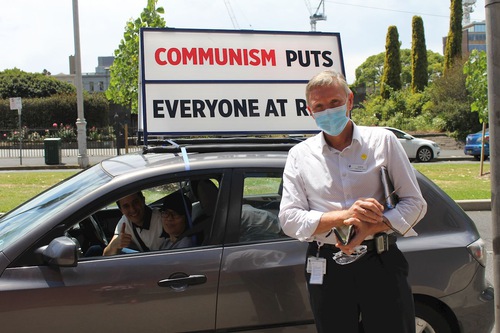 Every Signature Contributes to Positive Energy
Peter Marsh retired last year after 53 years as a family doctor. When he visited Chinatown, he signed the petition to support practitioners' efforts to "End the CCP." He said that through the petition people will learn more about the evil nature of the CCP. He said the Communist Party not only persecutes people in China but also infiltrates every aspect of the Western world, including Australia.
"Every signature represents a piece of positive energy. I will share this with people around me for sure," he said.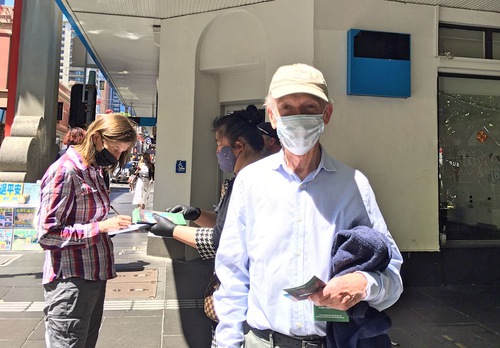 Stopping the CCP from Infiltrating Australia
Grace De Petro, a cosmetics shop owner, said, "I support justice and democracy. Communism dictates people's lives and restricts their freedom. This always ends up with silencing, killing and persecuting people. If we don't stop it, communism will grow and invade our lives, and we will lose our freedom.
"We are born in a free country and don't want socialism. We don't want the government to decide everything for us." She agreed with practitioners' efforts to tell people about the CCP's crimes so that they can stay away from the regime. "This is a great effort and can absolutely get people to start talking and thinking. More people are saying no to the CCP, and the power of people is important," she said.
27 total views