Falun Dafa practitioners in New Zealand have had a very busy holiday season to date, bringing beautiful music and traditional Chinese culture to community Christmas parades throughout the country.
This past weekend (December 7-8, 2019) saw Dafa practitioners participating in 6 more Christmas parades – five in the North Island, in Hamilton and four Auckland suburbs, and one in the South Island City of Christchurch.
Altogether, they have been invited to participate in 15 Christmas parades this holiday season.
The Tian Guo Marching Band, dragon dance team, and waist drum team have been warmly received by the community throughout these events.
In Palmerston North, a city in the North Island, the practitioners received an award for their performance in the parade on Sunday, December 1, 2019.
A photograph of the waist drum team was published in the Manawatu Standard, the largest newspaper in the region. This was the fifth year that Falun Dafa practitioners have received an award for their participation in the parade.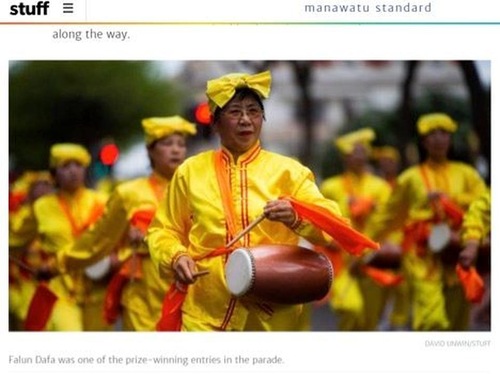 Erica Stanford, Member of the New Zealand Parliament in the House of Representatives for the National Party, and her group participated in the parade in Browns Bay, Auckland, on Sunday, December 7, 2019.
MP Stanford said that the Tian Guo Marching Band's performance was "really awesome" and their music was excellent.
Ms. Stanford was glad to see Falun Gong practitioners in the parade, remarking that they set a good example of cultural diversity and contribute towards a great community.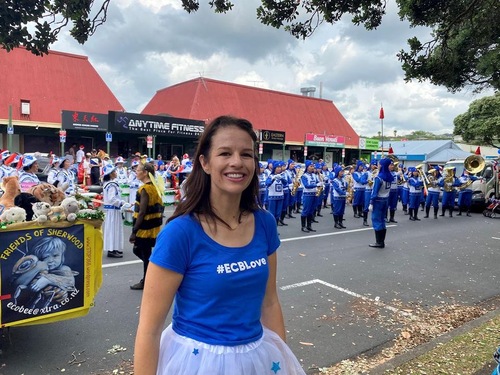 Lynn Usmani and Anne Donovan took part in the parade to support an animal welfare organisation. They had already heard about the persecution of Falun Dafa in China and have seen videos on the internet about the Chinese regime's forced organ harvesting of prisoners of conscience. Ms. Usmani said that the brutality in China was shocking.
"This [forced organ harvesting] is the cruelest thing I've ever heard of—those surgeons blindly follow orders and do not even think about what they are doing," she said, adding that many people throughout the world are still unaware of China's human rights atrocities.
Ms. Usmani had seen the Tian Guo Marching Band in activities on Queen Street in Auckland and said that their performance was magnificent.
Ben McMurdran applauded the practitioners and had great things to say about the Tian Guo Marching Band. "I can tell they have brought great music and really put in a lot of effort," he remarked. "Their costumes are wonderful and the melodies are perfect. I'm enjoying it very much!"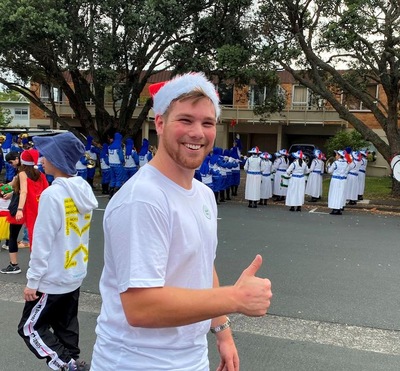 (Clearwisdom)