Falun Gong practitioners held a two-day event at Logan Central Plaza in Logan City, Queensland on November 19 and 20, 2019.
Many people stopped at their booth to learn more about Falun Gong and sign a petition condemning the Chinese Communist Party's (CCP) persecution of practitioners in China, including the state-sanctioned killing of practitioners for organs.
Through this event, practitioners collected signatures from locals and visitors alike to allow them to ask the Federal Government to:
Pass a motion or statement demanding that the CCP end its persecution of Falun Gong that has lasted 20 years and immediately release all imprisoned Falun Gong practitioners.
Urge China to immediately stop taking organs from living prisoners of conscience, and make sure that Australians will not unwittingly participate in the CCP's crime of taking organs from living prisoners of conscience.
Deny Chinese officials and police officers who have participated in persecuting Falun Gong practitioners entry to Australia.
Organ Harvesting from Living Falun Gong Practitioners "Must Stop"
During the two-day event, many people stopped at the booth and told practitioners that they were vehemently opposed to the CCP's taking organs from living Falun Gong practitioners.
A woman named Robina was shocked that such crimes could happen in the world today.
A practitioner told Robina about the China Tribunal, an independent people's tribunal held earlier this year in London, and its conclusion that the Chinese regime has killed Falun Gong practitioners on a large scale for their organs. She was in tears and said, "We must stop it, must stop it!"
Glen talked with practitioners for almost an hour. "People from Western countries absolutely should not go to China to have an organ transplant," he said.
Glen had learned about the CCP's deliberate destruction of traditional culture after taking control of China, as well as its persecution of ethnic minorities.
He was also aware of the CCP's infiltration of various domains in Western countries for a long time.
He admired practitioners' perseverance in resisting the persecution through peaceful means for so many years and sympathised with practitioners in Australia whose family members in China were being persecuted for believing in Truthfulness-Compassion-Forbearance.
He told practitioners that he hopes that one day in the future, practitioners around the world can reunite with their families in China and no longer endure the pain of separation from loved ones.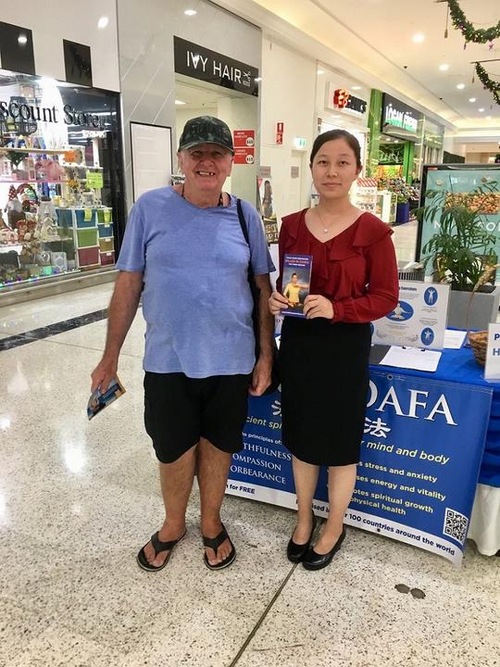 Rose and Michael saw the words about organ harvesting from a distance, so Rose came over to the booth to volunteer her signature.
She then encouraged Michael to do the same. "Taking organs from living people is so horrifying," she said. "I'm firmly against the CCP's taking organs from living Falun Gong practitioners. Everyone should have a happy life."
Michael said that he had witnessed elders in his family being killed during World War II and understood clearly how people are persecuted under tyrannic regimes. He hopes that younger generations will cherish and appreciate the free societies in which they are raised.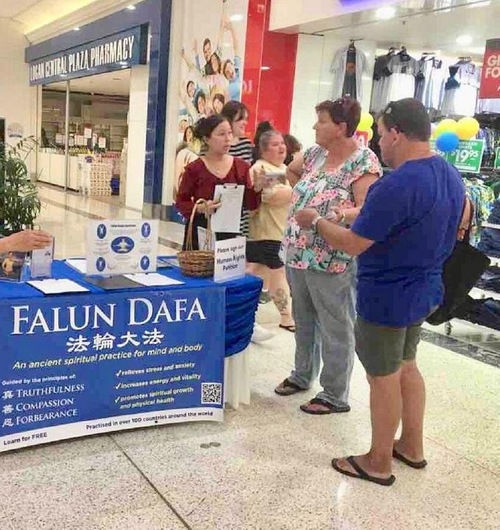 Jack Laredo told practitioners that both he and his brother had already learned a lot about Falun Gong. His brother had told him to make sure to also sign on his behalf to oppose the persecution in China if he came across practitioners collecting signatures.
Jack thus signed for the two of them and said, "It's inconceivable, unimaginable, taking organs from living people is still happening. We must stop it."
Veronica was going to shop at the mall and happened to learn about the persecution. "The practitioners whose organs were harvested are also mothers, daughters and family members. How could they be treated with such cruelty?" she said. "If we don't stop it, more practitioners' organs will be taken. They are innocent and kind people, and their families will lose their loved ones. So we must stop this crime."
Many people talked in depth with practitioners and expressed appreciation for Falun Gong's principles of Truthfulness-Compassion-Forbearance. Some wanted to learn the exercises and inquired about nearby practice sites.
Those who signed the petition called on the Australian government to make laws to prohibit Australians from going to China to receive organ transplants. They also expressed that they will help spread the word to help stop the persecution.