According to information compiled by Minghui.org, 636 Falun Gong practitioners in China were arrested and 347 were harassed in September 2019 for refusing to give up their faith. Of those targeted, 251 had their homes ransacked and at least 500 remain in custody at the time of writing.
Falun Gong, also known as Falun Dafa, is a spiritual practice centered on the principles of Truthfulness, Compassion, and Forbearance. Since the Chinese communist regime started persecuting the practice in July 1999, many of its adherents have been subjected to arrest, imprisonment, torture, forced labor, and even organ harvesting.
Many of the arrests and incidents of harassment took place under the pretense of "assuring social stability" during celebrations for the 70th anniversary of the Chinese Communist Party's founding on October 1, 1949.
Police brutality was also reported in the month of September, with some practitioners assaulted during the arrests and their family members beaten when the latter tried to seek the former's release.
The arrests took place in 29 provinces and centrally-controlled municipalities. The regions reporting the most arrests were Jilin Province (89), followed by Hubei Province (79) and Liaoning Province (68).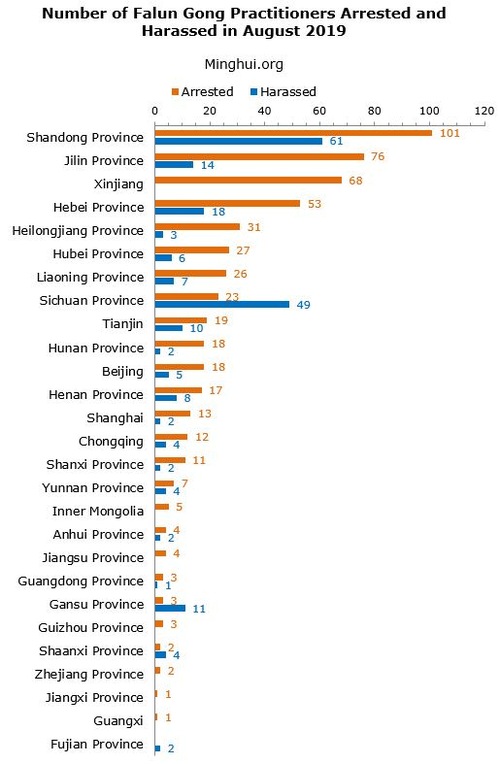 It is worth noting that 73 of the targeted practitioners (51 arrested and 22 harassed) are between 65 and 86 years old.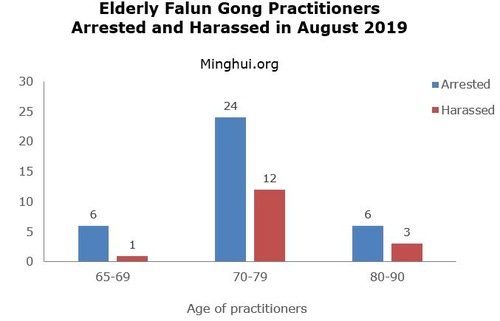 Twenty practitioners also had money confiscated or extorted from them by police. The total amount added up to 852,928 yuan, averaging 42,646 yuan per person.
Mr. Xu Zhangqing and his wife Ms. Tu Ailian in Xiaogan City, Hubei Province, were arrested on September 26, 2019 for practicing Falun Gong.
The police confiscated their personal belongings, including their lifetime savings of 300,000 yuan in cash. Their son, who doesn't practice Falun Gong, was also arrested and detained.
The couple's daughter-in-law, Ms. Chen Chunyan, faced frequent harassment from police after her husband and parents-in-law were arrested. She was later forced to live away from home with her one-year-old baby girl to avoid arrest.
Below is a sampling of some of the arrests and incidents of harassment. Due to the information blockade by the government, the number of Falun Gong practitioners who are arrested and harassed cannot always be reported in a timely manner, nor is all the information readily available.
Group Arrests
Shenyang City, Liaoning Province: 18 Falun Gong Practitioners Arrested Weeks Before China's National Day on October 1
Police in Shenyang City arrested 18 local practitioners in September 2019. Among them, Ms. Zhao Guiqin, in her 60s, was arrested with her incapacitated adult child. They were released only after her child became ill at the police station.
Songyuan City, Jilin Province: 13 Falun Gong Practitioners Arrested in One Day
On September 10, 2019, police arrested 13 practitioners in Songyuan City. Most of them had their computers and Falun Gong books confiscated. One of the practitioners' family members, who does not practice Falun Gong, was also seized.
Luzhou City, Sichuan Province: Four Falun Gong Practitioners Arrested in Two Hours
Police in Luzhou City arrested four women on September 10, 2019, for refusing to give up their faith in Falun Gong and held them in Naxi Detention Centre.
The police claimed that the practitioners were caught on surveillance cameras putting up banners with messages about Falun Gong.
All four of the women's homes were ransacked, and their personal belongings related to Falun Gong were confiscated.
Harbin City, Heilongjiang Province: 17 Falun Gong Practitioners Arrested in One Day
Seventeen residents in Harbin City were arrested on September 11, 2019, for practicing Falun Gong.
It was reported that the police monitored the practitioners' daily lives for months before executing the arrests. The police ransacked most practitioners' homes and confiscated their Falun Gong books, computers, cellphones, and other personal belongings.
Taiyuan City, Shanxi Province: Eleven Falun Gong Practitioners Arrested in Five Days
The police in Taiyuan City arrested 11 practitioners between September 4 and 8, 2019.
It was reported that the Public Security Bureau of Shanxi Province and the Taiyuan City Police Department were behind the recent arrests, and officers from the Yingze Police Station, Wanbolin Police Station, and Jiancaoping Police Station carried out the specific tasks.
The police monitored the practitioners for months before arresting them. They installed surveillance cameras in the apartment building where practitioner Ms. Tian Huiling lives and where several other practitioners often came to study the Falun Gong teachings together. Her arrest has been approved.
The police ransacked the homes of all 11 practitioners and confiscated their computers, printers, and Falun Gong books. The officers took almost everything from Mr. Zhao Jinzhong's home. His family has since been kept in the dark as to his whereabouts.
Wuhan City, Hubei Province: 40 Falun Gong Practitioners Arrested in One Day
On the morning of September 23, 2019, police in Wuhan City carried out a mass arrest of 40 practitioners. They'd monitored the practitioners for six months before making the arrests. Among those arrested is 89-year-old Ms. Yu. Many of the practitioners were given 15 days of administrative detention.
Wuhan Police Intensify Persecution of Falun Gong Practitioners Ahead of Military World Games
Before the Military World Games scheduled to be held in Wuhan City, Hubei Province, in October 2019, Falun Gong practitioners were either arrested or harassed by police.
Police and residential committee members went to Ms. Li Sanyuan's shop on September 3 and videotaped her doing business.
Ms. Xia Yuexian, in her 70s, was out walking with her grandchild on September 30 when the police arrested them and ransacked her home. The police later called her son to pick up his child. Ms. Xia's family was not notified of her whereabouts.
Another practitioner, Ms. Ming Guizhen, was arrested on September 16 for talking to people about Falun Gong. She was taken to the Jianghan District Brainwashing Centre.
On September 17, a police officer went to Ms. Li Fang's home and told her that, due to the Military World Games, his superiors had instructed him to photograph and record Falun Gong practitioners. The officer said he would return if he had to.
Home Demolished by Authorities Without Owner Consent
Mr. Gong Xiaohong, 59, used to work for the Bashan Town Food Company in Chongren County, Jiangxi Province. He was reported to the authorities for sending Falun Gong informational messages via WeChat, a popular Chinese social media app.
He was arrested by Yongsheng Police Station officers on September 4, 2019. His Falun Gong books were confiscated. Mr. Gong was held in the county detention centre for seven days.
When Mr. Gong was detained and no one was at home, the authorities demolished his home without his permission. He was released on September 11 but had no home to return to.
Police Brutality
Woman Yanked off Bicycle By Police, Passes Out After Head Hits Ground
Ms. Liu Bohui of Xiong County, Hebei Province, was arrested on September 17, 2019, by a plainclothes officer after she spoke to him about Falun Gong.
The officer yanked Ms. Liu off her electric bicycle and her head hit the ground, knocking her out. She passed out immediately.
Upon regaining consciousness, Ms. Liu had intense pain in her shoulder and couldn't lift her arm. Instead of seeking medical attention for her, the police took her to the Bazhou City Detention Centre, where she has since been held.
Although the guards at the detention centre did later take Ms. Liu to the hospital for an exam, they continued to detain her even after she was diagnosed with high blood pressure and heart problems.
The police scaled the fence at Ms. Liu's home at around 11:00 p.m. on the day of her arrest and ransacked her home. Her Falun Gong materials were confiscated.
The police have submitted Ms. Liu's case to the procuratorate. Her lawyer visited her on October 18 and has demanded that the procuratorate release her.
Woman Has Headaches, Heart Discomfort, and High Blood Pressure After Being Slapped in the Face by Police
Ms. Ma Fengju of Qingyuan County, Liaoning Province, has developed medical problems after being slapped in the face dozens of times by police officers following her arrest for practicing Falun Gong.
Ms. Ma is being held in the Fushun City Detention Centre. According to her family, she is experiencing persistent headaches, discomfort in her heart, and high blood pressure.
Her family condemns the authorities for holding her in detention for exercising her constitutional right to freedom of belief. They are calling for her immediate release.
Ms. Ma was arrested on September 25, 2019, for distributing information about Falun Gong in a residential area. She was taken to Qingyuan County Domestic Security Division, and her home was later ransacked.
Wang Dong, the head of Yaozhan Police Station, attempted to collect Ms. Ma's fingerprints. She refused to comply. Wang and another officer slapped her in the face dozens of times.
The officers transferred Ms. Ma to Fushun City Detention Centre the next day. During a physical, a third officer slapped Ms. Ma in the face.
Three Women Abused in Detention After Being Arrested for Studying Falun Gong Teachings
Five Hong'an County, Hubei Province, residents were arrested for studying the Falun Gong teachings in someone's home. Three of them remain in custody and were abused in a local detention centre.
Ms. Liu Youxiang, Ms. Wang You'e, Ms. Wu Liheng, and Ms. Ma Yumei, in their 50s and 60s, were studying the Falun Gong teachings in the apartment of Mr. Li Changrong, 78, on the afternoon of September 19 when two residential committee members knocked on the door.
Seeing that the Mr. Li and his guests were studying Falun Gong books, the two staff members left after a short conversation with Mr. Li. The police showed up and ransacked Mr. Li's home, confiscating his 12 Falun Gong books.
The five practitioners were taken to Chengguan Town Police Station and interrogated.
Mr. Li was released at around 7 p.m., while the other four were transferred to Huolianfan Detention Centre.
Ms. Ma was released several hours later for medical reasons. It's not clear whether she was mistreated while she was in custody, but she sustained injuries during that time.
The three other women, who remained in detention, were forced to run out in the sun and shocked with electric batons because they refused to wear the prisoners' uniform.
When Ms. Wang's family brought her clothes in the detention centre, they saw that her face was swollen and bruised. She also had injuries on her body from electric shocks.
According to Ms. Wu's family, she was hospitalised after developing high blood pressure and fainted after being out in the sun too long.
Five Shandong Residents Arrested for Practicing Falun Gong
Five women in Pingdu City, Shandong Province, have been detained for more than a month since their arrests on September 24, 2019.
Ms. Zhou Jun and Ms. Zhan Zhongxiang were sitting in Ms. Zhou's car after shopping at a farmers' market. They were waiting for Ms. Zhou's aunt, Ms. Zhou Yuxiang, when a police car stopped next to them and the officers ordered them to get out of their car.
After a 10-minute standoff, the police dragged Ms. Zhou Jun and Ms. Zhan out of the car and confiscated their purses and the car key.
When Ms. Zhou Yuxiang appeared, they arrested her, too. They verbally abused the women during the arrests.
Two more police cars came and took the three practitioners separately to Renzhao Police Station.
The police ransacked Ms. Zhou Jun's home. Failing to find any Falun Gong materials at the home of the 33-year-old English teacher, they turned to her mother-in-law, Ms. Zhang Junying, who is also a Falun Gong practitioner, and ransacked her home.
A fifth practitioner, Ms. Wang Zengmei, who happened to be visiting Ms. Zhang, was also arrested.
The police took blood samples from the women against their will and didn't give them anything to eat until the next noon. They then took the women to Pudong Detention Centre, where they have been held since.
Detention centre personnel were reluctant to admit the women but yielded to police pressure.
The police returned on September 28 to interrogate the younger Ms. Zhou. She again refused to answer their questions. Her lawyer visited her on September 29 and then submitted his representation document to the police.
The police returned Ms. Zhou's car at her family's request.
After the arrest, Ms. Zhan's son and daughter-in-law went to Renzhao Police Station to find out why she had been arrested. They later saw a police van drive away from the police station with Ms. Zhan and two other practitioners inside.
When they protested, the police mobbed them. Officer Wan held Ms. Zhan's son by the neck and dragged him back, while another officer hit him on the head, especially targeting his eyes, nose, and neck.
When other family members tried to intervene, they were beaten, too. One officer hit the sister of Ms. Zhan's husband, while another one injured Ms. Zhan's sister. No family members fought back.
Ms. Zhan's son's eyes and nose were bleeding. His ribs were injured, and he was bruised all over. He had difficulty bending even slightly. In addition, his right eye was injured, and his eyesight was adversely affected.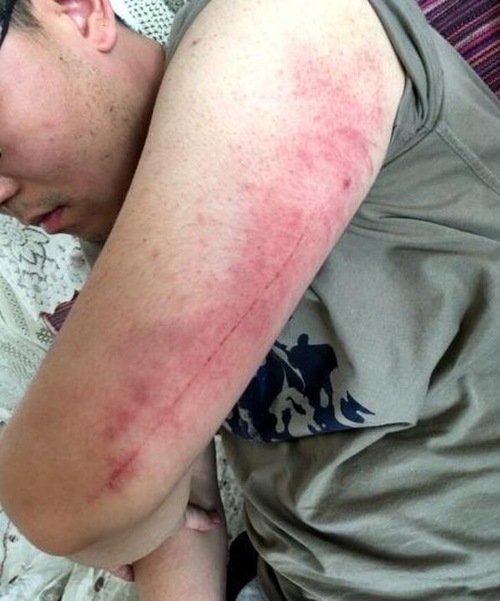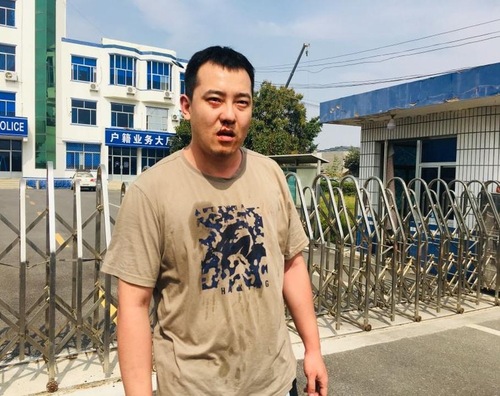 Ms. Song Jiling of Qingdao City, Shandong Province, and mother of a San Francisco resident, was seized by four plainclothes officers as she returned home from grocery shopping on September 10, 2019.
The police took her to Pudong Detention Centre even though she had high blood pressure and other medical conditions.
When Ms. Song's lawyer visited her in the detention centre, she appeared gaunt and exhausted.
She told the lawyer that the guards and doctors in the detention centre forced her to take blood pressure pills every day, but her blood pressure was still high. She had intense headaches and felt very dizzy.
On October 20, Kaifa District Police Station officers submitted Ms. Song's case to the Huangdao District Procuratorate, which declined to issue an arrest warrant.
Ms. Song returned home on October 17.
Violation of Legal Procedure
Married Couple Arrested for Their Faith in Falun Gong—Meetings with Lawyer Denied
A married couple in Wuhan City, Hubei Province, was forced to live away from home to avoid being persecuted for practicing Falun Gong. They were arrested on September 4, 2019, in Jingzhou, a city in Hubei about 140 miles from their hometown. Their lawyer wasn't allowed to see them.
Hearing of their arrests, Mr. Liu's brother traveled to Jingzhou to deliver clothing for them. He went to the Jingzhou Domestic Security Division to inquire about their cases.
An officer warned him not to hire a lawyer for the couple. The officer also refused to return the couple's car and other personal belongings that had been confiscated from them.
Despite his own poor financial condition, Mr. Liu's brother still hired a lawyer.
On September 26, the lawyer went to the detention centre, but the guards turned down his request to see his clients.
The head of the detention centre said, "The powers that be have decided that lawyers can't meet with their Falun Gong clients."
The lawyer later found the director of the Jingzhou Domestic Security Division, who revealed that the procuratorate had already approved the couple's arrests and said that their lawyer was not allowed to meet with them. The lawyer then went to the procuratorate and attempted to talk to the prosecutor but was told to go back in a week.
When the lawyer returned to the detention centre at a later time, the guards again denied his visitation request.
Wife Detained for Practicing Falun Gong, Husband Warned It's No Use to Hire a Lawyer
Police officers from Pingdu City, Shandong Province, scaled the fence around Ms. Liu Yaqi's home on the morning of September 6, kicked open her door, and took her into custody.
It was already 4 p.m. when Ms. Liu's husband, who works in another city, rushed home after learning of her latest arrest.
He and the village official who informed him of Ms. Liu's arrest went to the local police station to ask about her. An officer told them that Ms. Liu was a fugitive and couldn't be released. The officer ordered Ms. Liu's husband to sign her criminal detention notice, but he refused.
The police had been searching for Ms. Liu since July 2018. Prior to her latest arrest, the police seized her from her home on May 27, 2018.
They submitted her case to the procuratorate on July 31 after releasing her on bail on July 4, 2018, which forced her to live away from home to avoid further persecution.
Ms. Liu's husband returned to the police station several times to demand her release, but to no avail. He argued that his wife hadn't violated any laws and that it was the officers who broke the law by arbitrarily arresting and detaining her.
An officer said to him, "The police department instructed us to arrest her. If you think we've violated the law, go ahead and hire a lawyer and sue us!"
Unable to make any progress by visiting the officers during normal business hours, Ms. Liu's husband found the home address of Liu Jie, the head of the local Domestic Security Division, and visited him in the evening.
Liu was shocked to see him at his door. "Why are you here? How did you know where I live? Who brought you here?"
He asked a string of questions and appeared to be very uneasy. Ms. Liu's husband said he wasn't able to find him at the police station, so he tracked him down at his home to demand his wife's release.
Liu responded, "The case has already been submitted to the procuratorate. I can't do anything to help you. What you can do now is to hire a lawyer, but I have to warn you that hiring a lawyer won't be of much use."
Cases of Harassment
87-Year-Old Woman Suffers a Stroke After Being Harassed for Her Faith
An 87-year-old woman suffered a stroke after being harassed by the police for her faith in Falun Gong.
Ms. Ma Jinglan and her husband, both of Qixia City, Shandong Province, went to a farmers' market in early September 2019. They were arrested after the police found a Falun Gong brochure on their tricycle.
The police interrogated them and took their photos. "If you continue to practice Falun Gong, we will arrest your daughter," an officer said to them.
Terrified by the threat, Ms. Ma began to experience dizziness at home. She suffered a stroke three days later and was hospitalised. Her situation also left her husband in deep distress. He couldn't fall asleep and is exhausted.
87-Year-Old Woman Unable to Care for Herself after Arrest
Ms. Chen Fuzhen, 87, of Mianyang City, Sichuan Province, had been repeatedly arrested in the past for refusing to renounce her faith in Falun Gong and was once sentenced to three and a half years of probation.
On September 17, 2019, the police went to Ms. Chen's godson's tea house and arrested Ms. Chen, who was resting in the shop. The police said it was to complete the formalities of a sentencing that had happened a few years before.
Ms. Chen and her godson finally returned home at night. Distressed and upset by the events of the day, she fell and injured her leg. Now she can no longer walk and needs someone to take care of her.
Yunnan Woman Harassed, Home Ransacked
Ms. Hou Wanli of Kunming City, Yunnan Province, was harassed by the police on September 7, 2019, while she was staying at her son's home.
Three police officers asked Ms. Hou's son, a teacher, where he was working. They had harassed him at his former place of employment, causing him to lose his job. Her husband died on June 1, 2018, after suffering from depression when their son lost his job due to the harassment.
When the police saw some Falun Gong-related materials on the table, one of them took out a search warrant and started filling it out.
For more than an hour, the police tried to confiscate Falun Gong materials but backed down after Ms. Hou's son reasoned with them.
They also threatened to arrest Ms. Hou if she went out to distribute information during the 70th anniversary of the Chinese Communist Party's founding.
They told Ms. Hou's son to keep his mother from contacting other practitioners or he would be implicated.
Practitioners in Shanghai Harassed before China International Import Expo
Prior to the China International Import Expo on November 5, 2019, police in Shanghai harassed several Falun Gong practitioners.
From mid-September to October 8, the police monitored Ms. Wu Koudi very closely. They even walked behind her when she left her home, which interfered with her daily life.
Another practitioner, Ms. Rong Meiying, was monitored 24 hours a day for half a month. The harassment stopped after October 7.
From September 16, four officers, two in the morning and two in the afternoon, were assigned to monitor Mr. Cong Peixi whenever he left home.
The officers photographed him when he went out and when he talked to people. They also took photos of where he bought his groceries and the items he bought.
In addition, the residential committee members visited Mr. Cong every day to make sure he was at home and take his photo as proof. Mr. Cong had to report his whereabouts to the police every day. The committee members' visits stopped after he raised this issue with the Domestic Security Division, but the police continued to monitor him.
Tianjin Woman Harassed on Anniversary of Her Husband's Death
Ms. Zhang Liqin, a Tianjing Falun Gong practitioner, was harassed on September 12, 2019, the first anniversary of the death of her husband, Mr. Ren Dongsheng.
After his death, Ms. Zhang and her family were constantly harassed by the police. The police also monitored her and her son when they stepped out of the house.
Mr. Ren was arrested in March 8, 2006, for refusing to renounce his faith in Falun Gong. He was sentenced to five years and suffered unimaginable torture in Gangbei Prison in Tianjin City.
When his five-year prison term ended, he was taken straight to a brainwashing centre, where he was tricked into taking an unknown white powder. By the time he was released a week later, his family noticed he was no longer the same person as they remembered. His mother, who was in her 80s, was so traumatized to see her son so mentally compromised after five long years that she collapsed.
Ms. Zhang was fired from her job a month after Mr. Ren's arrest in 2006. The police arrested her on February 12, 2009, and sentenced her to seven years in prison.
After her release, she filed a complaint against the eight guards who were primarily responsible for her husband's torture and resultant mental disorder.
She was subsequently detained for 35 days and had to live away from home for a period of time to avoid harassment. Nonetheless, she continued her efforts to seek justice and compensation for her husband.
She agreed to be questioned by the Tianjin City Superior Court on September 4, 2018, and detailed how her husband was tortured in prison.
While awaiting the superior court's decision, Ms. Zhang was heartbroken to lose her husband eight days later, on September 12, 2018.
After his death, Domestic Security Division officers threatened Ms. Zhang, telling her that she was not allowed to sue the authorities or expose the persecution of her husband.
Husband Dies 7 Years After Being Driven Insane While in Custody, Wife Continues Fight to Seek Justice
Shanxi Woman Stopped From Traveling to Visit Sick Brother-in-Law
Ms. Zhu Shengxiao, 74, of Yangquan City, Shanxi Province, bought a bus ticket to Shijiazhuang City, Hebei Province, on September 19, 2019, to visit her 96-year-old brother-in-law, who was in critical condition.
A police officer checked her ID and then told her to get off the bus. The officer said that she was blacklisted because she practiced Falun Gong and said that she was not allowed to travel out of the city before October 1. The officer had her ticket refunded and took her home.
A few days before October 1, two women went to Ms. Zhu's home and told her that she wasn't allowed to travel anywhere or she would be arrested. They took photos of her and left.
Woman Threatened in Her Tailor Shop
Ms. Cheng Guifang, 52, of Yangquan City, Shanxi Province, was in her tailor shop on September 21, 2019, when a plainclothes officer came in and tried to force her to visit the police department website.
He threatened to stop her from opening her shop if she refused but left when Ms. Cheng refused to comply.
On September 28, three plainclothes officers and a woman from the residential committee went to her shop and started taking photos.
They also asked Ms. Cheng for her cell phone number, which she refused to divulge. She told them that she had all the legal documents to operate her business.
---
Related reports:
(Clearwisdom)
37 total views