Falun Dafa practitioners come every week to Thessaloníki, a port city on the Thermaic Gulf of the Aegean Sea, and the second-largest city in Greece to promote Falun Dafa and raise awareness of the persecution in China.
It is one of the most popular tourist sites in the city with a long waterfront where people can stroll the beach and smell the sea air.
On Sunday, October 27, 2019, it was a typical day for local practitioners. They set up banners and display boards introducing the practice.
Some practitioners demonstrated the five sets of exercises while playing tranquil exercise music.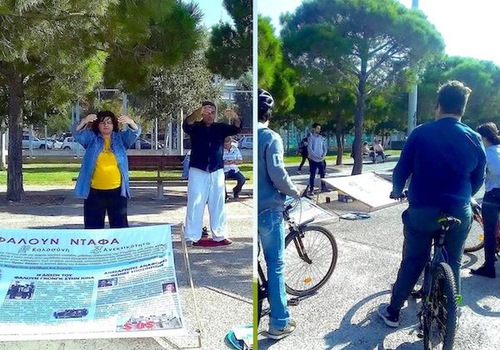 A few practitioners talked to passersby, passed out fliers and helped those who wanted to learn more about the practice to register for a free teaching class.
Many people watched the exercise demonstration and read the display boards.
A woman pointed at an article about forced organ harvesting and said, "They [the communist regime] even do this? God has a plan and he won't allow this political system to exist much longer!"
Another person praised the practitioners and said their endeavors would speed up the collapse of the communist regime and its censorship.
(Clearwisdom)
---