Government officials, community leaders and Falun Gong practitioners attended a rally in Sydney, Australia on August 24 to raise awareness of the persecution of Falun Gong in China.
They gathered at Centenary Square in Parramatta in Sydney's west. Speakers called on people from all walks of life to support practitioners and help end the 20-year-long persecution in China.
John Deller, spokesperson of the Australian Falun Dafa Association, said more and more people have recognised the Chinese Communist Party's (CCP) brutality. "The persecution, especially forced organ harvesting, has been classified as a crime against humanity," he explained. "This is not only a severe human rights violation against Falun Gong practitioners in China, but also a threat to people here in Australia."
He asked that government officials speak out on this critical moral issue and condemn the serious human rights abuse and added that everyone should make a choice on this important matter.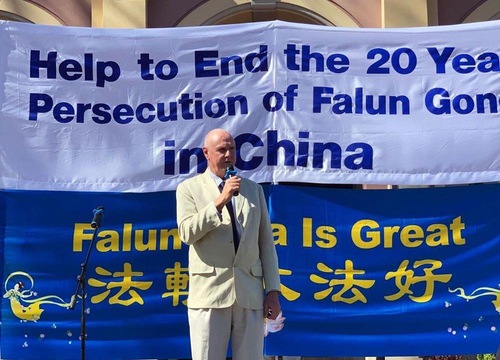 Elected Officials: Say No to the Brutality
Andrew Wilson, mayor of Parramatta, spoke at the event. He said that the CCP's crimes are well known and that he and other officials condemn the mistreatment of Falun Gong practitioners, especially the forced organ harvesting being carried out against Falun Gong practitioners and other prisoners of conscience.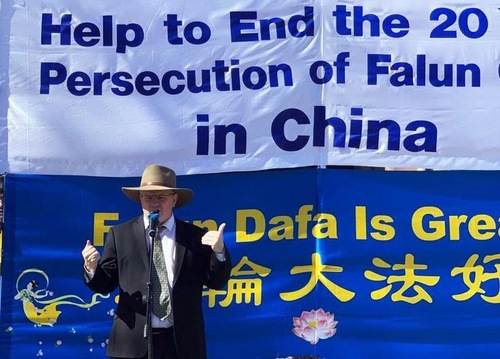 Charles Camenzuli, Liberal Party candidate for Parramatta, cited the judgment of an independent tribunal in England on forced organ harvesting and called on Australia and other governments to work together to bring the crime to an end.
Paul Nguyen, president of the Vietnamese community in New South Wales, said, "Communism is a vicious regime that destroys basic human rights." He said he looks forward to more hearing voices to expose its cruelty and stop forced organ harvesting.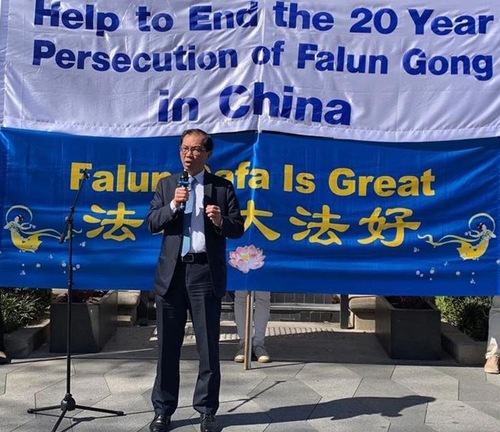 James Shaw, a lawyer and former Parramatta councilor, said no one should be mistreated for his or her belief. He hopes that all elected officials will speak out on this important human rights issue.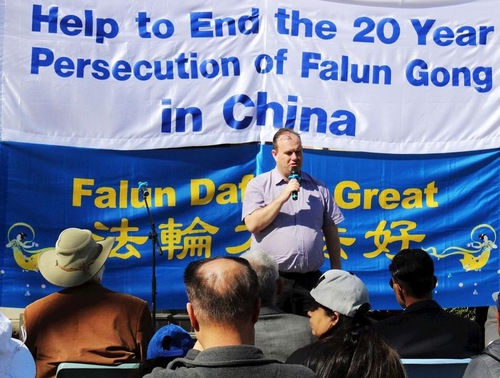 United Australia Party's candidate for Parramatta, Ganesh Loke, praised the peaceful nature of Falun Gong and its practitioners. Citing a quote from Martin Luther King, he said, "Darkness cannot drive out darkness; only light can do that. Hate cannot drive out hate; only love can do that." He said he admires Falun Gong practitioners and fully supports them for this reason.
Communism Will Become History as the World Awakens
William Ho, a martial arts master, commended Falun Gong for improving the health and moral values of practitioners across the world. He contrasted Falun Gong's principles of Truthfulness-Compassion-Forbearance with the CCP's doctrine, which is based on hatred and violence.
He said the CCP has undermined traditional values by brainwashing Chinese people, while the vicious persecution truly reveals the regime's vicious nature. He said Western nations have joined efforts to curb forced organ harvesting committed by the CCP, but more efforts are needed to fully bring it to an end. "Communism will become history as the world awakens," he said.
Human rights advocate Bob Vinnicombe urged an immediate end to forced organ harvesting and said practitioners in China should be allowed to freely practice their spiritual belief.
Passersby: Traditional Values Are Critical for All
Bruno told practitioners at the rally that he had heard about Falun Gong and the persecution in China. "These principles, Truthfulness-Compassion-Forbearance, clearly demonstrate values that all of us should embrace," he said. He wished practitioners in China well and looks forward to the time when everyone there can freely practice their belief.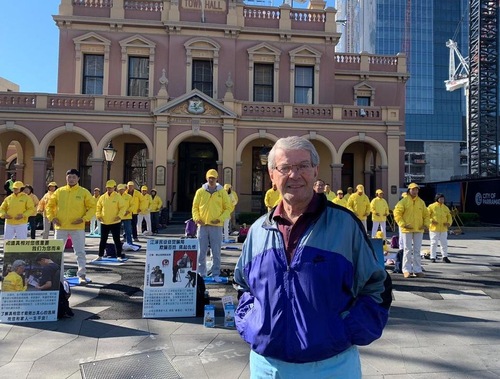 Colin and Bali, husband and wife from Victoria, stopped and watched the rally. They expressed interest in learning the Falun Gong exercises. Colin told a practitioner, "Many people nowadays do not pay much attention to others. Plus, some still believe what the CCP tells them, but they may not realize nothing the Party says is true. That's why what you are doing here is really great."
Former CCTV Reporter: CCP Spreads Lies Every Day
Impressed by the practitioners' peaceful meditation, a Chinese woman stopped and watched the rally. She explained that she had previously worked at both Beijing Television Station and CCTV, so she knew well how the CCP operates.
She was working at CCTV when the Party's massive propaganda against Falun Gong began. "I was not involved in it directly. But I heard the Party's garbage—the Party spreads lies every day," she explained. She said the CCP aimed to completely destroy Falun Gong and practitioners.
She explained that she had read the Nine Commentaries on the Communist Party several times and agreed with it. "I know practitioners are very kind people. They make this society a better place to live," she added.