Chinese and Western Falun Dafa practitioners from New York Orange County and surrounding areas gathered on a meadow and held a group exercise, in the afternoon on September 7, 2019.
They wished the founder of Falun Dafa, Master Li Hongzhi, a happy Mid-Autumn Festival.
Practitioners also held a group meeting to talk about their cultivation experiences. They were truly grateful for Master's benevolence and changing their lives.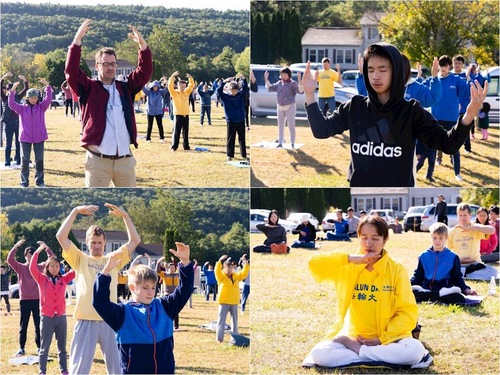 Letting go of Bad Habits
The Mid-Autumn Festival is approaching. Jason Eaton said that he wanted with all his heart to tell Master, "Thank you, benevolent Master, for giving us Dafa, and bringing hope to this world! I hope that more and more people can understand the truth about Dafa, and benefit from it!"
Jason's friend introduced Falun Dafa to him in high school and taught him the exercises. "I immediately felt that my mind and body had become calm, and my body was filled with energy."
After practicing the exercises for some time he said that his heart was no longer anxious, and he is no longer easily perturbed by external factors.
"I was finally able to quit my addiction to drugs and other bad habits," he said, "and I am able to face my life with a clearer mind."
"A few years later, I finished reading all the Falun Dafa books. I found answers to all the questions I had about life. I realised that all answers could be found in Zhuan Falun, the main book of the practice. When I finally came to understand the meaning of cultivation, I understood that this was the path I had always been looking for."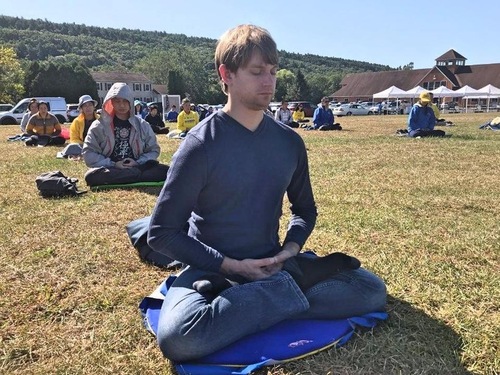 Dafa's Power Eliminated Chronic Stomach Ache
Avishag Ogawa is a practitioner from Israel who also participated in this group exercise event. She said, "Before cultivating Falun Dafa, I did not believe in any religion or cultivation. Dafa re-ignited my hope for humankind's future. Therefore, I am really thankful to Master and Dafa."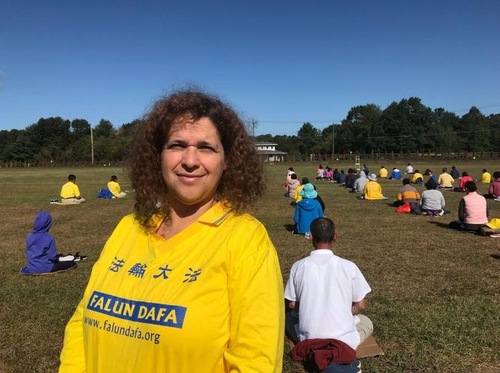 Family Life Became Harmonious
Julia Baniasadi, originally from Germany, has been living in the United States for more than 10 years. Her two sons also participated in the group exercise. She said, "Dafa resulted in my family becoming harmonious."
Julia said that her life before cultivating in Falun Dafa was not harmonious. Her father is an alcoholic with a mental illness, and her mother was always disconsolate, as she did not know how to deal with him.
"At home," she said, "life was unbearable, so I started to drink and take drugs when I was very young. My inner soul was full of complaints and hatred, and I did not talk to my parents for a very long time."
After cultivating in Falun Dafa, Julia understood why people experience hardships in life, and she learned that one must be compassionate and feel love for others.
"Dafa taught me," she said, "that whenever I am faced with a conflict or problem, I should first look inward, and find my behavior towards others to see if I had done anything inappropriate. Not long after my mind and body changed, my siblings and mother also started to cultivate in Falun Dafa. Since then, following the principles Truthfulness, Compassion, and Forbearance' in our daily lives, we have been happy and found harmony in our lives." Julia thanked Dafa's Master for teaching her how to be sincere and forgiving towards others.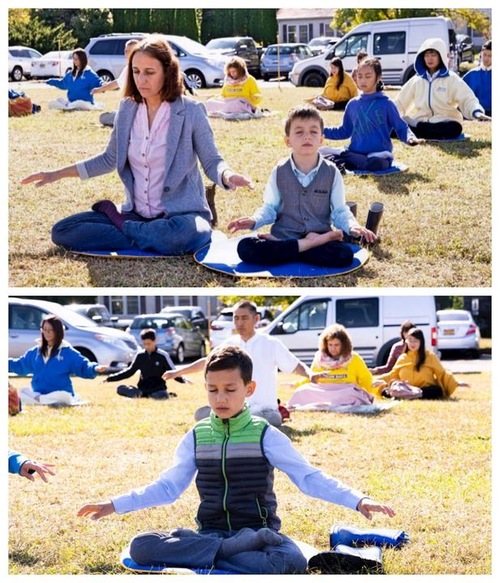 Body Being Cleansed
Chen Yao, who started cultivating Falun Dafa in the U.S. in 2011, also joined the group exercise with her son Cody Dong.
"During the first week of learning the exercises," she said, "I detoxed for a week and everything that I expelled was black, watery, dirty stuff. One week later, I felt that my whole body became very light and relaxed. In addition, I used to suffer from more than 10 types of illnesses, including cervical vertebral hyperplasia, a prolapsed lumbar disc, and chronic gastritis. However, after cultivating in Falun Dafa, all these symptoms disappeared." She experienced the power of Dafa.
Cody also took this chance to express his gratitude to Master Li: "When I was young, I started practicing Dafa alongside my mother. After that, Master gave me wisdom to do well in my academics. I learned to be a good person, so my teachers and classmates praised me. Despite the hardships and tribulations during my cultivation, I can face them with courage and can overcome them. No words can adequately express my heartfelt gratitude to Master!"

Thanking the Gods
Liu Meihua is originally from Taipei, Taiwan. She started cultivating in Falun Dafa in 1997.
"Mid-autumn is a festival," she said, "during which people thank the gods for their benevolence. It is also the festive season where the chrysanthemums and cassia flowers bloom, and bountiful harvests are reaped. Every family will be busy thanking the gods, paying their respects to their ancestors, and celebrating family reunions."
"I would like to show our great benevolent Master, with my palms together, my unending gratitude and wish him a happy Mid-autumn Festival!"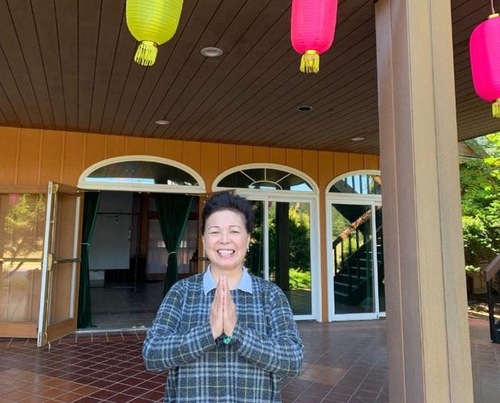 (Clearwisdom)