The Gothenberg Culture Festival, one of Northern Europe's largest cultural festivals, was held at Slottskogen Park from August 6 to 11, 2019. Many world-class artists participate in this yearly event, and many visitors flock to see "what's new."
Falun Dafa practitioners stood in two rows on the grassy area doing the five exercises. The peaceful mind and body practice was a sharp contrast to the noise in the park. Many people came to find out more about Falun Dafa and learn the exercises.
A man in his 30s who was skateboarding stopped in his tracks when he saw practitioners doing the exercises. He asked about the practice and began to learn the exercises after hearing a brief introduction. He said, "I love Chinese culture and qigong. I lived in China for two years and learned Shaolin martial arts. Falun Gong is a very peaceful practice and that's what attracted me to it."
An elderly woman dressed in red stood next to the practitioners and imitated their movements. She was using a walker and said that doing the exercises made her feel relaxed.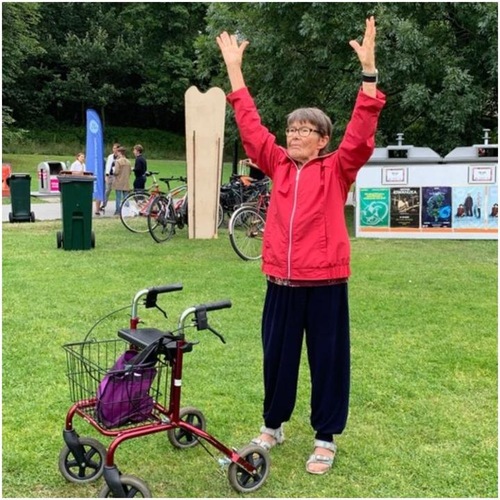 Five young adults asked the practitioners what they were doing and about the benefits of practicing Falun Dafa. When they heard that Falun Dafa can help relieve stress, everyone took a brochure and noted down where they could learn the exercises in Gothenberg. A student asked if she could bring her grandmother along to try out the exercises. A practitioner told her anyone, regardless of their age, can learn Falun Dafa.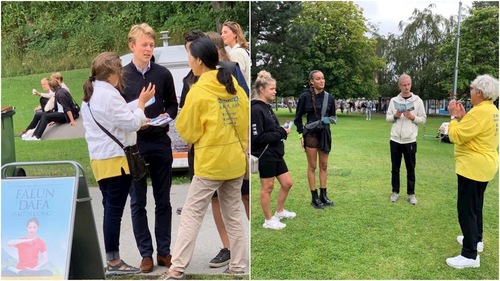 (Clearwisdom)