Falun Gong practitioners gathered in Berlin on August 10, 2019 for a series of activities, including two marches, a rally, and a candlelight vigil. They promoted the benefits of this meditation system to the public and called for an end to the persecution in China, which has been ongoing for 20 years.
The first march started from Gendarmenmarkt in central Berlin and ended at Pariser Platz in front of the famous Brandenburg Gate. Major cultural, shopping, and financial centers were along the practitioners' parade route in the areas of Friedrichstrasse, Behrenstrasse, and Unter den Linden.
Following a rally at noon, the second march departed from Potsdamer Platz at 2:00 p.m and finished at Wittenbergplatz.
In the evening, practitioners held a candlelight vigil at Pariser Platz. The candlelight vigil commemorated practitioners who have died in China as a result of the persecution.
Many passersby paused to learn more about the mistreatment that practitioners in China have suffered for their belief, including details of the forced organ harvesting from non-consenting prisoners of conscience.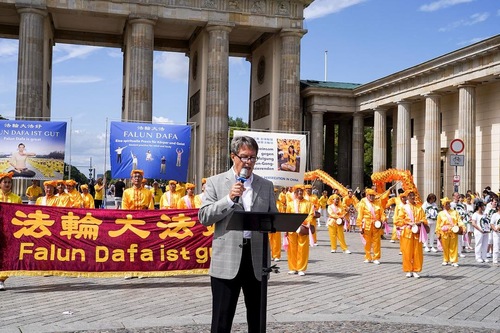 Fashion Professional: Beauty vs. Barbarian
Jill De Matas Herzog, a consultant in the fashion industry, said she was impressed by the march and rally, and took video footage of the activities. "Everything, especially the sitting meditation, is very beautiful," she said. "I think the inner peace is very powerful, and it is something strong enough to protect ourselves."
Ms. De Matas also signed a petition calling for an end to the forced organ harvesting of Falun Gong practitioners in China. "It is barbarian and disgusting to kill people and seize their organs, whether it is for money or power," she said. "This is about humanity and we all have to pay attention to it."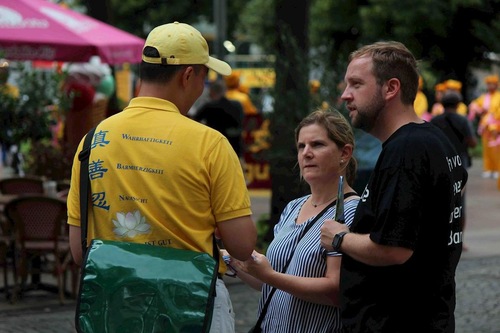 Religious Scholar: Falun Gong Has No Political Agenda
Heike Breitenbach, a religious scholar from Israel who was visiting a friend in Berlin, said she was impressed by how peaceful Falun Gong practitioners are. "The principles of Truthfulness-Compassion-Forbearance are very important," she said. "They are fundamental values that people need and strive to safeguard."
While signing a petition to show her support for Falun Gong, Breitenbach noted that practitioners are not a political group. "I saw similar activities in Munich many years ago and it is about basic human rights," she said. She expects that the German government and international community will work together to address this issue and end organ harvesting from Falun Gong practitioners and other prisoners of conscience.
College Students: Please Keep It Up
Katherine, a student majoring in news media at Berlin's Humboldt University, saw the march with her friend Shania. Shocked by the Chinese government's brutal persecution, Katherine said it was hard to believe that something like this could happen in modern society. "It is important to expose this; otherwise people like us may not know about it or help with the situation," she said.
Shania agreed. "We did not know about this previously. The message in the march is very clear and something so terrible [as the persecution] should not have existed in the first place," she said.
Katherine thanked practitioners for their efforts, "Like today, people hear the music, see the event, and they will know more about it. Please keep it up."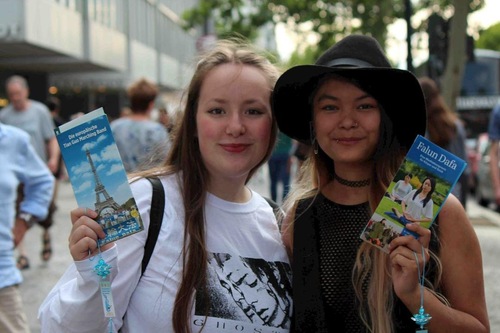 Russian Visitor: A Culture That Benefits Everyone
Roman Gorbunov from Russia had arrived in Berlin the day before. "Falun Gong practitioners are suffering for their belief in China and we need to help them," he said.
He said similar things also happened in Russia, and he hoped more people could know about the situation in China and take action.
Roman enjoyed the march and said that it represented true Chinese culture. "I like the message [of Truthfulness-Compassion-Forbearance] because it will benefit everyone, including Russians," he said.
Turkish Immigrant: More People Need to Know About This Tragedy
Ali from Turkey said he moved to Berlin 43 years ago. Having heard about forced organ harvesting from documentaries, he signed a petition to support an end to the atrocities.
"When I first heard about this, my heart was very heavy—only sadness, because it is hard to imagine that a person would do things like that. Those Communist Party members who have committed these deeds must be held accountable," he said.
He was glad to hear that more German officials have stepped forward to support practitioners. "Not just Germany, every nation needs to do this, because this is something that should not happen. I hope to see more events like this, since more people need to know the tragedy," he said.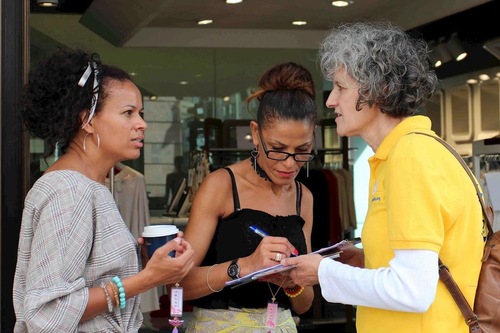 British Tourist: The Situation Will Change
The Bridgwood family of three had traveled from Manchester in Britain to Berlin. "The persecution is totally wrong and freedom of belief should be respected," Mr. Bridgwood, the father, said. He encouraged practitioners to continue in their efforts, as it would have an impact on the Chinese Communist Party and relieve some of the practitioners' pressure in China.
Mr. Bridgwood had traveled to Hong Kong a few times before it was returned to China in 1997. He said that China needs to care about its citizens, just like the rest of the international society does. "I do believe if we all work together, the situation in China will change. I am optimistic about it," he added.
(Clearwisdom)
32 total views