According to information compiled by Minghui.org, 341 Falun Gong practitioners in China were arrested and 302 were harassed by the police in May 2019 for refusing to renounce their faith. Two hundred and seventeen practitioners remain captive at the time of writing.
Falun Gong, also known as Falun Dafa, is a mind-body practice based on the principles of Truthfulness-Compassion-Forbearance. It has been persecuted by the Chinese communist regime since July 1999.
Given the strict censorship in China, persecution cases cannot always be reported in a timely manner, nor is all the information readily available.
The arrests in May 2019 took place in 25 provinces and centrally-controlled municipalities. Eleven of the regions reported double-digit arrests, with Hebei Province seeing the most (57), followed by Liaoning Province with 44 and Shandong Province with 39.
Police brutality was involved in many of the arrests and detentions. A woman in Hebei Province was beaten so severely during her arrest that she lost her front teeth, her nose was broken, and she passed out.
In Yunnan Province another woman was physically restrained and given unknown drugs that caused hallucinations.
Elderly practitioners were not exempt from the campaign: 40 of those targeted (26 arrested and 14 harassed) are between 65 and 82 years old.
In addition, 42 practitioners' homes were ransacked by the authorities, and 15 of them suffered financial losses. Police extorted and confiscated a total of 326,771 yuan from practitioners, and the pensions of two retirees were suspended.
Mr. Zhang Guoping, 79, from Yuanping City, Shanxi Province, was among those targeted. The police took 180,000 yuan and his bankbook from him, along with other belongings.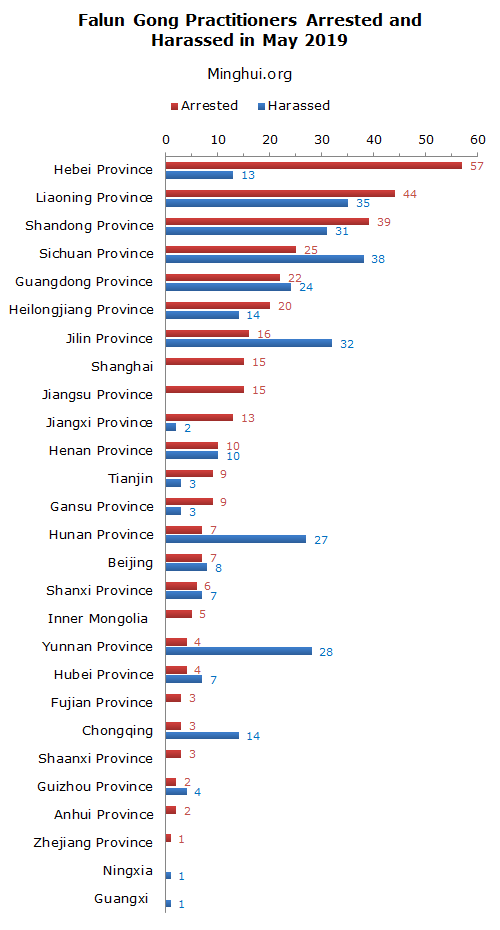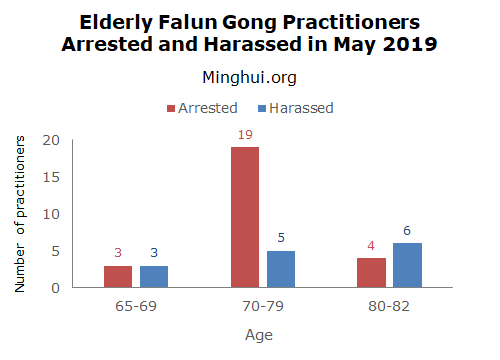 ---
Arrests
Two Practitioners from Tangshan City, Hebei Province, Beaten During Interrogation
fficers from Longdong Police Station arrested Ms. Deng Deping and Ms. Li Xiuhua on May 13, 2019, for hanging banners to raise awareness of the persecution. The authorities ransacked their houses without the women being present.
Ms. Deng was physically assaulted in the police station during the interrogation and transferred to Tangshan City First Detention Centre that same day.
---
Woman Beaten Unconscious for Her Faith, Police Arrest Her Instead of Assailant
Ms. Hang Shizhen of Zhangjiakou City, Hebei Province, was ambushed and beaten on the night of May 12, 2019, when she was hanging up banners with messages about Falun Gong.
The assailant held Ms. Hang down, sat on her, and punched her in the head, leaving her head bloodied and her face disfigured. She lost four front teeth and had blood gushing out of her mouth. Her nose was broken, and she lost consciousness.
During the assault, the assailant made a call, and several police cars arrived shortly. Instead of questioning or arresting the assailant, they took Ms. Hang to Wanquan Town Police Station.
The police attempted to admit Ms. Hang to Zhangjiakou Detention Centre the next day, May 13, 2019, but after she failed the physical due to hypertension and severe injuries from the beating, they had to release her.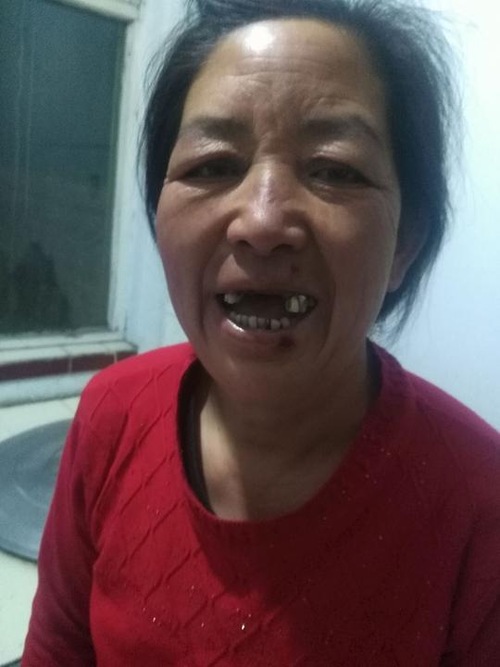 ---
Woman Who Needed Help after a Fall Gets Arrested and Drugged, Has Hallucinations Days after Release
Ms. Yu Qionghua was arrested on May 5, 2019, after officers discovered that she was carrying informational materials about Falun Gong.
She was held in Kunming No.1 Detention Centre for a week and then taken to a mental hospital for another week before being released. (Chinese authorities often resort to detaining practitioners in these facilities to try to force them to renounce their faith.)
In the detention centre, Ms. Yu was force-fed unknown drugs and had her hands and feet cuffed. Her hands have remained numb ever since she returned home. She feels sleepy all the time and suffers from the delusion that she wants to leave home.
---
Woman Repeatedly Punched in Chest During Interrogation
Ms. Zhao Huanzhen from Qinhuangdao City, Hebei Province, was arrested on May 19, 2019, while she was telling people about the persecution.
Pingfang Police Station officers put a book on her chest and punched the book several times. The book cushioned their blows so that her skin wouldn't bruise, but she would still suffer internal injuries.
She was later transferred to Suizhong County Detention Centre.
---
Father and Son Handcuffed Overnight in Police Station
On May 23, 2019, two dozen officers went to Mr. Li Laifang's home, where he lived with his father, Mr. Li Bochi. Ten days before, the men had refused to allow two suspicious women to enter their house. These women attempted to force their way in.
Two officers held the son down on the ground while the rest began to ransack the house. They took all the Falun Gong materials and electronics.
Both the father, in his 80s, and the son, in his 50s, were taken to Dingxing County Police Department and handcuffed overnight. The father was released the next day, but the son was taken to Dingxing County Detention Centre for 15 days and tortured.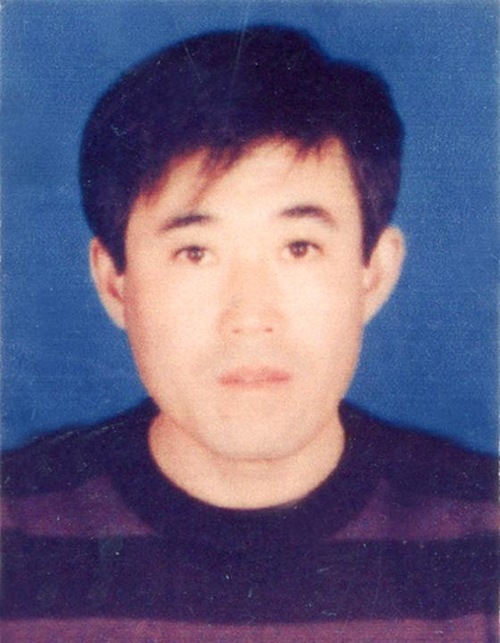 ---
After Decades of Persecution, Shandong Man Dies Two Months Following Latest Arrest for His Faith
Because he refused to give up practicing Falun Gong, Mr. He Lifang from Qingdao City, Shandong Province, was detained numerous times and once almost beaten to death by 17 inmates.
Mr. He, 45, was arrested again on May 5, 2019, when he went to Bei'an Police Station to apply for a new ID card. His attorney visited him at Pudong Detention Centre on May 22 and saw him carried out on a stretcher. He had a mask on his face and was not responsive to the attorney's questions.
The lawyer learned from Mr. He's parents, both in their 80s, that Mr. He had been on a hunger strike to protest the arbitrary detention and was force-fed. His parents' request to have him released was ignored.
Despite his critical condition, Mr. He was tried in a makeshift courtroom in the detention centre on June 25, 2019. During the hearing, he looked numb and dull and did not say a word.
Mr. He's family was informed on July 1 that he had been hospitalised. When they went to see him, detention centre guards prevented them from getting close to him. Officers watched his parents overnight and drove them out of the hospital the next morning.
The police informed his parents on July 3 that Mr. He had died. However, they refused to hand over his body.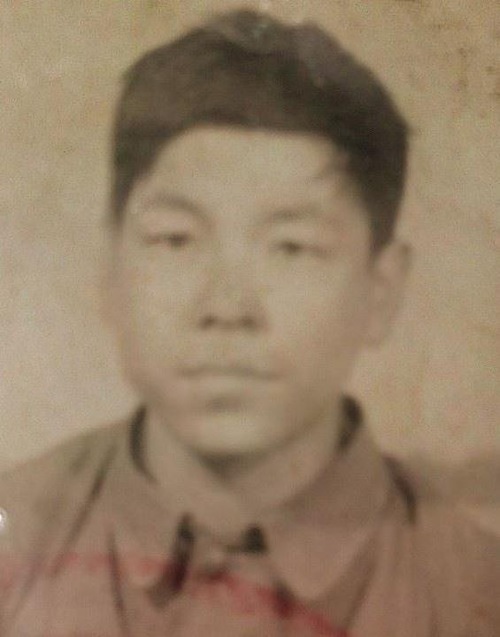 ---
Admitted to a Psychiatric Hospital and Monitored Around the Clock
Ms. Zhao Jin from Huludao City, Liaoning Province, was taken to a psychiatric hospital for refusing to give up her faith. She is watched around the clock, even when she uses the bathroom. Ms. Zhao is constantly distressed and has been locked up for years.
---
Liaoning Couple Arrested for Putting Up Posters about Their Faith
Mr. Mei Shufeng and his wife, Ms. Chen Guilian, were putting up posters reading "Falun Dafa is good" when the police drove by and arrested them on May 8, 2019.
Officers twice ransacked the couple's home in Yingkou City, Liaoning Province, and confiscated their belongings to be used as evidence to charge them.
The couple was denied family visits in Huangtuling Town Police Station. An officer refused to give their family a formal written notice of their arrest.
Mr. Mei is now in the Dashiqiao City Detention Centre, and Ms. Chen is in the Yingkou City Detention Centre.
When Mr. Mei's lawyer visited him in the detention centre, he noticed that Mr. Mei had some difficulty walking. His family fears that he is being mistreated or tortured.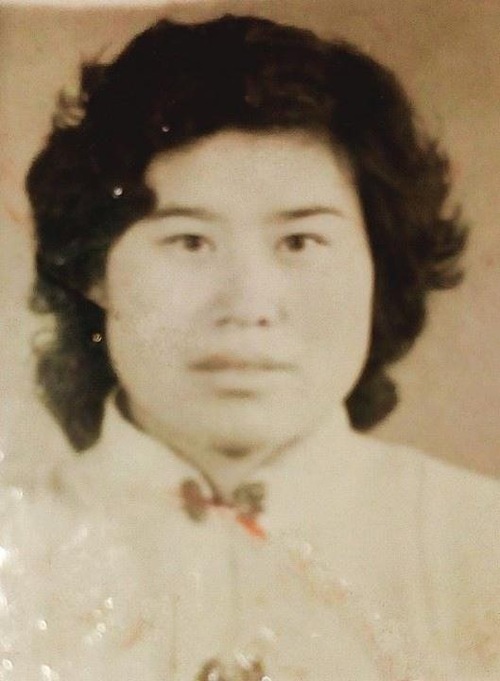 ---
Nine Practitioners Arrested for Reading Falun Dafa Book
Nine Falun Gong practitioners were reading a Falun Dafa book when the police broke in and arrested them on May 12, 2019.
The officers took them back to their own homes and ransacked them before taking them to the police station. They were later released.
The practitioners are Mr. Ma Yihe, Ms. Zhang Qinzhu, Mr. Liang Yuqiu, Ms. Wang Zhunhua, Mr. Nong Yongchang, Ms. Li Xiulian, Ms. Zhu Baolan, Mr. Jiang Weiquan, and Ms. Huang Yuhua.
---
Police Break into Practitioner's Home
On the morning on May 20, 2019, an officer and a local official in Mengyin County, Shandong Province, attempted to enter Mr. Wang Huanxia's home. When refused entry, they called in six more officers. They broke the door, forced their way in, and confiscated Mr. Wang's Falun Gong materials.
When Mr. Wang's son-in-law argued with the officers, they called for backup. Mr. Wang and his son-in-law, Mr. Wang Baowen, were taken to Gongyeyuan Police Station. The police went back to their place and confiscated more of their belongings.
---
80-Year-Old Woman Arrested for Talking about Her Faith
Ms. Xu Guifang, 80, from Guangzhou City, Guangdong Province, was followed and arrested on May 16, 2019. She was telling people about Falun Dafa at the time.
At Longfeng Police Station in the Zhuhai District, the officers coerced her into writing a statement to renounce Falun Gong after taking her photo and fingerprints without her consent. The officers ransacked her home the same day and confiscated her Falun Dafa books and other belongings.
The authorities continued to harass her at home and demanded in June that she write a repentance letter for practicing Falun Dafa. They threatened to put her in a brainwashing centre if she refused. Both she and her husband, also in his 80s, now live in constant terror.
---


Cases of Harassment
Practitioner's Husband Falls Ill after Being Harassed
A residential committee director called Falun Gong practitioner Ms. Lai Xiuling's husband on May 14, 2019, saying that he was due an award. He went to the committee, only to be pressured into signing a statement on his wife's behalf to renounce Falun Gong.
He went home stressed and depressed. He lost sleep, and his blood pressure became dangerously high. On May 28, the authorities called again, wanting him to sign another statement. He hung up the phone.
---
Police Arrest People at Will
Officers from Jiangjin Domestic Security in Chongqing broke into and ransacked the homes of five practitioners on May 21 and 22, 2019.
They claimed that they could arrest whoever they chose and that the practitioners could file complaints against them if they had a problem with what the police were doing.
The practitioners that were harassed in Chongqing are: Nie Kunqun, Ms. Luo Taiqing, Jiang Xuehua, Ms. Su and Ms. Jiang.
---
Officers Videotape Visit to Practitioner's Home
Two officers in Taiyuan City, Shanxi Province, attempted to enter a practitioner's home on May 19, 2019, saying they were "doing a census."
One of them had a small camera on his chest and the other was recording with her cell phone. Ms. Gao Jiping was not home at the time, and her family refused to let the officers in.
---
Officers with Cameras Question Practitioner
Ms. Liu Zhiqun from Xinjin County, Sichuan Province, received a call on May 23, 2019, from a local officer who wanted to meet with her. When she rushed home, one of the officers took a photo of her as proof of their visit.
The other also took a photo and said it was just a routine annual visit. The officer then asked Ms. Liu whether she still practiced Falun Gong, what her children did for a living, where exactly she lived, and other things.
---
Police Intimidate Practitioners on Orders from 610 Office
In May 2019 the 610 Office in Maoming City, Guangdong Province, ordered local police to intimidate local practitioners.
On May 18, local officials and police officers knocked on the doors of all the practitioners in Zhensheng Town. Officials went to Ms. Chen Meiying's home and confiscated her Falun Gong books to be used as evidence against her in court.
By the end of May 2019, many local practitioners had been visited or called by members of the residential committee. The practitioners were told to sign documents without reading them. The practitioners' families were terrorised.
The harassed practitioners were: Ms. Lo Ji, Ms. Chen Yuping, Ms. Liang Guangzhen, Mr. Wang Zhufeng, Ms. Lai Xiuling, Ms. Luo Xiaozhu, and Mr. Chen Binggui.
---


Related reports:
(Clearwisdom)
8 total views