Falun Gong practitioners held activities in Essen and Berlin on June 22, 2019 to introduce the practice and to raise awareness of the Chinese Communist Party's (CCP) ongoing, 20-year persecution of Falun Gong.
They demonstrated the exercises, talked to people about the benefits of Falun Gong, and exposed the persecution. They also collected signatures to condemn the atrocities against Falun Gong practitioners in China.


Information Site in Essen
Practitioners have maintained an information site in downtown Essen since 2008. Practitioners from the Essen area go there every Saturday to do the exercises and talk to people about the persecution.
Somaly goes to the information site almost every Saturday and said that she appreciates the support of the local people. She shared, "Many people are moved when they see the photos that show the CCP's brutal persecution. To express their support, sometimes people bring us flowers or coffee."
A family of five stopped in front of the Falun Gong information site. The father mentioned that he travels for work and has visited nearly all the major cities across the world.
He said, "I've seen Falun Gong practitioners in nearly every city I've been to," and added that he always takes the flyers and enjoys reading them.
That day, he decided to sign the petition against the persecution. His wife also signed.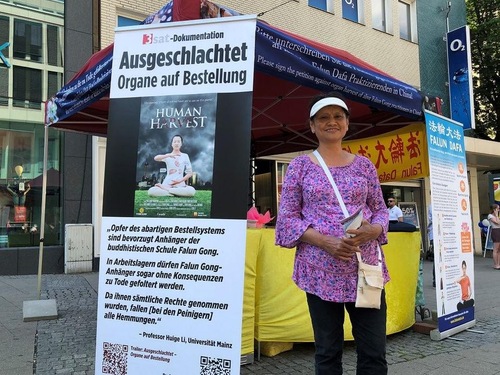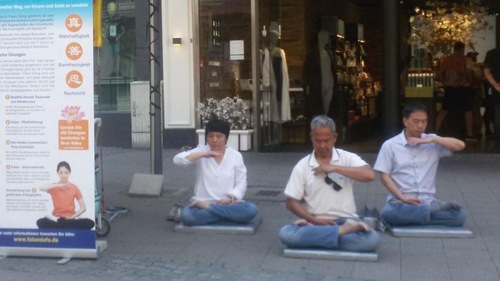 Public Support for Falun Gong at Berlin's Brandenburg Gate
Falun Gong practitioners in Berlin held an event in front of the Brandenburg Gate on June 22, 2019. The Brandenburg Gate is a historic and popular tourist site located in downtown Berlin.
Mr. Buechler and his daughter stopped in front of a banner, then carefully read a Falun Gong flyer. He asked several questions and wondered if the German government had exerted pressure on the CCP regime to stop the atrocities related to the persecution – especially the government's involvement in forced organ harvesting from Falun Gong practitioners and other prisoners of conscience.
Mr. Buechler expressed his indignation at the atrocities and said, "Unimaginable! It's unbelievable that organ harvesting is being conducted this way."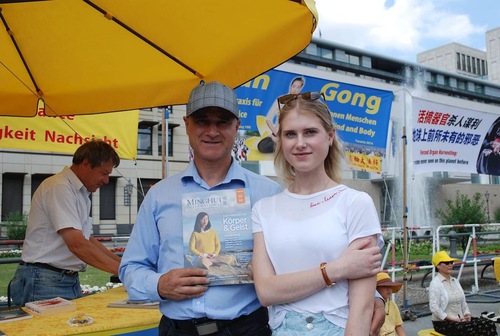 Christophe from Gent, Belgium signed the petition then said, "I attended a seminar on organ transplantation in Brussels. I did not know that the live organ harvesting is still ongoing and that Falun Gong practitioners are the main target."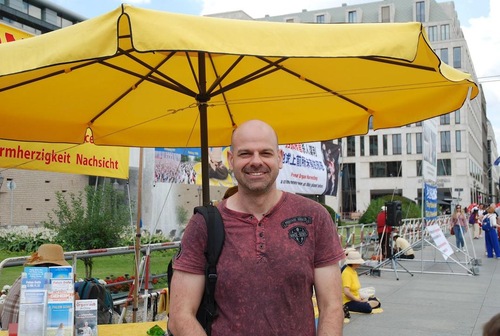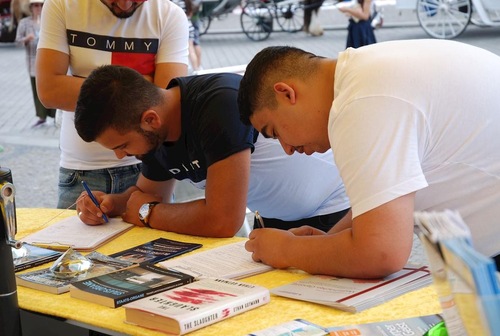 Hasan and his friend stopped to read the information and expressed their shock at the brutality of the CCP's persecution. They immediately signed the petition to condemn the persecution.
Hasan said, "It's horrible. This is not acceptable in today's society. The CCP's persecution violates basic human rights."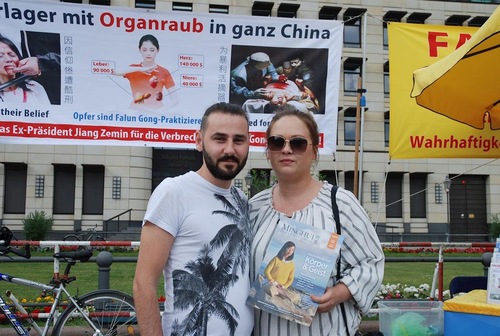 Relevant article in Chinese: Berlin, Germany
(Clearwisdom)
23 total views