Falun Gong practitioners held activities to raise awareness of the Chinese Communist Party's (CCP) persecution in Sunnybank, Brisbane's largest Chinese community on April 14, 2019.
Practitioners have been coming to Market Square, one of Brisbane's most popular shopping centres for years.
A group of Chinese students stopped and asked practitioners many questions. One student said, "We know that the CCP is bad and commits many wrongdoings, but people's living standards have improved."
A practitioner told him, "The standard of living has improved but only because the Chinese people work hard. It's not due to the Party's wish to improve their quality of life. The CCP destroyed China's traditional culture and the people's belief in anything spiritual.
"Because their moral base was destroyed, many people in China do bad things to make money. The morality has collapsed and society is corrupt."
The student thought about it then said, "I know that Falun Gong is persecuted. But your efforts don't seem to be effective."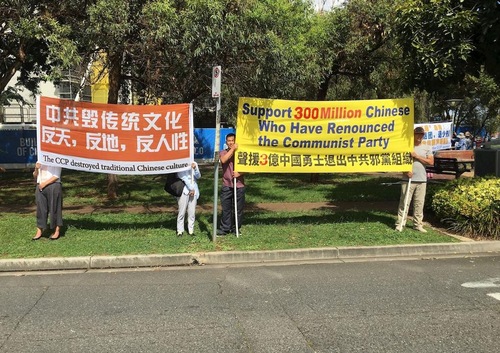 The practitioner answered, "After years of peaceful protest against the persecution and truth-clarification, the international community is paying increased attention to the CCP's persecution of Falun Gong and has exerted pressure on the Party to punish the perpetrators.
"For example, the United States has included the question of 'Have you ever been directly involved in the coercive transplantation of human organs or bodily tissue?' (In the non immigrant visa application form, Form DS-160.) Those who have participated in such criminal activities cannot enter the United States. Other countries have begun to follow suit."
The practitioner also explained the importance of withdrawing from the CCP and its affiliated organisations. He said that the CCP is not China. The large number of Chinese who've withdrawn shows that Chinese people are awakening.
The student thanked the practitioner and said that he now understood the facts of the persecution."