Falun Gong practitioners participated in a four-day summer trade fair in the Saint Petersburg Sports and Concert Complex in mid-April 2019. They introduced Falun Gong and told people about the Chinese communist regime's persecution of the practice.
Passersby stopped at the Falun Gong booth and talked with practitioners. Natalya read the posters and then talked with a practitioner. She then decided to learn Falun Gong.
Reflecting on the Chinese Communist Party's (CCP) persecution of Falun Gong, former teacher Nina said, "Under the communist regime, we lived in the mud. We were divided into workers and rulers. There was no justice."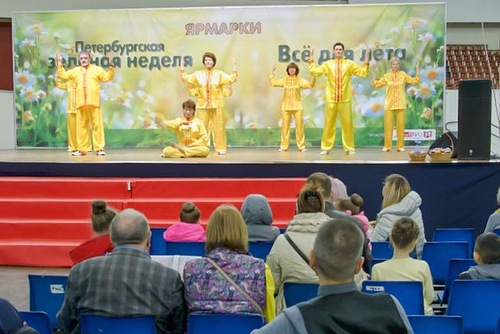 The practitioners also held a rally in downtown Saint Petersburg to raise awareness of the CCP's persecution. They set up posters and called on the public to help stop the CCP's state-sanctioned organ harvesting from living Falun Gong practitioners.
Pedestrians read the exhibition boards and raised many questions. They were appalled to hear about the CCP's harvesting of organs from living practitioners. Many of them were indignant and hoped it would stop as soon as possible.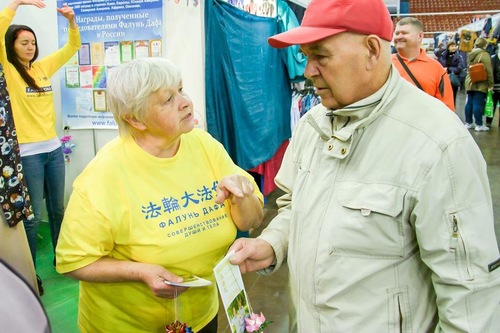 When a practitioner said that communist ideology was responsible for such a crime, many older people who had lived under communist control in the former Soviet Union understood. Many young people expressed their concern that justice should be upheld and signed a petition to protest the persecution.
Alexander, a teacher, expressed his understanding and support for Falun Gong practitioners and took some information to share with his colleagues at school.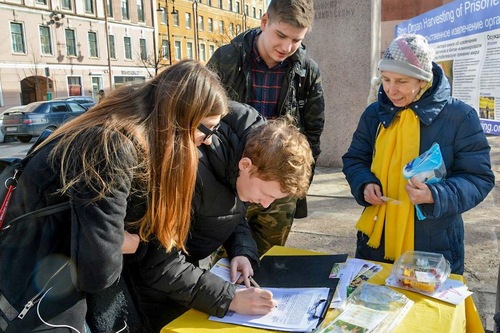 Related article in Chinese: Saint Peterburg.
(Clearwisdom)