According to information collected by Minghui.org, the month of March 2019 recorded 245 cases of Falun Gong practitioners arrested and another 162 harassed in China for refusing to renounce their faith.
Falun Gong, also known as Falun Dafa, is a mind-body practice based on the principles of Truthfulness-Compassion-Forbearance that has been persecuted by the Chinese communist regime since July 1999.
Among the practitioners targeted in March 2019, 107 had their homes ransacked; 145 remain in detention at the time of writing.
With strict information censorship in China, persecution cases cannot always be reported in a timely manner, nor is all the information readily available.
The targeted practitioners come from 24 provinces and centrally-controlled municipalities. Ten of the regions reported double-digit arrests, with Shandong Province seeing the most practitioners arrested (30), followed by 28 arrested in Beijing.
Thirty-six of the practitioners targeted in March 2019 were 65 or older. Among them, ten practitioners were harassed with the eldest being 83 years old.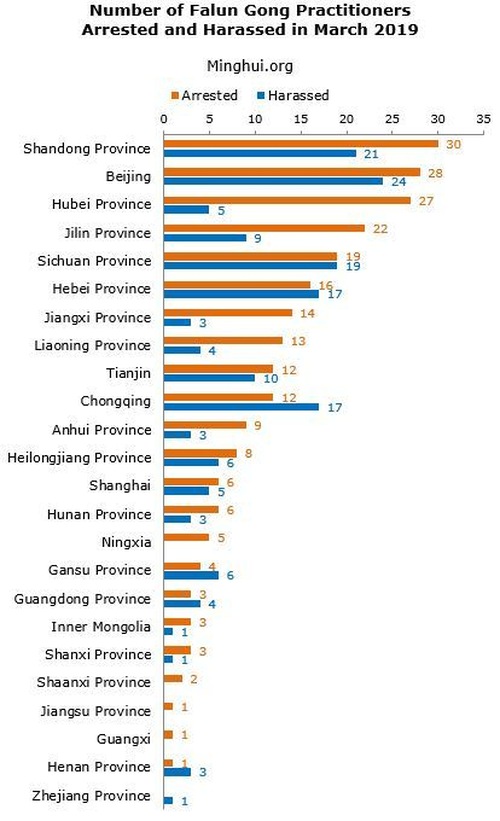 "We Can Ignore Criminals, But Must Arrest Those Who Practice Falun Gong"
On March 11, Minghui.org reported that three police officers from Gurao Township Police Station in Shandong Province went to Ms. Ma Yilun's home to arrest her. When her family refused to open the door, the police threatened to arrest Ms. Ma and send her to a brainwashing centre.
Her family demanded to know the reason for her arrest and argued that the police should be arresting criminals instead.
"We can ignore criminals, but we must arrest those who practice Falun Gong," said the deputy head of the police station.
Ms. Ma is a young mom known for her kindness. As she refused to renounce her faith, she was previously arrested before New Year 2019 and detained for 15 days.


Beijing Man Arrested Again After Recent Prison Release
On the morning of March 7, Beijing police and 610 Office started monitoring Mr. Sun Fuyi, in his 70s, and his wife, Ms. Xu Junming, when they drove to their hometown in Jiuduhezhen from Huairou County, Beijing.
The officers had been monitoring Mr. Sun's activities during the National People's Congress. He was arrested in the afternoon and detained at Huairou Detention Centre.
After the arrest, several police officers ransacked Mr. Sun's home in Jiuduhezhen and confiscated Falun Gong books, related materials, and other personal items.
This is not the first time that Mr. Sun has been arrested for his faith. He had just finished serving three years in prison and was released home on January 10, 2019.
Shortly after Mr. Sun's arrest, Ms. Xu was arrested on the same day and taken to Quanhe Detention Centre.
The next day, Ms. Xu was sent to Huairou Detention Centre for a physical exam, but the centre refused to accept her due to her high blood pressure.
During the interrogation, she refused to sign a guarantee statement to renounce Falun Gong and told the police how Falun Gong had given her a second life. Ms. Xu was sent back home at midnight.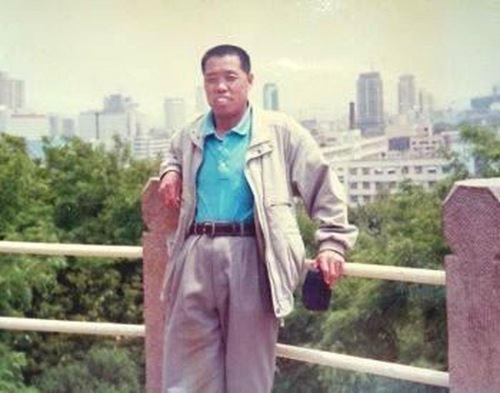 Mr. Mu Junkai, 49, a Falun Gong practitioner in Changchun City, Jilin Province, was first arrested on September 7, 2018, after being monitored by the police for some time.
The police ransacked his home and the warehouse of his family business. Many of his personal belongings and business property were confiscated.
While in police custody at the Changchun No.1 Detention Centre, Mr. Mu was hit in the head and face and was also mistreated during a physical exam at the hospital. One officer handcuffed him so tightly that his wrists became swollen.
He was released on bail on September 30 due to insufficient evidence.
In late February 2019, Mr. Mu went out of town on business after obtaining approval from the procuratorate.
However, he was arrested and taken back into custody in Changchun No.1 Detention Centre on March 20 when he returned. He was told by the prosecutor that they were trying to wrap up his case and move it to trial.
Ms. Zhang Liping, 56, was arrested together with another practitioner Ms. Tong Guixiang, 75, at a local market in Qitaihe City, Heilongjiang Province, on March 11, 2019, after being reported to the police for distributing booklets containing information about Falun Gong.
During the interrogation, Ms. Zhang said that practicing Falun Gong is legal but the police told her it was their job to persecute Falun Gong practitioners.
When Ms. Zhang refused to reveal her name and address, one officer grabbed her hair and tried to take her picture. Another officer commented that it didn't matter how they tortured Falun Gong practitioners, as long as they didn't torture them to death at the police station.
Ms. Zhang was cuffed to a metal chair in the afternoon, but she continued to urge the officers to stop participating in the persecution. One officer tightened her handcuffs in retaliation.
In the evening, the police ordered Ms. Zhang to press her fingerprints on a fingerprint scanner but she refused. The officers then slammed her hand against the machine before trying to pry open her fists to obtain her fingerprints, causing her to have difficulties breathing and talking. She almost fainted.
Next, six officers carried her into a bathroom to force her to provide a urine sample. She was beaten when she refused to sign the urine test consent form.
Afterwards, Ms. Zhang was dragged to a cage and asked to sign a document. Instead, she wrote a statement declaring that the Constitution allows freedom of religion. Before she could complete her statement, the police took the document away.
At midnight, when it was snowing, the police took the thin-clothed Ms. Zhang to a hospital for a physical exam. They slapped her in the face and hit her when she refused to cooperate. The police force-fed her unknown drugs when it was found that her blood pressure was high.
She was next taken to a detention centre. An officer carried her into the cell as she was too weak to walk and instructed the inmates to beat her.
On March 15, Ms. Zhang was released after her blood pressure went up to 260 mmHg. Though she had returned home, she still had bruises and swelling on her face. She also had difficulty sitting and standing, as her hip and legs were injured.


College Student Arrested for Telling Lecturer About Falun Gong
Wang Yuanyuan, 20, is currently a student at Hubei University of Arts and Science.
On March 29, 2019, she told her lecturer about Falun Gong and gave a booklet containing information about the practice. The lecturer refused to accept it and reported her to the school counselor.
On that day, the counselor talked twice with her. During the second talk, the counselor and another secretary asked her to tell them the source of the materials and to hand them over to them. The counselor expressed that he would not get her into trouble and allowed her to leave at around 9 p.m.
Ms. Wang was unreachable on the night of March 30. When her counselor was contacted, he said that Ms. Wang had violated the school rules and was thus arrested and sent to a local detention centre.


Ms. Jiang Yuying, 58, was arrested on March 7, 2019, and had her home ransacked after being reported for using paper currency bearing messages bout the persecution of Falun Gong.
Her arrest was approved on March 21 and she is now facing indictment for her faith.
This is not the first time that Ms. Jiang has been arrested. On April 12, 2012, she was sentenced to three years with three years' probation for refusing to renounce her faith.


Inner Mongolia Man Arrested, Wife Missing
On the morning of March 29, 2019, Mr. Wu Jinggang of Chifeng City in Inner Mongolia was staying at home with his mother when the local committee officers broke into the house and arrested them.
The house, which Mr. Wu and his wife rented from his wife's sister, was ransacked and many personal items and cash were confiscated.
The police later told Mr. Wu's sister to take their mother back home while Mr. Wu remain detained at Zuoqi Detention Centre. Meanwhile, the family lost contact with Mr. Wu's wife, Ms. Zhao Chunhua, who wasn't home during the raid.
A few days later on April 2, Mr. Wu's daughter went to the village committee to request the return of the 12,000 yuan in cash confiscated during her father's arrest.
She was told that the money was with the local government. However, when the officials from the local government called the police, they were told that the money had been confiscated and will not be returned.


Chongqing Woman Sent to Brainwashing Centre
Ms. Huang Zhongying, 76, of Chongqing was arrested on March 3 when distributing materials containing information about Falun Gong.
She was only released at midnight after the police had taken her photo, fingerprints, and drew her blood.
However, the next day, she was arrested again at her home and sent to the local brainwashing centre where she was forced to watch videos that slandered Falun Gong.
About seven to eight people would surround her every day to try to force her to sign a statement to renounce her faith. Ms. Huang has since returned home.


Hebei 610 Office Used Welfare Program to Harass Practitioners
Since March 31, 2019, the 610 office of Hebei Province ordered the police to harass many practitioners in Yishui County. The 610 Office had used the excuse of conducting welfare check to visit local practitioners and collect information on their family members.
At the time of the report, more than a dozen of Yishui practitioners had been arrested.


Ms. Dong Xiangru, 74, a former senior researcher at Zhejiang Province Marine Fishery Bureau, was sentenced to two and a half years in prison in October 2018 for refusing to renounce her faith.
Due to her poor health, she is currently under house arrest. The local authorities have been repeatedly harassing her at home.
During the communist regime's National People's Congress on March 5-15, 2019, the police and residential committee staff monitored her every day and followed her wherever she went.
As she refused to give up practicing Falun Gong, she received an oral notification from her former employer that her pension would be suspended starting in March 2019.


Jiangxi Man's Elderly Mother Harassed During National People's Congress
Since the persecution of Falun Gong started in July 1999, Mr. Yang Dexin of Yichun City in Jiangxi Province has been repeatedly arrested and imprisoned for refusing to renounce his faith.
In 2017, he left home to avoid being persecuted again after he was released from one and a half years of imprisonment.
With Mr. Yang living away from home, the police officers went to his home to harass his elderly mother and brother.
The police harassed his family again during the National People's Congress and asked his mother for his whereabouts and if he has been in contact with his family.
Before leaving, the police told his mother to tell him to visit the police station should he ever come home.


Plainclothes Police Break into Home to Force Woman to Sign Document
On March 22, 2019, four plainclothes police officers from Qingdao City, Shandong Province, went to Ms. Wang Xiuyun's home and demanded that she open her door.
Ms. Wang had been released on bail from September 2, 2017 to September 2018, before being put on residential surveillance for half a year.
When Ms. Wang refused to comply, the police called in a locksmith to open her door. They left after breaking into her home to force her to sign a document.


Jinan Couple Briefly Detained at Shanghai High Speed Rail Station
Mr. Yu Yaou and his wife, Ms. Li Shanshan, had traveled to Shanghai in mid-March 2019 to attend a foreign trade exhibition, as Ms. Li was representing her company. They were monitored.
After the exhibition on March 21, they were planning to board the high speed rail to leave Shanghai when police asked to check their ID and luggage.
They refused and told the police that it is illegal to persecute Falun Gong. The police tried to drag the couple away, which soon attracted the attention of the onlookers at the station.
After the couple was taken to an office, an officer took out a piece of paper and told Ms. Li that she had been spreading information about Falun Gong on Minghui.org, when in actuality, it was a report published on March 20, 2019, on the persecution that the couple had experienced between May-June 2018.
The couple told the police that there is no law in China that criminalises Falun Gong. They were subsequently released in the afternoon that day and left Shanghai.
Prior to the persecution in 2018, Mr. Yu, then a PhD student, was arrested and detained in March 2015. He had submitted his PhD thesis with the opening paragraph expressing his gratitude to Falun Gong for giving him the strength to write his thesis.


Related reports:
Related articles in Chinese:
(Clearwisdom)