Nearly 10,000 Falun Gong practitioners from across the world held a grand parade in Manhattan, New York on May 16, 2019 to celebrate World Falun Dafa Day.
The parade departed from 2nd Avenue on the east end of Manhattan Island, and passed by many New York landmarks, including Grand Central Terminal, Bryant Park, and Times Square.
The parade route traversed Manhattan Island, then proceeded to 11th Avenue on the west end of Manhattan Island.
The parade stretched over a number of blocks on 42nd Street. People on both sides of the street read Falun Gong fliers, took photos, applauded, and waved.
At noon, the locals working in Manhattan buildings came out for lunch, and many people saw the parade and talked about it.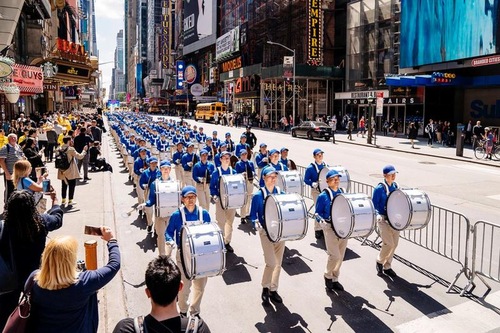 Locals Wish to Learn Falun Gong
Ali, a local lawyer who has practiced law for nine years, saw the Falun Gong parade last year. He and his two colleagues watched the parade while talking on the street.
Ali said, "I understand that Falun Dafa is a Taiji-like practice, but not quite the same. It can help people's spiritual and physical health. It is very good!"
He said with a Falun Gong leaflet in his hand, "I am very interested in this. Can I learn it in New York? I want to know more about it."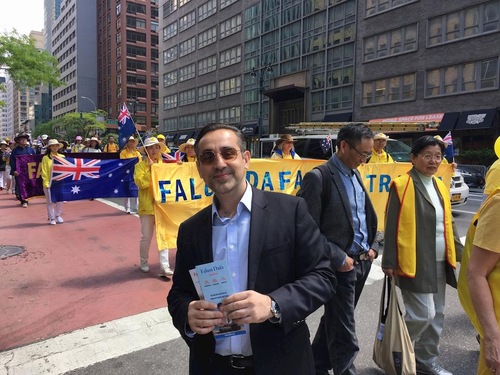 Natasha Lewis and her colleagues, who were taking a workplace safety course that day, stood on the roadside smiling as they watched the parade. Natasha said, "It is my first time to see this (Falun Gong) parade. I think this parade is very good."
She said she just learned the relevant information, and thought that she could practice it. She said, "It doesn't look too difficult. I want to try it too! I am very interested!"
Upon seeing that the procession was calling for stopping the persecution, she said that the situation was really terrible. She could not understand why the Chinese Communist Party (CCP) conducts persecution just because these people practice the peaceful practice Falun Gong.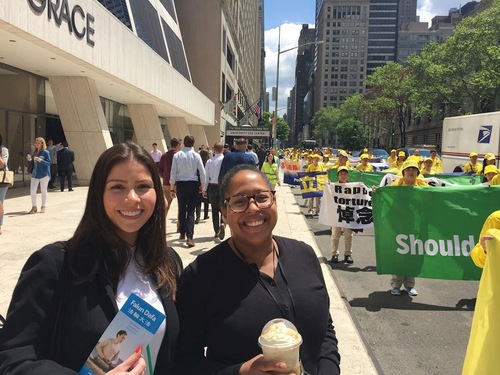 Educator: Good Luck to Falun Dafa!
Cody, an educator, was standing on the roadside watching the parade. He said, "I learned from the Chinese Consulate that Falun Gong is a big thing. I know (the CCP) steps up the persecution against Falun Gong. Falun Gong practitioners explain the facts."
He also said that he worked for a U.S. company in China. He said, "The Chinese colleagues in the company honestly told me that the CCP government treats Falun Gong harshly. From them I heard some (Falun Gong) stories."
When he heard that the parade was to celebrate World Dafa Day on May 13, he said, "That's great! The parade goes through the 42nd Street.
I see everyone likes it. Many people wave to the parade and have a thumbs up. The police are also very good, helping at the side. These police officers have become very friendly and helpful, very good."
When talking about Falun Gong in China, he said, "I can imagine the situation in China, but Falun Gong is popular worldwide."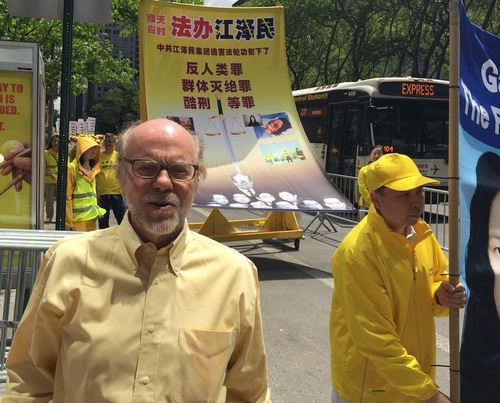 Retired French Doctor: Liking the Falun Gong Parade
Dominique Larens, a retired French doctor who came to the United States to visit his relatives, watched the Falun Gong parade in Manhattan.
He was very happy and waved to the parade. He said that he liked the Falun Gong parade.
He said, "I am very happy to see this parade. It is very beautiful from the beginning of the band (Tian Guo Marching Band)."
"I think this is a very good thing. First of all, I saw many people, Easterners and Westerners. Everyone thinks this is relevant to them. I think it is necessary to advocate tolerance and peace."
Given the peaceful way of Falun Gong practitioners protesting the persecution, Lawrence said, "This is good because war can't solve any problems. For thousands of years, mankind has always had war. Now, the world is like a village and needs peace, getting along."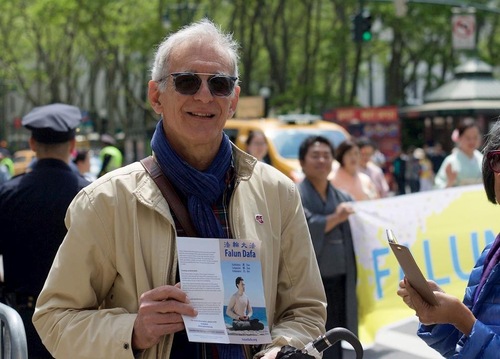 Lawrence said he felt that the parade was very peaceful, and he learned that Falun Gong practitioners follow the principles of Truthfulness-Compassion-Forbearance.
He said, "I think this will spread to the whole world and will attract attention throughout the world. More and more people are practicing this. I think this is the future trend."
Philip Robinson, an auto dealer from Geneva, said he liked the parade. He said the persecution was terrible and the practitioners' peaceful march was good.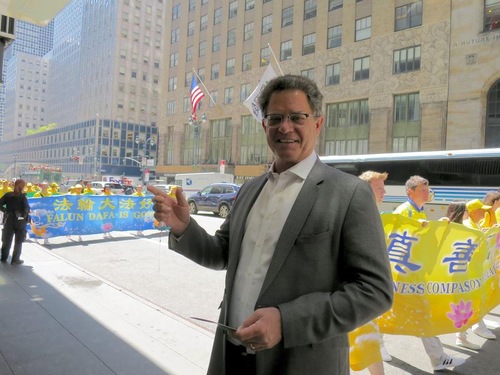 Octavius said that he would learn more about Falun Gong and might join the parade next year.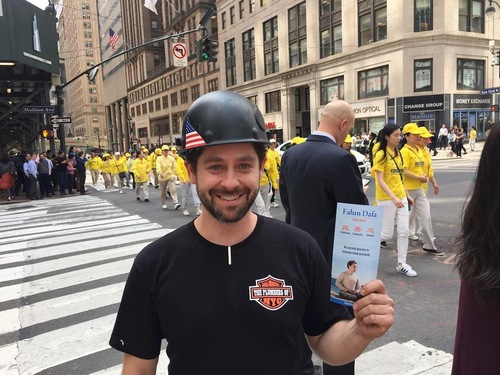 (Clearwisdom)