Turkish Republic Day, October 29, is also an official holiday in Cyprus. Turkish and Greek Falun Dafa practitioners met in Kyrenia, Cyprus, on the 29th to introduce Falun Dafa to the locals and tourists, raise awareness about the persecution in China, and collect signatures to help stop the persecution.
Many domestic and foreign tourists were visiting the popular tourist destinations in Turkey and Cyprus for the holiday.
In Kyrenia, many stopped to watch practitioners demonstrating the Falun Dafa exercises. Visitors learned about Falun Dafa and the persecution, and signed a petition in support of ending the persecution of Falun Dafa in China.
Leaflets in three languages were distributed at the Falun Dafa event in Ramadan Cemil Square in Kyrenia. Many people expressed interest.
Ayşe Gül said, "I was very interested in hearing about organ trafficking of Falun Dafa practitioners because I had a kidney transplant. I am very sensitive to these issues and signed the petition to support Falun Dafa and end the persecution."
Cigdem Erkose, the owner of Kemer Coffee Shop, said that Falun Dafa was good, and condemned the persecution. When she said she wanted to learn the exercises, practitioners showed her how to do them.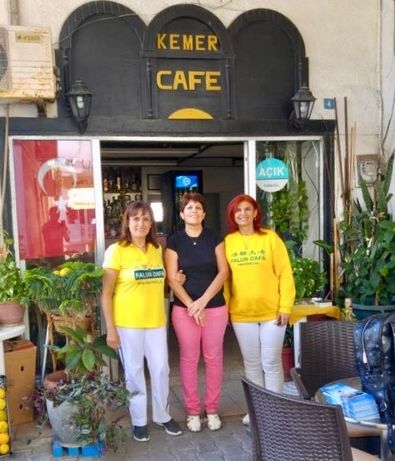 University student Gülçimen Zengin said that she was in search of something meaningful, and was very happy to find Falun Dafa, which she had never heard of before. She was stunned to learn about the persecution, and signed the petition. She said, "I will definitely try Falun Dafa, and I will read Zhuan Falun." She thanked the practitioners for organising the event.
Derya Hoca, who is a city council member and works in the city media department, was very interested in Falun Dafa. She was very drawn to the practice and said that she would tell more people about the persecution in China.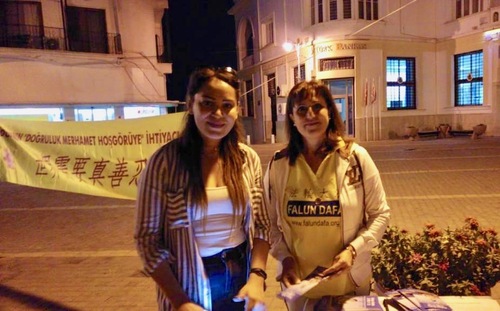 (Clearwisdom)
22 total views