The Art of Zhen, Shan, Ren (Truthfulness, Compassion, Forbearance) International Exhibition was held from October 20-31 in Odessa, the third most populous city in Ukraine. Many tourists and residents, as well as some government officials, attended the event and praised the artworks for their traditional values.
"Our life lacks honesty and kindness these days. That is why I think these artworks are important for children, like my daughter, because of the values encompassed by Truthfulness-Compassion-Forbearance," said local resident Lyudmila.
Two architects, Olga and Diana, said they learned a lot from the paintings. "These are important subjects and I think many people are not aware of them yet. For example, the mistreatment Falun Gong practitioners experienced in China for their belief. Also, forced organ harvesting from practitioners. All these are critical issues," said Olga.
A college student named Zlata saw positivity and hope in the artwork. "This is something I did not know about in the past. I was imagining what life would be like if I could live by the principles of Truthfulness-Compassion-Forbearance described here. It must be an interesting and captivating experience," she added.
Zlata wrote in the guestbook, "I like the kindness here and it is fascinating. The message is beyond words, but I could feel it. The energy relates to all of us who have come to the exhibition."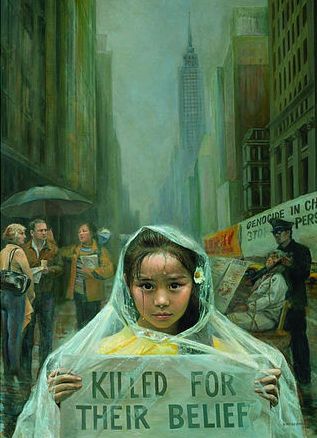 An attendee named Yuria said she was especially touched by the painting entitled "Positioning", from which she gained insight on salvation of oneself and others. "We are also busy here or there, and hardly have a chance to think deeper—or about redemption—until we are about to leave this world. Therefore, we need to think about what we should do now, at this moment, so that our soul ends up in a good place."
She said the salvation of ourselves and our world depend on each and every one of us, and the art exhibition clearly reflected this. She thinks when everyone follows a righteous path, the world would become a better place. She said the exhibition was "striking" because it touched her innermost feelings.
An optometrist named Ella said the paintings gave her a feeling of kindness and endurance. "Apparently, longing for happiness and eradicating evil is something we should pursue," she explained.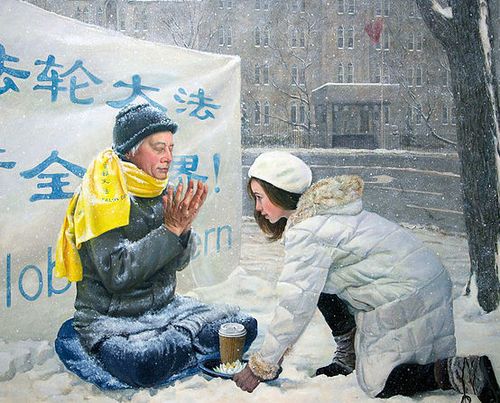 A college student named Demetrius said he had felt some changes after viewing the exhibit. "I have read some spiritual books in the past. But I have to admit that today I have learned so much more," he added.
Vladimir, a former caricaturist, has been to the exhibition several times. He said the artists' works provide valuable spiritual guidance. "They help us to rethink things about ourselves and our world. That is, we cannot merely indulge ourselves in material possessions."
The exhibition was also held in the southeastern Ukrainian city of Mariupol two months ago. News outlet MCH covered the event, saying the exhibition was "reflecting divine elements and bringing positive energy."