The Art of Zhen-Shan-Ren (Truthfulness, Compassion, Forbearance) International Exhibition was held at the Istanbul Bakırköy Artists Association (BASAD) on September 21-25, 2018.
The exhibition has been shown in more than 200 cities in more than 40 countries since 2004. The artworks depict both the persecution of Falun Dafa by the communist regime in China and the peaceful response of Dafa practitioners who hold firm to their faith.
Many visitors were shocked to see the brutality shown in the artwork, and many of them signed a petition calling to end the persecution in China and for the prosecution of former Chinese Communist Party leader Jiang Zemin, who launched and directed the persecution.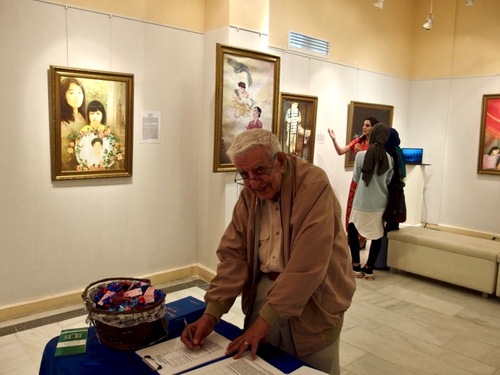 Mr. Üstün Asutay, one of the founders of BASAD, visited the exhibition and expressed good wishes and appreciation to practitioners. He condemned the persecution after viewing the paintings and signed the petition.
"This is the only thing that humanity needs!" said Mr. Asutay, "I was really impressed by this exhibition at BASAD. It sounded like a movie, but unfortunately it was real!"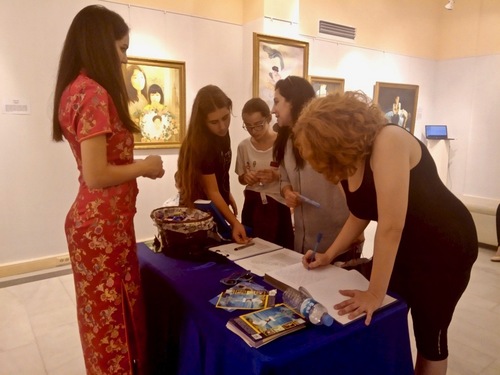 Mrs. Şeyma, a visitor to the exhibition, wrote in the guestbook, "We all get used to being indifferent to injustice since childhood. Societies are silent and unaware [because] the massacres and torture do not touch them."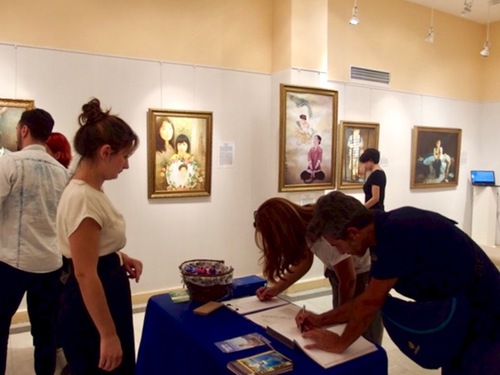 Exhibition visitor Ufuk Yüksel and his wife signed the petition. Mr. Yuksel expressed in the guestbook that he was surprised by the atrocities taking place in China despite its economic development.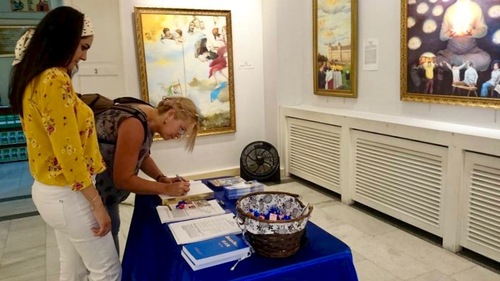 Exhibition visitor Mrs. Saadet wrote, "I feel this cruelty in China in my soul. I wish that the Chinese government [would] feel compassion and tolerance in their soul as soon as possible… I have no words to say. I condemn the Chinese government!"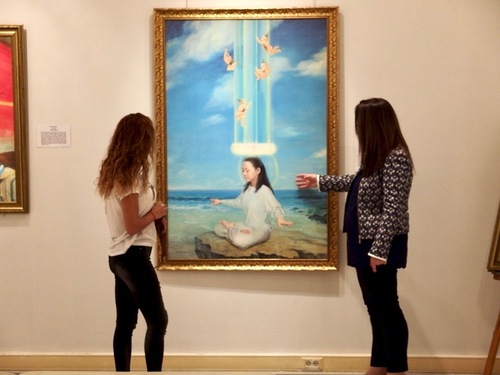 After viewing the exhibition, Canan Karahan shared her thoughts in the guestbook, "Here is an environment where I find peace and feel very comfortable. This exhibition [is] sometimes emotionally charged, sometimes full of energy and so well expressed with Truthfulness, Compassion, and Forbearance. I wish that we [are] all with Truthfulness."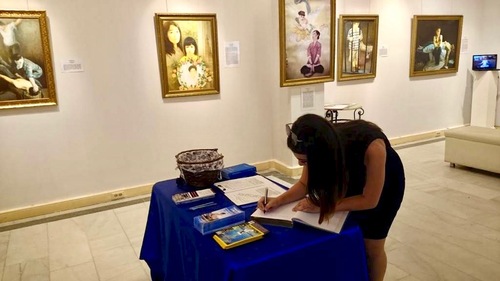 Another visitor, Naime Öztürk, wrote, "I have felt this persecution in China in my every cell. I wish that the atrocities would end and the Chinese government would have mercy." She added her wish that the exhibition be shown all over the world to inform more people about the persecution of Falun Dafa in China.
(Clearwisdom)
Bulgaria: Truthfulness-Compassion-Forbearance Art Exhibit Tour Begins at Queen's Palace by the Seaside