The Art of Zhen, Shan, Ren (Truthfulness, Compassion, Forbearance) International Exhibition was hosted this fall in Sao Paulo and Brasilia, Brazil. Visitors to the exhibit were impressed by the quality of the artworks and by Falun Gong practitioners' unyielding spirit in the face of the Chinese Communist Party's (CCP) brutal persecution.
Sao Paulo
The exhibition in Sao Paulo was held in the College of Science and Education of Faculdades Metropolitanas Unidas (FMU) starting on September 24, 2018. The exhibition coincided with a History, Geography, and Social Science Week. Practitioners were invited to introduce Falun Gong and their journey of resisting the CCP's persecution in a seminar.
More than 300 faculty members, students, and educators attended the seminar. They participated in a lively discussion and voiced their condemnation of the CCP's atrocities against innocent Falun Gong practitioners. Many expressed deep concern and indignation about the regime's crime of harvesting organs from living practitioners.
Dean Alexandre Claro Mendes, who has a Master of Science in History, said he could see the artworks' deep connections with history, geography, and social science in their depictions of persecution under a regime notorious for human rights violations. He expressed his gratitude to the practitioners for bringing such a great exhibition to his college.
Brasilia
The Art of Zhen, Shan, Ren International Exhibition in Brasilia was held in the multi-functional hall at the Felicittà Shopping Center beginning on October 4.
Joelma and her two children were intrigued by the artworks. "This is so exciting," Joelma exclaimed. "I have always dreamed of being able to meditate for 30 minutes or longer, but no meditation I have tried before let me do that. These artworks give me a special feeling, and I think his practice might be able to make my dream come true." She said she wanted to learn the exercises over the weekend.
Joelma's children were interested to learn that lotus flowers symbolise purity and compassion. Her daughter Paula held a paper lotus flower in her hands and said she would treasure it.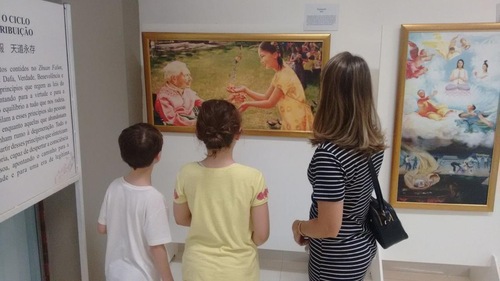 Carolina, an artist, was very impressed by the painting Call of Innocence. She said its touching realism had aroused her sympathy. She said the persecution was a crime against humanity and should be condemned.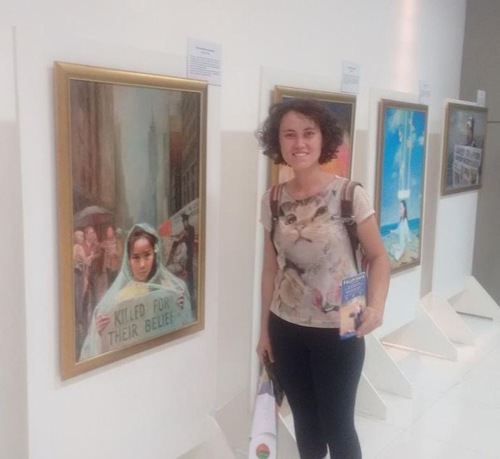 Dalva, a retired journalist and freelance writer, studied every painting and illustration. She said she wanted to do something to help stop the persecution.
A practitioner told her about online resources where she could find more information. Dalva said she wanted to write about it but needed to know more. The practitioner said that, if she could read the book Zhuan Falun, she would know what else she could do. Dalva agreed.
A lady named Cristiane was saddened to learn that people under communist rule didn't have freedom of belief. She said she had heard that the Chinese Communist Party was corrupt but didn't know it was so evil.
She also learned that Falun Dafa is a cultivation practice that follows the principles of Truthfulness-Compassion-Forbearance. "That's very meaningful. I would like to know more and I would like to learn the practice," she said.