Falun Gong practitioners raised awareness of the persecution in China and gave food lovers and passersby in Sydney an opportunity to learn the exercises at a popular Asian food festival in Hyde Park in the city's central business district.
The Night Noodle Markets are part of Sydney Good Food Month, a month-long celebration of Australia's culinary landscape. Falun Gong practitioners were able to set up their booths and information placards alongside Sydney Good Food Month's pop-up restaurant, the Hyde Park Palms, where sold-out events with culinary masters from Australia and abroad are being held.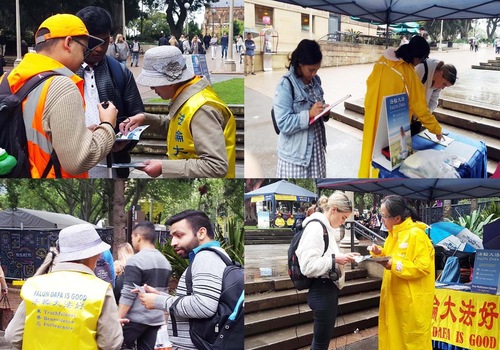 Sydney resident Arthur Cross was happy to see the practitioners at the food festival. He walked straight over to their booth with his thumb up. "I fully support Falun Gong!" he said. "I know Falun Gong is peaceful and good, with strong energy. I admire your tireless efforts to raise awareness of the persecution.
"I support Falun Gong because I have seen Falun Gong practitioners raising awareness in Sydney many times. I took some flyers to read and learned about Falun Gong at home. I went online to learn more about Falun Gong.
"I have come to the conclusion that Falun Gong is particularly good. The CCP's persecution of such a good practice is very cruel and inhuman. The persecution of Falun Gong is completely evil and wrong."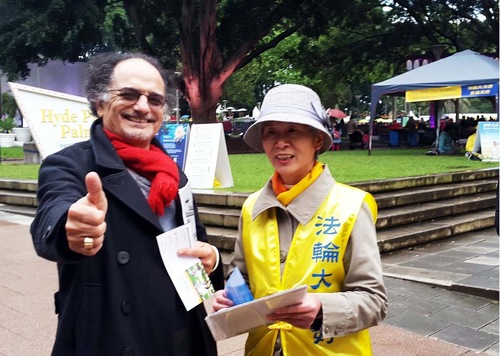 Many passersby took Falun Gong flyers. Some came to the booth to talk with practitioners and learn more about Falun Gong. Some people also signed a petition calling for an end to the CCP's persecution of the peaceful practice.
Poppy Hill stopped by to speak with practitioners. She said, "I often saw Falun Gong events but I did not really understand Falun Gong. Today, when I see Falun Gong practitioners meditating here and publicly introducing it to the public, I feel that Falun Gong is particularly peaceful, relaxed, and good."
"I really wish to be one of them and want to know more about the traditional culture and historical background. I only know a little superficial thing about Chinese traditional culture. I took some information materials and wish to learn more after going home."
She signed the petition opposing the persecution before she left.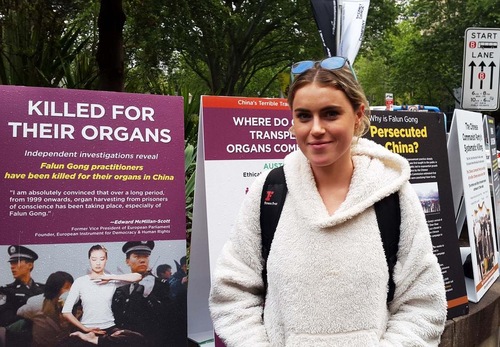 The Night Noodle Markets are being held at Hyde Park on Thursday through Sunday evenings for three weeks, on October 4-21. Forty different Asian food stalls are taking part in this year's events.
3 total views