"The children become so peaceful when they do the Falun Gong exercises," said a teacher at an elementary school in Buenos Aires.
Since June, hundreds of children at two schools in the capital of Argentina have noticeably benefited from Falun Gong, a mind and body cultivation practice from China.
"Most of the children seemed to get calmer and more relaxed," said a Falun Gong practitioner who volunteered to teach the exercises at the school.
"One time a girl shouted that her hands were hot, and then other students excitedly said that they had the same feeling," she added.
"The kids are happy to see us every time," she said.
The program started in June, when a practitioner showed a documentary to a friend who was the principal of this school.
The documentary told a story in which Falun Gong exercises helped school kids in Uruguay to improve their behavior and grades, and reduced incidents of bullying.
Having just returned from a workshop with the heads of 2000 local schools in the area, which aimed to improve students' behaviors and grades, the principal was interested in providing a meditation class to her students.
She invited a group of local practitioners to teach the exercises every week to students who had trouble focusing or other behavioral problems.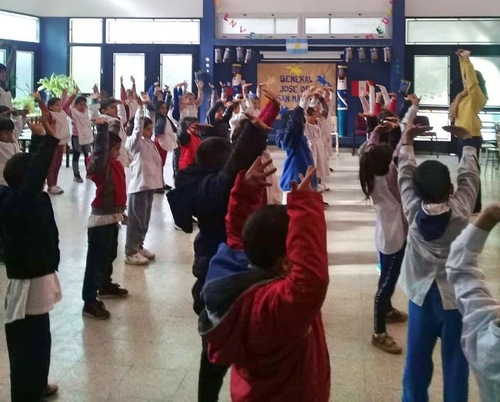 A principal from another school in the same network was told about the Falun Gong program in the first school. This principal had recently picked up a Falun Gong flyer at a community event and realised it would benefit her students, too, so she also set up a weekly workshop.
The positive effects were obvious and instantaneous. Not only did the kids enjoy the exercises, but many faculty members also started to learn.
"The kids we are facing have serious behavioral problems. It was not easy to deal with hundreds of them, but we are seeing gradual changes in them," said a practitioner.
"It was difficult to get their attention at first and get them to calm down," she explained. "They were curious about us, but they simply could not focus."
Another practitioner said, "The second time we went there, we noticed that some of them started to relax. They became more calm. We were really touched."
The practitioners also taught the students about the guiding principles of Falun Gong: Truthfulness-Compassion-Forbearance.
Since discussing these principles with the students, teachers and practitioners saw that students who had become timid due to bullying were starting to gain more confidence.
"Some of the kids started acting up after the winter break, so we decided to discuss 'respect and forbearance' with them," a practitioner said.
"A student came forward and said that his brother was bullied constantly, and he was worried that the other children may even bully their mother. His eyes were full of tears. The other kids quietly listened."
"Later that day, a teacher told me that she was surprised that the other kids listened to his story, because that student had been bullied for a long time, and no one paid any attention to him," said the practitioner.
Another part of the program involved teaching the students how to fold paper lotus flowers. Practitioners told the children that the lotus flower is a symbol of purity in Chinese culture. It grows up from muddy waters, but remains clean and beautiful.
"So don't get dragged down by the harsh environment," a practitioner told the students.
The programs at these two schools have drawn attention from a federal level congresswoman, who learned about Falun Gong from a practitioner in January. After the school programs were underway, the congresswoman sent her assistant to the schools to check it out, and the assistant seemed impressed with the program.
More schools in this network are now signing up to bring this program to students.
23 total views