Local Falun Dafa practitioners from the Wollongong/Illawarra region participated in the 37th Spring into Corrimal festivities on 9 September 2018.
Spring into Corrimal event is the largest, one day, free family festival in regional New South Wales attracting well in excess of 60,000 people and this year was no different.
There were a steady amount of visitors and passerby throughout the Spring day at the Falun Dafa stall.    Petals of Peace was a popular attraction where local Practitioners made available and showed many children (including adults alike) how to fold a Origami lotus flower.
The 'Petals of Peace' initiative invites people of all ages to fold a paper lotus flower as a gesture of peace and friendship to children less fortunate. Petals of Peace initiative was inspired by the heart rending story of a Chinese/Australian girl named Fadu.  Fadu's Father was persecuted for his beliefs in Falun Dafa in China and sadly lost his life.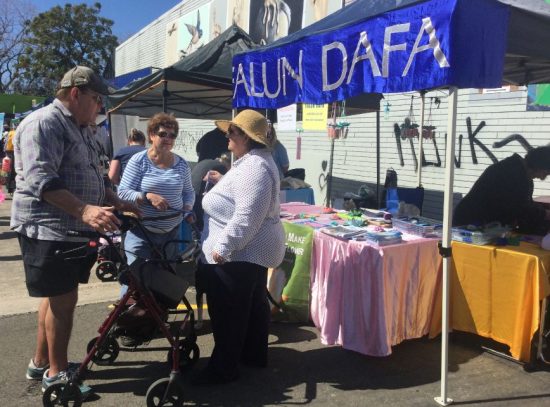 Other Falun Dafa information pieces were made available to the public through brochures, book marks and ready made lotus flowers in which attracted a steady number of visitors.
The event and being the first week of Spring always brings out many people and after participating at Spring into Corrimal for some several years, the Falun Dafa stall now sees some regular visitors each year who come and say hello and spend a little time at the stall.
The day was a beautiful spring day and Falun Dafa will look forward in attending the 38th Spring in Corrimal event in 2019.