The 2018 Australia Falun Dafa Experience-Sharing Conference took place at Club Central in Sydney on September 9. Over 1,000 practitioners attended the event and listened to the speeches of 21 practitioners. The speakers talked about their experiences in practicing Falun Dafa and raising awareness about the persecution in China.
Improvement During Coordination
Several coordinators discussed how they let go of selfishness to resolve conflicts. As a result, many problems were solved and their efforts to raise awareness became more effective.
Mr. Luo was responsible for booking a theatre for a Shen Yun performance. "Once we improved as one body, the situation changed dramatically. It seemed hopeless at first, but then we secured the venue within two days. I knew Master was helping us," he said. "These conflicts reminded me that cultivating myself is the most important and this also applies to coordination work. Only by doing so are we able to seize the opportunities arranged by Master and do our work well."
Ms. Zhao from Queensland is also a coordinator of Shen Yun promotions in her area. She came to understand the importance of righteous thoughts and righteous actions, as well as having a pure heart. Upon hearing the facts, two television channel directors were very moved and both agreed to run advertisements for Shen Yun free of charge. A newly appointed director was also touched and said he would help when Shen Yun comes to his city.
Creating a Good Cultivation Environment
Dr. Lettie is relatively young and she works for a news media. After some young people joined her team, she found she had not paid attention to their cultivation or life, or technical skills. Instead, she mainly focused on job assignments. In addition, she relied on strong professional skills to assist her team members so as to establish her reputation in her group. "Later I realised my understanding was not based on the Fa and personal cultivation is very important," she said. Now she is able to create an environment for young practitioners to work together and do the three things well.
Another coordinator, Ms. Bai, is not highly educated. But among 20 practitioners in her group, there are graduate students, post-doctorates, and other highly trained professionals. "Master helps me a lot and practitioners also cooperated with each other well," she said.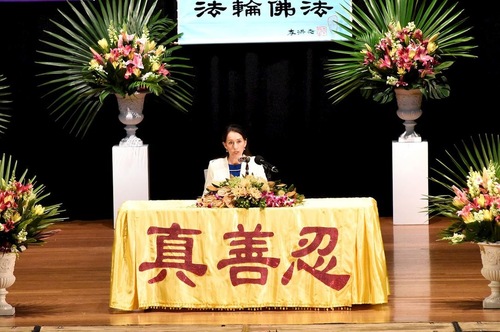 Young Practitioners
Katherine began to practice at a young age along with her parents. "Back then we joined the morning exercises every day, regardless of the weather. We also traveled to nearby towns to tell people about Dafa. Those were the best days of my life," she recalled. After coming out of China, she indulged herself in everyday people's comforts and slacked off. One day, she saw The Art of Zhen, Shan, Ren International Exhibition. "I looked at each painting in detail, one after another, and was in tears. Since then I returned to the group for cultivation practice. I am so fortunate that Master helped bring me back," she said.
Esmeralda, 22, works in a dental clinic. Through her job, she helped many people learn about Shen Yun as well as the ongoing persecution in China. "Just as I was wondering how I could approach people about Shen Yun, my supervisor made an arrangement for me to interact with patients and customers more often to improve my skills. This way, I was able to talk with them about Shen Yun. Thank you, Master," said Esmeralda.
Western Practitioners: Letting Go of Human Notions
Louise talked about how she organised the Falun Dafa Day celebration in Queensland earlier this year. In the beginning, she had negative thoughts including a competitive and show-off attitude. "After I eliminated these human notions, we were able to work together selflessly. By respecting each other's opinions and helping each other, the event went smoothly," she added.
Nina from the Gold Coast said the challenges in coordination work often made her frustrated and depressed. "Later, I realised they were opportunities for my cultivation and they were things I had to overcome," she said. When organising a screening for In the Name of Confucius, a documentary on Chinese Communist Party's cultural infiltration, she was able to get rid of attachments, improve herself, and cooperate well with other practitioners.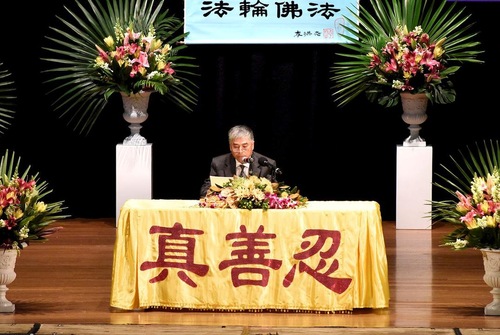 Talking to Chinese People about Falun Gong
Irma talked about how she interacted with recently arrived Chinese. When she first brought up the issue of the persecution of Falun Gong to a group of nearly 20 Chinese, they seemed surprised that she, as a Westerner, would pay attention to this. Some even laughed at her. "I was not upset. I looked at everyone in their eyes and told them about Falun Gong and the unjust persecution as if each of them had been my child sometime ago," she said. As the atmosphere improved in the next hour, the Chinese became more receptive to what she had to say.
Overcoming Sickness Karma
Mr. Shen has not written an article in over 40 years. When preparing his article for this conference, he experienced a miracle. "I once had surgery for a health issue which somehow recurred recently. Interestingly, as I focused on writing this article, my symptoms went away in two hours without my noticing it," said Mr. Shen.
He said what he wrote was how to make decisions based on the Fa, including validating the Fa and improving oneself. "I felt I had so many attachments. The old forces took advantage of this and amplified them like walls in front of me. Once I let go of these attachments, the walls collapsed on their own. My body also became more relaxed than ever," he said, adding that writing an experience-sharing article is also a good cultivation opportunity.