Toronto Falun Gong practitioners participated in the Whitchurch-Stouffville Strawberry Festival on June 30. Many people were happy to learn about Falun Gong during the Canada Day celebrations and some learned the exercises at the event.
Located about 30 miles north of Toronto, the festival tradition started in 1984 and has become one of the major events in the region with an attendance of over 35,000 each year.
"I Want to Meditate Like This"
Ms. Parete said she was interested in meditation. Impressed by the serenity of Falun Gong exercises, she said, "I want to meditate like this, too."
Having a problem with her lower back, she said she always thought about taking up such exercises to improve her health. As she left, she waved the pamphlet and exclaimed, "This is my goal for 2018!"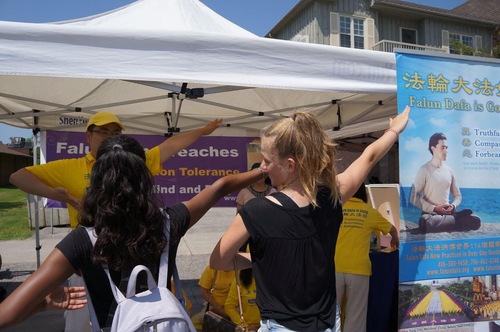 Health and Inner Peace
Ms. Jiang, a Chinese woman who passed by the booth with a baby stroller, accepted a pamphlet from a practitioner. She had not paid any heed to the communist regime's propaganda campaign against the practice and was interested in health benefits of Falun Gong. She said she agreed with the moral improvement emphasized by the practice and felt it would help her gain inner peace.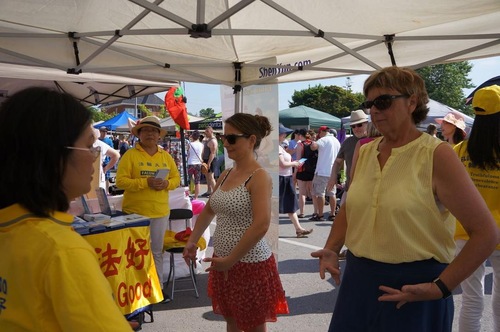 "I Will Tell My Chinese Friends"
Steve Zegas is a home installation adviser from Greece and has lived in Canada for 25 years. He said he was very interested in Chinese culture.
Coming from Greece, he had noticed some commonalities between the two cultures, including family and art. He left his business card and said, "I have many Chinese friends. I will tell them about Falun Gong as well as the persecution."