Countless people who attended the Gold Coast Commonwealth Games between 4 and 15 April 2018 in Queensland, Australia were very touched after meeting with Falun Dafa practitioners.
Practitioners set-up an information stall, demonstrated the Falun Dafa exercises and held banners in the city's entertainment precinct called Surfers Paradise.
Many people read the signs and banners, which stated Falun Dafa practitioners just like them are being live-harvested for their organs in Mainland China. Many people from around the world who saw the activity had heard about the persecution and organ-harvesting.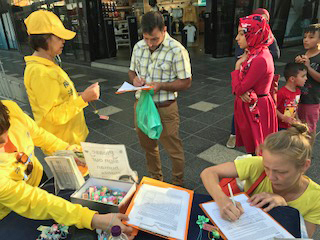 A man from Scotland said he had seen Falun Dafa activities and signed the petition at previous Commonwealth Games held in Glasgow, Pune and Melbourne. Practitioners asked if he would like to sign the petition on the Gold Coast too, and he was very happy to oblige.
Some young men from the Mauritius Commonwealth Games team stopped at the stall and spoke with practitioners and were very happy to learn more about Falun Dafa and the persecution. They took a group-selfie photo with practitioners before they left.
A young lady whose family was originally from Poland read the banner's message that Communism has killed more people than both World Wars combined. She quickly came to the stall to sign the petition, saying her family had witnessed the terror of the former Soviet Union regime and could understand the horrors that Falun Dafa practitioners face today in Red China.
Several others from Germany, Hungary, Scotland, Ireland, England, the Channel Islands, United States, Canada, Botswana and Zambia also visited the stall and signed the petition.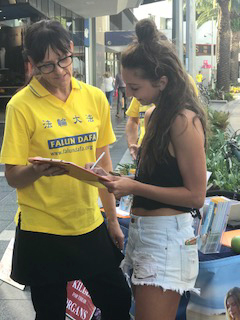 A Gold Coast City Council officer called Darren also visited the stall and was very pleased to hear Falun Dafa practitioners' permit had been approved, especially after learning that no further public assembly permits would be granted during the Commonwealth Games.
One woman passing by loudly cheered-on practitioners, encouraging them to keep-up the great work and how she loves what Falun Dafa practitioners are doing in our local community.
Another young woman called Brooke was working at a retail store and watched practitioners. During her break she came over to say how wonderful she felt after listening to the Falun Dafa exercise music.
She spent the last 10 minutes of her break to try-out the sitting meditation and could not believe how peaceful she felt afterwards, saying she had spent years meditating at the beach where no one is around and the atmosphere is tranquil but she never felt so removed from the busy shopping atmosphere.
Brooke signed the petition and said she has a very deep respect for Falun Dafa. She went back and told all of her workmates about her amazing experience, encouraging more of her colleagues to visit the stall, learn more about Falun Dafa and sign the petition.