At least 22 Tianjin residents are still being held in the local Binhai Prison for refusing to renounce Falun Gong, a spiritual discipline being persecuted by the Chinese communist regime.
The imprisoned Falun Gong practitioners include:
Zhou Xiangyang
Hua Lianyou
Ma Jian
Liu Haibin
Huang Liqiao
Liu Baolin
Feng Qingyu
Wang Shulin
Liu Jincheng
Sun Jianyue
Zhang Jinshui
Wang Yushi
Shi Fuhua
Zhang Hongju
Fang Keshan
Zhang Jian
Yuan Jinliang
Li Wen
Gao Zhiyong
Zhang Ziwen
Zhang Jun
Xiong Huifeng
There are more practitioners incarcerated at the prison, but their identities remain to be investigated.
The prison authorities have resorted to various means in their attempt to force the imprisoned Falun Gong practitioners to give up their belief. The abuse continues to this day.
Sleep Deprivation
In November 2015, the prison authorities invited a "reform expert" from Beijing to come and work on Falun Gong practitioners. The "expert" directed the guards to place each practitioner in a separate cell, where several inmates were assigned to watch the practitioner around the clock. The practitioners were not allowed to sleep for fifteen straight days.
Some practitioners succumbed to the sleep deprivation and wrote statements against their will to renounce Falun Gong. The "expert" and the prison then claimed victory in reforming the practitioners.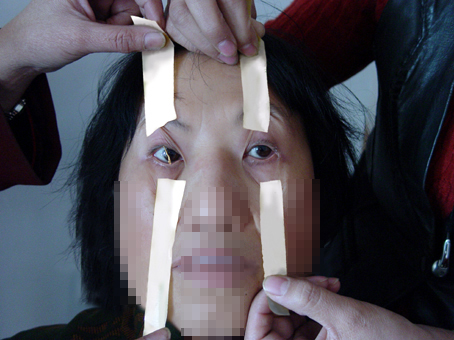 Corporal Punishment
The prison authorities began to impose corporal punishment on the practitioners starting in December 2017. The guards plastered the walls of the practitioners' cells with posters slandering Falun Gong. They forced the practitioners to stand for extended periods of time, with their heads lowered and pressed against the wall. When the guards became tired of the standing torture, they ordered the practitioners to sit on a small bench for long periods of time.
Brainwashing
While inflicting physical harm on the practitioners, the guards also forced them to watch, listen to, and read materials defaming Falun Gong. The practitioners were also forced to write out their thoughts on a regular basis.
Force-feeding
Four of the practitioners have been on hunger strike for several years.
Mr. Hua Lianyou was sentenced to 7 years following his arrest on April 24, 2012. He went on a hunger strike in protest and was released on medical parole on January 28, 2014. He was taken back to the prison on April 14, 2016, and he has since been on another hunger strike.
Mr. Zhou Xiangyang was also given 7 years, following his arrest on March 2, 2015. He has been on a hunger strike for nearly three years.
Mr. Liu Haibin was sentenced to 4 years following his arrest on September 2, 2015. He started a hunger strike on April 30, 2016.
Mr. Ma Jian, whose sentence is unknown, is also on a hunger strike.
The four practitioners have been force-fed on a regular basis. Mr. Liu and Mr. Ma were rushed to the ER several times in critical condition. The prison, however, has refused to release them on medical parole.