As World Falun Dafa Day (May 13) approaches, practitioners around the globe are celebrating the occasion. Below are recent events in Sydney and Melbourne, the two largest cities in Australia.
Sydney
Activities in Sydney started with group exercises on the morning of May 5 at Hyde Park, followed by a parade at noon.
Many pedestrians stopped to watch and take photos. Some said they would share their photos on social media.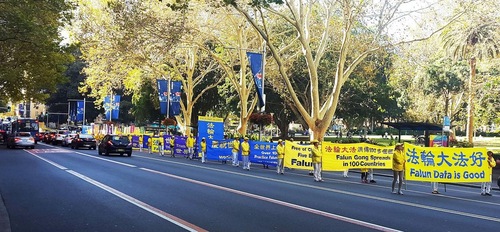 Adele Greenwood saw the parade with her daughter and friend. She said, "This group is calling for their basic rights to practice the principles of Truthfulness-Compassion-Forbearance [in China]. They are also doing it in the best and most peaceful way. I hope all nations and governments will support this," she said.
Aleksandra Niewiara, instructor at an international school at Darling Harbour, was glad to see the Falun Dafa event and said, "The principles they follow are important for the society and they should replace the money, power, and greed that people are after. I will tell my students and friends about these principles because they represent the essence of Chinese culture. No matter how much the communist party suppresses people and damages the culture, they have been unable to fully destroy it."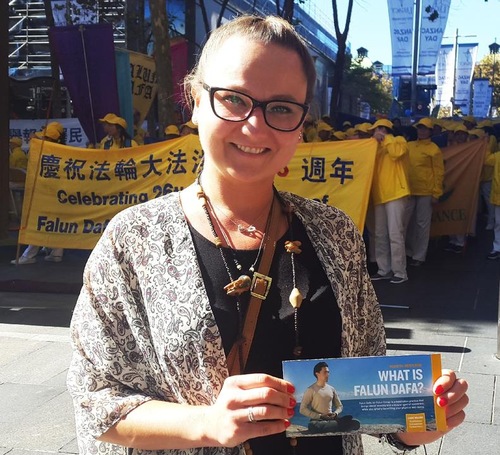 Zimmy Obl and Ola Markiewicz, Polish tourists visiting Australia from their home in London, were drawn by sound of the Falun Dafa group's Tian Guo Marching Band. "This is truly beautiful and we even checked online to learn what Falun Dafa is," said Obl. "Unfortunately, the communist party is suppressing the group, just like many tragedies the regime had committed in other countries, including Poland. I will share the information on social media so that more people will know about it and help stop the persecution."
A young couple from China said they had seen Falun Dafa activities when visiting Hong Kong and thought it was very good. "Many young people in China only care about their owns things and do not think about things like this [standing up for freedom]. Falun Dafa practitioners are really remarkable," he said.
Melbourne
Celebration in Melbourne took place on May 5 and 6 at Box Hill and Wheelers Hill, respectively.
Silvia, a software engineer who has practiced Falun Dafa for 14 years was glad to be a part of this year's celebration. Her mother became a practitioner in 1996, but it was not until 2004 when she moved to Las Vegas that she heeded her mom's advice to take up cultivation.
She attended a Falun Dafa conference in Los Angeles. "At the conference, my tears kept rolling down as I saw Master. I began to genuinely cultivate Falun Dafa since then," she said.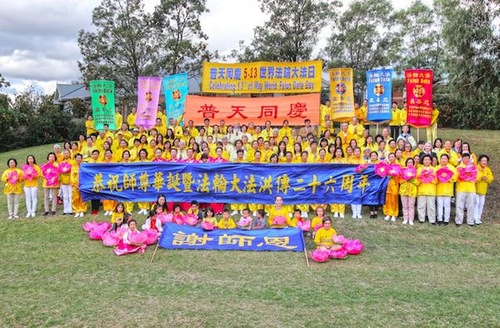 Another participant of the event, Tina Sofos, a television host, shared her story with the practice. She said a divorce 20 years ago had made her life miserable. "My son was only four years old. Because my world collapsed, the pressure and pain also affected my son and ex-husband." She had to rely on medicine to control her mood. Then someone introduced Falun Dafa to her and she began to read Zhuan Falun and do the exercises. Her doctor was amazed by her improvement and stopped her medication.
"In the past 14 years, the practice helped me improve my moral character, let go of selfishness, and relieve my pain. Now I am responsible, confident, and persevering. I also reunited with my family, which makes me happy."
A passerby at the event, Mr. Wang, who had come to Melbourne to visit his family, said he often saw practitioners doing exercises at a park near his home before the persecution began in 1999.
He later learned more about the brutal persecution and felt sorry for practitioners. "The society in China is a mess now since people just want to make more money and very few care about moral values. I think Falun Gong is good for society and the persecution is doomed to fail," he said.