Falun Gong practitioners introduced Falun Gong, a traditional cultivation practice following Truthfulness-Compassion-Forbearance, at a Health Expo in Vejle, Denmark from March 3rd to March 4th, 2019.
Their presentation received warm feedback from visitors. One of the expo organisers told the practitioners, "You did such a good deed for free. Thank you very much!"
Some of the visitors could feel the strong energy field. Others were amazed that they felt hot after doing a few simple movements.
Mona was drawn to the strong energy field when she passed by the Falun Gong booth. She decided to give it a try, and finished learning all five exercises. She said that she felt great afterwards. She left her contact information to learn more about Falun Gong.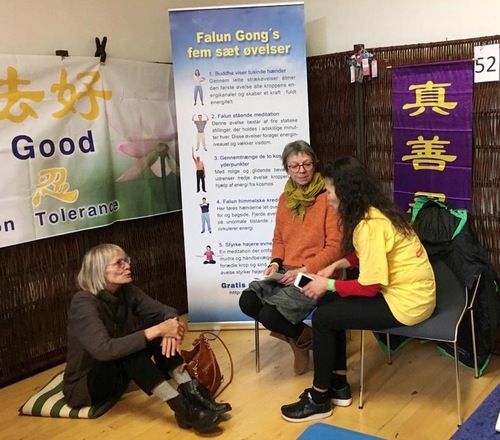 A young man named Frank said that he had learned many exercises, but found them over-complicated or confusing. He was interested in meditation and Eastern Qigong exercises and had been looking for a simple and effective exercise.
A Falun Gong practitioner told Frank that Falun Gong was an ancient cultivation practice with simple movements, followed Truthfulness-Compassion-Forbearance, and it improved health and uplifted spirits for people around the world.
Frank was thankful for all the information. He bought a copy of Zhuan Falun and wanted to learn the exercises.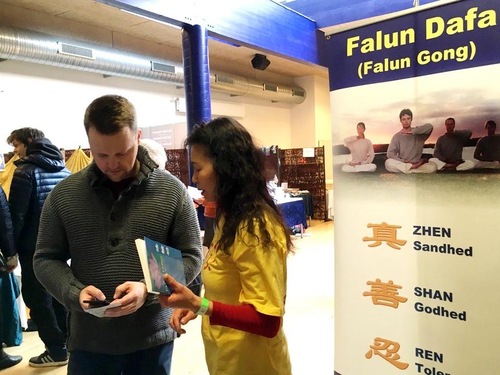 Monten and his son, who are from southern Jutland, listened to a practitioner's introduction of Falun Gong, and immediately decided to learn it. They left their contact information and wanted to learn more in the future.
Litta, one of the expo organisers, and her colleagues visited each booth. She watched the Falun Gong practitioners for a while, and told them, "We have seen so many booths, which came to make money. You are the only ones who did such a good deed for free. Thank you very much!"
Litta also left her contact information and wanted to learn Falun Gong.