Falun Gong practitioners in Jakarta, Indonesia, held activities in three local communities on March 2-4, 2018, to introduce Falun Gong and expose the persecution of the practice by the Chinese Communist Party (CCP).
Many local residents signed a petition supporting lawsuits against Jiang Zemin, the former head of the CCP responsible for the persecution. Some people expressed interest in Falun Gong and learned the exercises.
Practitioners set up a booth in Panglima Polim on March 2-3. They introduced the Falun Gong self-cultivation practice, and exposed the CCP's persecution of the practice in China.
Many booth visitors signed a petition calling for an end to the persecution. Some bought the book Zhuan Falun. Some learned the exercises on the spot.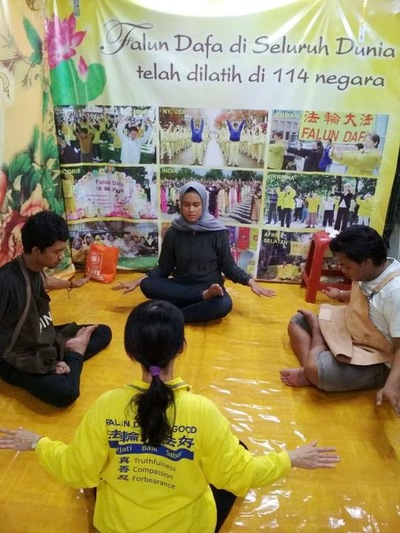 Pecinan Lama and Glodok are Chinese communities in Jakarta. Practitioners set up booths in these two communities on March 3-4.
Many Chinese people stopped to watch the exercise demonstration and learn about Falun Gong. Many copies of introduction flyers were distributed to local residents.
When Falun Gong practitioners' waist-drum troupe performed on the street, spectators were fascinated. Many took introductory flyers about Falun Gong and beautiful origami lotus flowers.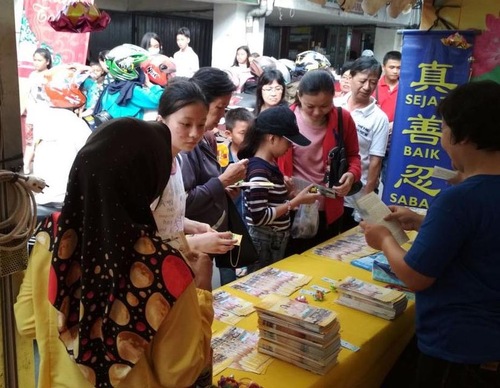 Practitioners also participated in a Women's Talk on March 4. Women professionals, including social activists, lawyers, politicians, and others, had a chance to learn the facts about the persecution of Falun Gong.
Falun Gong booth visitors condemned the CCP's crimes of harvesting organs from living practitioners in China. They strongly supported the overseas practitioners' effort to end the persecution.
Some people suggested making it illegal for Indonesian patients to obtain organ transplant surgeries in China.
Many signed the petition supporting Chinese people's lawsuits against Jiang Zemin.