Moscow Oriental Collection Expo
Falun Gong practitioners in Moscow were invited to participate in the Oriental Collection Expo November 16 to 19. They introduced Falun Gong by demonstrating the exercises and giving artistic performances.
The practitioners introduced Falun Gong, demonstrated the five exercises, and gave several dance performances. The audience responded with warm applause.
The practitioners also talked about the Chinese Communist Party's (CCP) persecution of Falun Gong. Many people signed a petition calling for an end to the persecution.
A middle-aged man from Tibet was very sympathetic to what practitioners face in the persecution. He had visited many countries and seen many Falun Gong activities. He said, "The communist party is like that. That's exactly what it does!"
A young lady who had met Falun Gong practitioners at the same expo last year spoke to practitioners again this year. She said she would help share information with her friends so that more people would sign the online petition.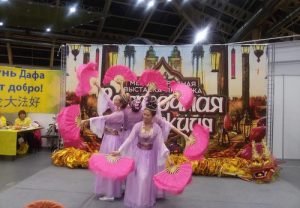 Exposing the Truth at Old Arbat
Old Arbat is a famous tourist site in Moscow. Many tourists to Old Arbat come from China. Because of the CCP censorship, they can't get factual information about Falun Gong until they leave the country. Practitioners maintain a regular presence at Old Arbat so that they can tell them the truth about Falun Gong.
Many people were appalled to learn of the CCP's crime of harvesting organs from living Falun Gong practitioners. A lady who signed the petition said, "I think everyone walking on this street can support your work with their concern and signatures."
Four young men from China stopped to talk to a practitioner, who told them the truth about the Self Immolation Hoax, the CCP's organ harvesting, and lawsuits against Jiang Zemin, the former head of the CCP. The young men said they had seen many Falun Gong activities in Europe and Hong Kong. One of them had quit the communist organizations he had once joined. The other three decided to quit as well to be safe. They sincerely thanked the practitioner.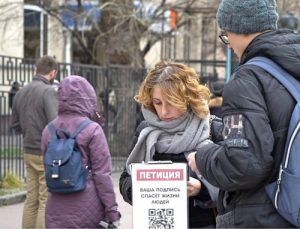 A lady from Shenyang, China, asked a practitioner where she could find a taxi. The practitioner took her to the right place and, along the way, helped her quit the Communist organisations. She gave the practitioner a big hug and said she would tell her family and friends about quitting the communist organisations.
Practitioners also talk to tour guides about Falun Gong. Most of them have learned the truth about Falun Gong and were happy to see practitioners. Some reminded practitioners to dress warmly. Others said, "We have heard your stories and sympathize with Falun Gong!" "You have been working hard!"