The Art of Zhen-Shan-Ren International Exhibition opened in Barranco, a coastal area south of Lima, Peru on November 21, 2017. The exhibition is being held in the Cultural Center Juan Parra Del Riego until November 30.
At the reception on November 20, Mr. Pedro Parvina Castro, deputy director of Culture and Education in Victoria City Hall, Lima, came especially to cut the ribbon at the opening ceremony.
A Falun Gong practitioner talked about the paintings and about the persecution of Falun Gong being carried in China by the Chinese Communist Party (CCP). After viewing the video introduction of the paintings, the spectators entered the exhibition hall to see the actual paintings.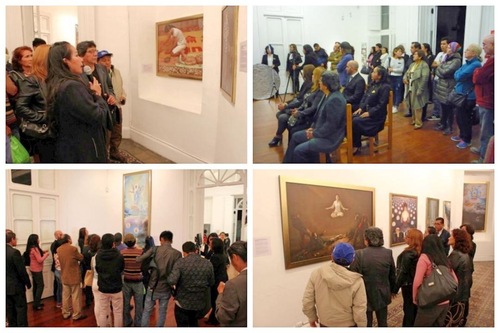 The painting of a young girl in tears holding a box of her parents' ashes made an impression on Mr. Castro, who commented on the pain of losing one's parents. He hoped that children like the one in the painting in China are being helped and cared for.
He said, "People who believe in God know that human beings are from Heaven and that good will be rewarded. A regime that persecutes believers will face disaster."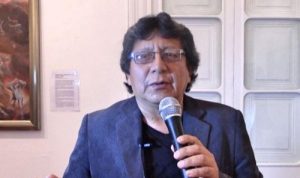 Srita Leia Acosta, one of the guests at the reception, was moved to tears by the paintings.
She said, "The paintings show what is occurring in China now, that people are being persecuted now. Living in a free society, I cannot imagine such things happening in China."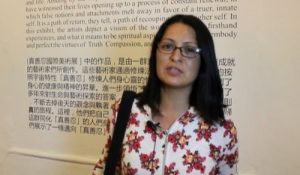 The cultural center, which usually closes at 8 p.m., remained opened until 10 especially for the reception. Many of the guests expressed their admiration and said they would tell their friends to come see it.
This is the second time the Art of Zhen-Shan-Ren Exhibition has been shown in Peru. The exhibit first hung in the Barranco train museum for four days in 2009.
35 total views