Falun Gong practitioners were invited to demonstrate the meditation practice at the annual Haldon Street Festival in Lakemba on October 27, 2017. Located in southwestern Sydney, the suburb of Lakemba is a business and political center of the region. Over 30,000 people participated in the celebration, including ethnic groups representing Greece, Italy, and Lebanon.
The practitioners' waist drum team earned warm applause from spectators. Many people took pictures and accepted informational materials about Falun Gong. Some came to the booth afterward to learn the exercises. An event organiser invited practitioners to do the exercise demonstration at its upcoming events.
The South Asian Global TV Channel covered the practitioners' exercises and conducted an interview. Practitioner Ms. Zeng said Falun Gong improves people's health and benefits the community with its principles of Truthfulness-Compassion-Forbearance.
The reporter was glad to hear that practitioners offer exercise instruction and that the books are available online–both free of charge. They inquired about the time and location of the local meditation group to share with viewers.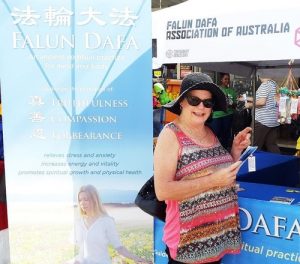 Teresa Wall is in her 70s and previously practiced Falun Gong. "It made me have more energy, and I was able to do a lot more things. Plus, my high blood pressure also disappeared," she said. After watching the practitioners' exercise demonstration, she took informational materials and said she would join others at the group exercise site.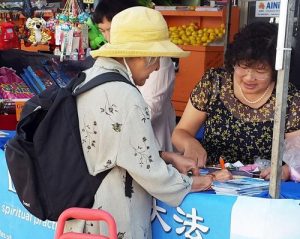 Pola William was impressed by the practitioners' gentle movements. "I like the energy field here," he said, "It is so pure, and I think it must be from heaven." He had encountered various meditation practices in the past, but he believes that Falun Gong is unique.
"This will bring us a better society," he said, "especially Truthfulness-Compassion-Forbearance. I believe this is what gods want us to follow."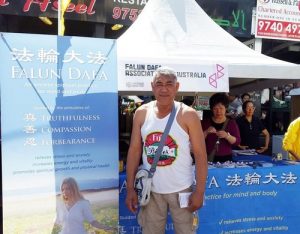 22 total views