Civic Fest was held for the fifth time in Moldova September 29 and 30, 2017. The festival promotes best practices and success stories affecting social, economic, and political change in Moldova. The goal is to support those involved in solving social problems.
The Falun Dafa group, among the most active organisations in the Republic of Moldova, participated for the third time. The practitioners distributed information about the Chinese cultivation practice for mind and body and about the persecution of its adherents in China for over 18 years. They also offered a class in folding origami lotus flowers, which symbolize purity and self-cultivation.
Visitors to the Falun Dafa booth condemned the persecution and were pleased to receive a paper lotus flower in memory of the victims of the persecution. Practitioners made contacts with other non-governmental organisations. For example, the Association for the Deaf invited practitioners to their headquarters to present a class in folding lotus flowers for its members.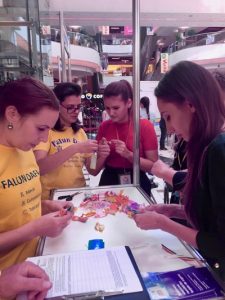 "Petals of Peace" Project in a Rural School
On October 6, 2017, a group of Falun Dafa practitioners went to Anton Moraru Middle School in the Village of Pistruieni in the Telenesti District. They gave a class in folding paper lotus flowers and told the story of Fadu, a young girl who lost her father in the persecution of Falun Dafa in China.
Almost 100 children folded paper flowers as they listened to the sad story of the little Chinese girl, and many of them wanted to make a second flower for their loved ones at home.
The deputy director said that even the most problematic children were very attentive, which was very rare in that school, where most of the children come from disadvantaged backgrounds. The practitioners also made a gift to the school of ten copies of a book titled Lotus Flower Tale, written by a Ukrainian practitioner.
Lotus Flower Class for the Deaf
At the invitation of the Deaf Association, Falun Dafa practitioners presented the practice and taught the participants how to make a lotus flower on October 25, 2017.
Nearly 50 participants were given an introduction to the Chinese practice, its benefits, and why it is persecuted. All of them then made flowers with colorful paper.
At the end, three practitioners demonstrated the exercises. Even though most of the participants could not hear the music, they appeared to sense the positive energy and peace flowing from the exercise movements. Some of them stood up and followed along.
(Clearwisdom)
28 total views