Practitioners in Brazil held an Experience Sharing Conference along with other activities from November 3-5, 2017 in Brasília, the federal capital. Many practitioners shared how they benefited from their practice and identified gaps in their cultivation and how they felt the urgency to remain diligent.
Taking the Initiative to Improve
Carmosinda, a practitioner in Brasília, talked about her experience when organising the recent Art of Zhen Shan Ren International Exhibition. After realising her passive attitude, she studied the Fa a lot and looked within. She found many underlying attachments, including the attachment to comfort, unwillingness to accept criticism, and lack of compassion towards others. Realising these problems, she became more proactive in the event and was able to make the exhibition more successful.
Several practitioners said they were very touched by her story. One practitioner said she was in tears upon hearing Carmosinda's courage to expose her attachments to get rid of them.
Waking Up and Gaining Momentum
Josue is a veteran practitioner who lives in Rio de Janeiro. As time passed, he lost the passion for cultivation and virtually became an everyday person. When another practitioner who had already booked an airline ticket to the conference couldn't make it, Josue came instead.
Through sending forth righteous thoughts and studying the Fa with others, Josue woke up and found that he had been sidetracked. "Now I know that what I lost is something so precious. I will come back, remain diligent, and become a genuine Dafa practitioner," he said, "I also want to thank Master Li for his compassion."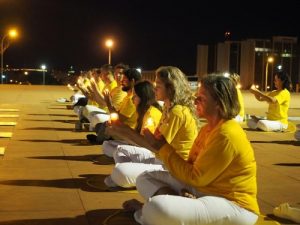 Telling the Facts about Falun Dafa to the Chinese
Renato from Recife, a major city in northeastern Brazil, said he had been telling people for years about Falun Dafa and the persecution of it in China. "But somehow, I did not know how to approach and rectify the hate propaganda they had received from the Chinese communist regime," he said.
Through sharing with other practitioners and following up on discussions, Renato said he now has a much better idea of what to do. "In these few days, I also recognised many attachments that I was not aware of in the past. I have benefited so much from this event," he continued. He was glad to hear practitioners in other cities were willing to help with activities in Recife.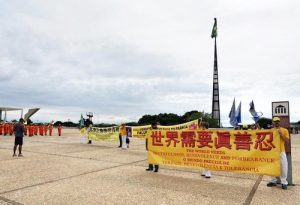 Raising Awareness of the Persecution
In addition to the Experience Sharing Conference, practitioners also distributed informational materials and talked with people in the city. Outside the Chinese Embassy, they demonstrated the exercises, handed out pamphlets to people, and urged the Chinese government to stop the ongoing persecution in China. Many people who came to the embassy, as well as nearby police officers, learned about Falun Dafa, and hoped that the persecution would soon end.
The Brasilia TV Tower is the tallest structure in Brazil and attracts many residents and tourists every day. Practitioners were at the tower on the afternoon and evening of November 5 to raise awareness of the human rights violations in China. Many tourists took informational pamphlets and were impressed by the peaceful exercises.
The Square of the Three Powers is surrounded by the presidential office, as well as the legislative and judiciary compounds, and is one of the most important landmarks in Brasília. Holding banners with the words "The World Needs Truthfulness Benevolence, and Forbearance" in Chinese, English, and Portuguese, practitioners informed many passersby about the persecution in China. One woman said she was glad to see practitioners again and wished them well.
Veronica is a government officer and one of her husband's friends, a practitioner in Rio de Janeiro, recommended Falun Dafa to them and told them about the event. The couple learned the exercises, and Veronica also discussed with practitioners how to tell government officials about the human rights violations in China.
"I look forward to joining the group exercises in the park on the weekend," said Veronica as she left.
(Clearwisdom)