Falun Gong practitioners in Belgium participated in an annual health expo in Hasselt, the capital of the province of Limburg, on November 5, 2017. They held two introductory sessions and taught the Falun Gong exercises to many attendees, some of whom planned to continue their learning at Falun Gong group exercise sites.
Sandy Olislagers talked with a practitioner and learned the exercise movements on the spot. She said she felt great energy and that the exercises calmed and relaxed her. She wanted to join a Falun Gong exercise group and download the books to read.
Daniel Jansen learned the meditation exercise. Even though he had difficulty crossing his legs, he still managed to meditate for 10 minutes. He said he had felt very relaxed despite his inaccurate movements and that he wanted to do the exercises better to achieve a better effect. Daniel planned to take his daughter to the group exercise site the next day and read more about Falun Gong online as soon as he got home.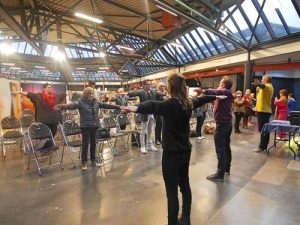 Josephine from Spain said she had gotten a Falun Gong book a few years ago and tried to imitate the exercise movements from the pictures in the book. She was happy to have the opportunity to learn the exercises in person.
Lily Aendekerk said she felt a warm energy while she listened to a practitioner's introduction. She excitedly told the practitioner that she wanted to learn Falun Gong.
26 total views