Another 4,278 cases of Falun Gong practitioners arrested or harassed were reported in June 2017, bringing the total tally to 10,869 in the first half of 2017. Among the targeted practitioners, 3,660 were arrested and 7,209 were harassed.
Of the 3,660 practitioners arrested, 1,676 have returned home; 150 were arrested as a result of suing former Chinese dictator Jiang Zemin for launching the persecution of Falun Gong in 1999.
Among the 7,209 harassed, 389 had filed lawsuits against Jiang in the first half of 2017, and 1,174 had their homes ransacked by the police without any legal documents.
Over 1,807,396 yuan (~US$ 273,000) in cash was confiscated during the ransacking, as well as cell phones, computers and other daily necessities. The severe financial losses have created difficulties in the lives of some practitioners and their families.
The intensifying "knocking on doors" campaign contributed to the significant increase in the number of harassment cases since March. Police forces nationwide were ordered to check on practitioners to "ensure social stability" surrounding the dates of the National People's Congress.
Though the meeting has concluded, the harassment continues. The numbers of practitioners harassed in March, April, May and June are 415, 1,157, 1,942, and 3,498.
The "knocking on doors" campaign is one of the many ways the authorities persecute practitioners who refuse to give up their faith. The authorities often visit practitioners for no reason or in the name of verifying personal identification.
They would question the practitioners on whether they were still practicing or if they had filed a criminal complaint against Jiang.
The practitioners targeted cover almost every province, centrally-controlled municipality, and autonomous region. Shandong Province leads with the most arrests (530) and harassment cases (2,826).
CEO Arrested on Business Trip Without Warrant
Mr. Yang Guanren, a regional president of a group of companies headquartered in Beijing, was reported to police by a taxi driver, for talking about Falun Gong while on a business trip to Shenzhen on May 15, 2017. His case wasn't reported until weeks later in June.
Mr. Yang was illegally arrested and detained at the Nanshan District Detention Centre. He was first approved for arrest by the Procuratorate, who later reversed the decision. However, the Nanshan District Police Department has not released Mr. Yang.
For more details of Mr. Yang's case, see: 
Mr. Yang Guanren Illegally Detained in Shenzhen City Despite Cancelled Arrest Warrant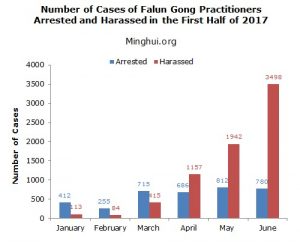 Guangdong Librarian Arrested for Her Faith
A librarian in Guangdong Light Industry Occupation Technology College remains detained for refusing to renounce Falun Gong.
Ms. Yi Chaoling credits Falun Gong for curing her seizures, stomach pain, and kidney problems. Her persistence in practicing Falun Gong, however, landed her in police custody.
She was working at the library on June 5, 2017 when police appeared and seized her. School officials, together with the police, first ransacked her office and then her home.
Ms. Yi was kept at Xingangxi Detention Center for one day before being transferred to the Nanzhou Detention Center, where she remains.
Hubei Woman Targeted for Suing Jiang Zemin
Two officers, Zhang Sanping and Wang Changzheng (local Communist Party Secretary), showed up at Ms. Wang Junrong's home on June 2, 2017. This visit was preceded by another police visit months earlier after Ms. Wang, a resident of Yingcheng City, was caught carrying Falun Gong books on a train.
Ms. Wang was not home, and the police told her mother-in-law, who lives with her, that they wanted to ask Ms. Wang some questions about her lawsuit against Jiang Zemin.
The mother-in-law told the police that Ms. Wang did nothing wrong but had been detained for several months back in 2000. She also said that Ms. Wang broke no law by carrying Falun Gong books around.
The elderly woman asserted that Ms. Wang had every right to seek justice against Jiang. The officers left moments later.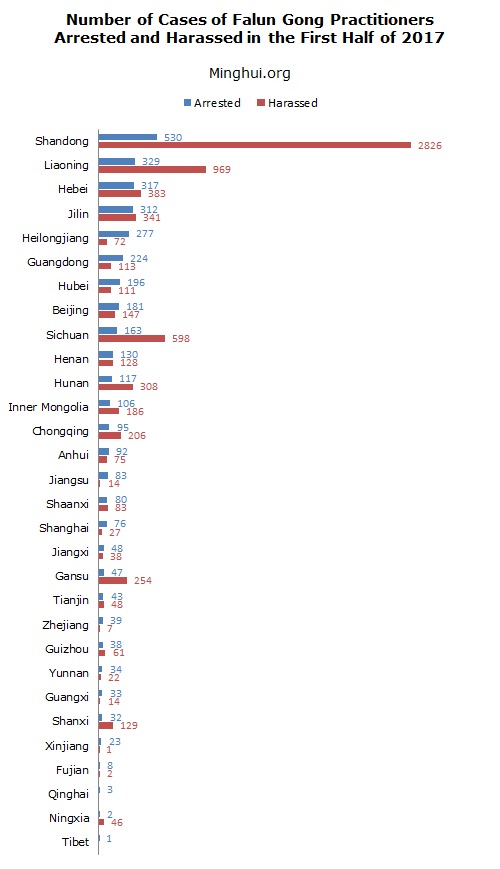 Police Pretend to Search for Fraudsters
Three officers knocked on the door of a Falun Gong practitioner in Shandong Province one day in June 2017.
The male officer said they were there to investigate whether the homeowner had been deceived by some fraudsters. The practitioner stopped him and asked, "Didn't you come here because I practice Falun Gong?"
One of the two female officers asked, "You still practice Falun Gong?" When the practitioner said yes, she asked for his phone number. The practitioner refused to give his information, and the male officer gestured to his colleague not to press on.
The practitioner then explained how practicing Falun Gong improved his health and made him a better person. He urged the officers to stop participating in the persecution.
One officer said, "I support your practicing Falun Gong." The trio left after a total of three or four minutes.
Related Reports: