When the northern hemisphere is in its prime fall season, Christchurch city of the southern hemisphere is enjoying a beautiful spring time. The Falun Dafa Association and more than 100 other groups participated in the annual Body, Mind, Spirit Festival at the Addington Raceway and Events Center on October 14-15, 2017.
Practitioners of Falun Dafa, also called Falun Gong, an ancient, traditional spiritual practice from China, displayed books and other printed introductory materials at their booth. They also prepared many handmade lotus flower charms. A video monitor in the booth showed the exercise instructions continuously.
Some practitioners demonstrated the exercises at the booth, while others answered inquiries from the visitors.
Many visitors stopped at the booth, attracted by the soothing exercise music and exercise demonstrations. People asked about local instruction and practice locations, and asked other questions about the practice.
Some learned the five sets of exercises at the site, while many others purchased the books Falun Gong and Zhuan Falun, two major books about the practice.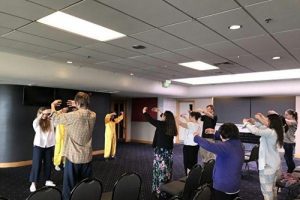 Visitors offered many positive comments. One said, "Your booth is very beautiful and I feel a strong and comforting energy field. I can't help but to stop and learn what it is."
Some said that they had seen the practice in Sydney before, and felt it special to see the practice again at the festival. They wanted to learn more about it.
One visitor commented that he meditated at home often, but felt that something was missing that he couldn't describe. "I respect you for the principles you persist with, truthfulness-compassion-forbearance. Modern people pursue immediate interest and sensual enjoyment, so not many of them want to think about these principles. But they are exactly what humankind needs."