The Botanic Gardens in Auckland was beautifully decorated on October 14-15 with a variety of spring flowers in bloom.
Local Falun Gong practitioners collaborated with the city government for a two-day event highlighting traditional Chinese culture called "Celebrating Spring" at the Auckland Botanic Gardens. A variety of activities were held, including an art exhibit, exercise demonstration and various musical performances.
Art Exhibit of Zhen Shan Ren (Truthfulness, Compassion, Tolerance)
Dave Bradley went to China eight years ago, so he is interested in Chinese culture and stories that take place in China. After he viewed all exhibited paintings, he said that as an amateur photographer, he saw these works are very expressive. He was eager to learn about the stories behind the paintings and Falun Gong practitioners' personal experiences.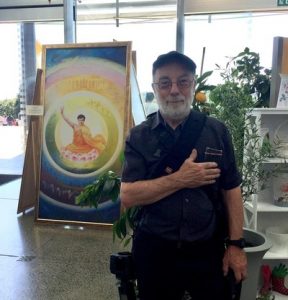 Christine McDonald is a pre-school teacher. She could not help but shed tears as she appreciated the painting "Freed by Faith," and said she felt the message that the art is trying to convey. She had learned about the persecution of Falun Gong and said everyone should enjoy freedom of belief and freely express one's opinions and thoughts.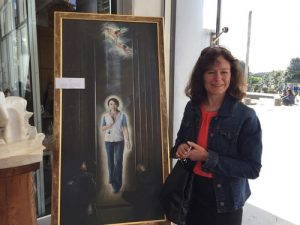 Vincent Ortiz is a middle-aged Filipino. He lingered in front of the exhibition, in particular, carefully observing the paintings related to the persecution. He said he had experienced the dictatorship in Philippines and witnessed the autocratic regime kill innocent people, especially dissidents. He said that as long as there is dictatorship, there is killing, and it is the same everywhere. He was very sympathetic to the Chinese people who suffer under such brutal rule.
He was even more sad about the Chinese Communist Party's (CCP) state-sanctioned killing of Falun Gong practitioners for their organs. He said that organ donation must be voluntary, and all forms of coercion are inhumane.
People Attracted by Arts and Cultural Events
The Auckland Botanic Gardens is home to more than 10,000 plants from around the world. There are more than 20 theme gardens, including Threatened Native Plants Garden, Rose Garden, and Potter Children's Garden among others.
Visitors were drawn to a variety of cultural events and artistic performances, including a paper-cutting performance, a demonstration of how to make origami lotus flowers, Chinese calligraphy, and musical performances.
Some people wanted to learn how to fold lotus flowers and make paper cuts, and some visitors were delighted to get their names written in Chinese calligraphy with a brush pen.
A waist drum group dressed in bright yellow suits played the drums, and practitioners demonstrated the Falun Gong exercises in Potter Children's Garden. Some people learned to do the exercises right there and then.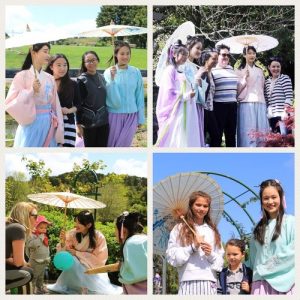 According to Ms. Liu, an organiser of the event, it was the first time that Falun Gong practitioners had cooperated with the Auckland city government to an event of this scale. The Botanic Gardens was supportive of the project, which focused on the art exhibit and traditional Chinese culture.
The variety of cultural activities and performances left a favorable impression on people of many ethnic groups. One Chinese family with four kids took part and happily left the garden with each of the children holding a balloon bearing the words "Falun Dafa is Good."
At the end of the two-day event, Shelly Small, staff at the Botanic Gardens said, "It's the most grand event I've ever seen in the Botanic Gardens in recent years." She said it helps people gain more understanding of Chinese culture and have the opportunity to experience it and participate. She also liked the decorations filled with Chinese elements which added to the beauty of the gardens themselves.
21 total views