Falun Dafa practitioners in Arizona held their first annual Ming Hui summer camp for English speaking children this summer. Focused on reviving traditional art and culture through Chinese language and history studies, as well as Western traditional art classes, English speaking children were able to learn, appreciate, and embrace the values and traditions of ancient Chinese culture. The classes were held at the Art of Courage Museum in Tempe, a permanent museum exhibit showcasing the art of Zhen, Shan, Ren (Truthfulness-Compassion-Forbearance), which is owned and operated by a local Arizona practitioner.
"I came across one of the Ming Hui schools by reading an article on the Minghui website" quoted Diana Molovinsky, the director of Ming Hui Arizona, "I was inspired to start a Ming Hui program in Arizona, but I had the thought that I wasn't qualified." Diana realised that the school should be initiated sooner rather than later after reading this quote from Master in a 2004 Fa teaching:
"So to have things done in greater depth and with more breadth, that, in fact, is what I'm hoping you'll do. (Teacher laughs) (Applause) I said that's what I'm hoping for, but to put it more accurately, that's what all lives are hoping for." ("Teaching the Fa at the Meeting with Asia-Pacific Students")
After she decided to start the summer program, many doors opened. "It seemed like everything just started falling into place. We found a Chinese teacher, an art teacher, and a location for the school all in one week! I knew it was a sign that we were going in the right direction."
The two-week summer camp curriculum consisted of morning and afternoon meditations, Chinese language studies, fine arts courses in drawing and painting, Chinese culture and history studies through interactive puppet shows, and theatre performances, along with afternoon Fa study.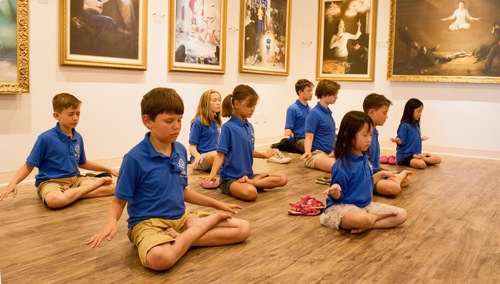 Demonstrations in Western table etiquette were presented during the second week of camp, and the campers experienced attending to a 3.5-acre farm, where the children took care of the chickens and goats. The children also learned horseback riding, and experienced hiking in the iconic red rocks of Sedona.
Yisha, Ming Hui Arizona's Chinese language instructor, said, "Letting the kids fall in love with Chinese… that's really our goal! I'm so amazed at how quickly the students could learn the language, and how in-depth they could understand the meaning and spirit behind the stories."
Weldon, a practitioner from Utah, sent his 12-year-old daughter and 14-year-old son to attend the summer camp. He said he was especially impressed that his children returned home with a much deeper understanding of Chinese history and language. "My daughter taught me that in wushu (traditional Chinese martial arts) the warrior places his fist in an open hand… meaning, it requires as much strength to refrain from fighting as it does to fight."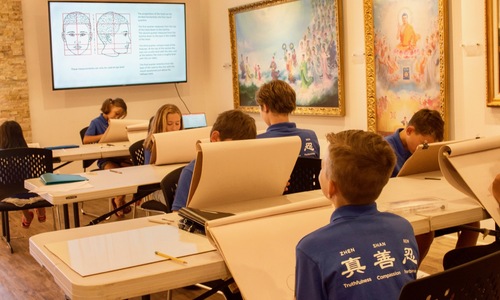 Another major goal of Ming Hui Arizona was placing value and tradition back into fine arts. Diane Schneider, fine arts instructor at the summer camp, said, "Children don't have access to proper art training anymore. The government-controlled education has either cut art education entirely or distorted the value and authenticity of art."
The staff at the Ming Hui camp created a survey for the children upon the completion of their first summer camp, to see where improvement was needed. Many of the children remarked that they wanted more time in art class. Diane mentioned that next year's (2018) camp will have two separate daily classes devoted to drawing and painting.
"Learning the fundamentals of art takes time," noted Diane, "and of equal importance is that the process of creating artwork helps children to gain increased concentration, patience, and problem-solving abilities."
Laura, from Indiana, attended the Ming Hui Summer camp with her two children and assisted in teaching stories of ancient Chinese culture through interactive puppetry. Her 10-year-old son, who had been battling with a video game addiction, made a drastic transformation after the first day of camp. Laura exclaimed, "The darkness left my son and I saw brightness in his eyes." Upon returning home, she noted that both of her children were much calmer and more considerate of others, and assumed more responsibility for their actions.
In addition to teaching the traditions and values of Chinese culture and western fine arts, Ming Hui Arizona also strived to reincorporate some very important classes which were formally taught in our education system, teaching home economics. By next summer they hope to incorporate classes in sewing and baking as well as automotive repair.
There are plans underway to host four summer camp sessions catering to different age groups, a program for ages 7-12, and a program for teens 13-18. Also included in the plans is a facility built on the farm to house the campers and a classroom in which to hold afternoon classes.
Diana said, "We would like to reacquaint the children with the concept and experience of living off the land and a more sustainable lifestyle. It is an unseen practice in the city, to wake up to the crow of the rooster and step out of the house to collect eggs and harvest berries for your morning breakfast."
Master said:
"And of course, setting up a Minghui school is just a great thing. Now that they've been set up, I hope you will run them better and better, make them bigger and bigger, and set up more and more of them. They are, for all beings, a blessing, and for the evil beings, it clears them away." ("Teaching the Fa at the Meeting with Asia-Pacific Students")
(Clearwisdom)
47 total views